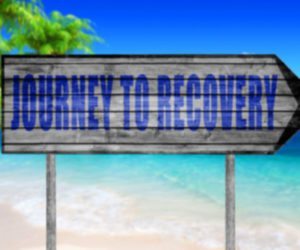 There are several unsung heroes here at White Sands Treatment Center.  Arguably the most unsung and under-appreciated of our staff members is the Head of Behavioral Technicians, Ed Edwards.  Ed has the unenviable task of being the resident chief of saying "No" most frequently.  Our Behavioral Technicians assist our medical and clinical staff by observing and reporting on the behavior of our patients.  They are the first ones to interact with our patients in the morning and the last to see them before bed.  Ed is simply a man that does not put up with BS.  Whether you like it or not, he tells it like it is.  That's because it takes one to know one.  Ed has been sober for the last eight years.  While it may seem like he is tough on our patients, he takes a firm stance because he cares.  
Ed was born in New Jersey. He was primarily raised by his father as his mother left home when he was four years old.  Ed excelled in sports as a youngster.  By his freshman year in high school, he lettered on the varsity football, baseball and wrestling teams.  Although he excelled in athletics, Ed never quite felt like he "fit in". His family moved around a lot and as a result Ed attended three different high schools prior to graduating.
We often mimic the behavior of our parents.  Ed watched his father drink throughout his childhood.  So it may not come as a surprise that he picked up his first drink of alcohol at seven years old.  By the time Ed was thirteen and a freshman in high school, he was drinking every day.  Therefore, he always surrounded himself with and gravitated toward through drinking as well.    Ed was always a bright student when he applied himself and despite his drinking habit, he managed to graduate high school.  After graduating, Ed joined to Navy and trained to become a jet mechanic.  Throughout his tour of duty Ed continued to drink heavily and face the consequences of that behavior.  He was discharged from the military under honorable conditions in order to go home and be with his father who was dying of cancer.
Upon returning home to New Jersey from the Navy, Ed's father gave him money to start his own business.  He purchased a Coca-Cola route which he worked and grew until he eventually sold it twenty years later for a sizable profit.  1990 was a devastating year for Ed and his family.  Within a year, Ed's father finally succumbed to cancer, two of his grandparents passed away and he lost both of his sisters to the disease of addiction.  Naturally, Ed was devastated by these unfortunate events.  A year later, Ed got married.  With his first wife he had two beautiful daughters and adopted one step son.  
Throughout this time in his life Ed continued to drink alcohol.  On three separated occasions, he was arrested for driving under the influence.  One of which resulted in his driver's license being suspended for six months.  As is what occurs with many of us, Ed's addiction got progressively worse.  Not only was he drinking hard liquor heavily, but he began to use drugs as well.  I have heard many in recovery say there comes a point where the alcohol and drugs we are using no longer work (sufficiently dull the pain).  Ed reached that point when he was 41 years old.  At that time, he was mentally and physically exhausted (skin was a yellow color) and finally wanted help.
The beginning of Ed's recovery was not an easy road.  He decided to detox himself which inevitably lead to him having seizures.  Due to consequences of behavior in active addiction, Ed had to spend ninety days in jail when he was first getting sober.  After getting out of jail, he walked thirteen miles to get home.  Ed's first job after getting sober was as a truck driver.  He worked at that job until he injured his knee.  At that point, Ed wanted to work somewhere he would be able to help people.  At eighteen months sober, Ed started working part-time at a treatment facility in New Jersey.  Within short order, Ed became the lead behavioral technician at that treatment center.  Through a program paid for by the state of New Jersey, Ed then went to school to become a certified drug and alcohol counselor (CDAC).  Not only did Ed continue working at the treatment center, but he also was required to complete 3000 hours of on the job training through the Morris County drug court program.  Subsequently, Ed completed his required training hours and coursework and became certified.  
Ed really enjoys his life today.  In addition to working as the head behavioral technician at White Sands, Ed works as a CDAC at the Southwest Florida Safety Council.  There he works with people who have been mandated for DUI education and counseling.  His family life today is awesome.  He has three daughters and one stepson and a new stepdaughter.  Ed remains active in Alcoholics Anonymous.  Just recently Ed got married again and took a brief honeymoon with his family in Orlando.  
Ed Edwards does not work in the addiction field for the money.  Ed does it because he loves it and he loves to help others struggling with the same issues that he did.  Many times it's necessary to have people like Ed working at treatment centers because he will put his foot down and he will not enable you.  His philosophy saves many lives.  When patients come to treatment, they usually don't like being told what to do or being told no to anything.  At the beginning, some patients don't like Ed's tough exterior.  Ironically, Ed really does have a huge heart and will give you the shirt off his back if he thought it would help you.   I have personally seen Ed make close patient connections and have a positive impact on patients that are in treatment at White Sands.  It's pretty funny because the patients that resent Ed the most at the beginning of their stay are always the ones that are the most fond of him by the end of treatment.  Every treatment center would greatly benefit from having an Ed of their own.  He is one of the cornerstones of the White Sands institution and we are proud to have him with us. 
If you or a loved one needs help with abuse and/or treatment, please call the WhiteSands Treatment at (877) 855-3470. Our addiction specialists can assess your recovery needs and help you get the addiction treatment that provides the best chance for your long-term recovery.