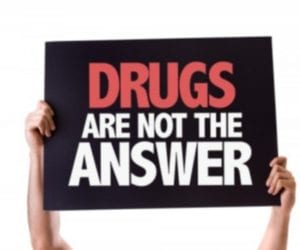 There are many reasons why people start to abuse drugs and alcohol, one being a lack of the right information about substance abuse. October was National Substance Abuse Prevention Month by proclamation of President Obama. The substance abuse prevention movement engages families, schools and community leaders across America to all play a role in promoting substance abuse awareness and safe, healthy communities. The aim is to educate with the facts, which are that too many people's lives are being negatively affected by drug and alcohol abuse. Many addicts are destroying their life and some are dying young from alcohol and drug toxicity/overdose. Families and communities are also being affected by the repercussions of addiction.
Education and prevention is key to discouraging substance abuse before it starts. Teaching youth about the dangers of substance abuse and the physical and mental deterioration that occurs from it comprises a large portion of the program. The President's Drug Control Strategy encourages the expansion of programs that reach the young through national and community-based efforts. Information is given in schools and the workplace to teach people how to make healthy life decisions. The program is designed to promote a safer, healthier drug-free America.
Educating Parents and Communities
Principles of prevention help parents, educators and community leaders plan and develop effective substance abuse programs on a community level. These principles involve risk and protective factors, such as:
Substance abuse becomes a risk factor with deviant attitudes and behavior. It is a protective factor when there is parental support.
Both risk and protective factors are age-specific: risk factors in the family have a greater impact on young children. Peer pressure has a greater impact on teens.
Early intervention against risk factors, such as a lack of self-control and aggressive behavior, is more successful than later intervention.
Risk and protection factors affect all people regardless of gender, age, culture, ethnicity and environment.
Prevention programs should offer information on all forms of substance abuse, whether taken alone or in combination. The programs should also discuss the underage use of legal drugs, such as alcohol and tobacco, plus the use of illegal drugs, prescription medications and over-the-counter medications. Local substance abuse problems that are prevalent in the community are also risk factors to be addressed in prevention programs, along with risk associated with age, gender and ethnicity.
Preventative initiatives that are family-based should promote stronger family bonds and teach parenting skills to establish, discuss and enforce family policies on substance abuse. The family is the bedrock of the relationship between the parents and children. Parental involvement, monitoring and supervision are all crucial to the success of substance abuse prevention. There is much information to be garnered from prevention programs, and put into practice. We can all play a role in substance abuse prevention as take part in this year's National Substance Abuse Prevention Month.
Get the Help You Need
If you or your loved one is suffering from addiction to drugs and alcohol, rehabilitation and treatment programs are available throughout the U.S. to help you. With millions of emergency room visits per year due to overdose or adverse reactions to drugs and alcohol, it is clear to see that addiction has become an epidemic in our country. Substance abuse recovery programs offers a safe environment for one to detox and learn effective methods to begin to function without the offending substance. Medically assisted detox programs are also available and can help a patient through the withdrawal process. In addition, these recovery programs offer group and one-on-one counseling sessions to offer the addict better understanding as to why he or she began using these substances in the first place.
Addiction is a progressive disease that has the ability to destroy one's life. If alcohol or drug addiction is affecting your life, consider learning more about a drug or alcohol rehabilitation center near you. What better time than now to take control of your life and free yourself from drugs and alcohol.
If you or a loved one needs help with abuse and/or treatment, please call the WhiteSands Treatment at (877) 855-3470. Our addiction specialists can assess your recovery needs and help you get the addiction treatment that provides the best chance for your long-term recovery.