The National Night of Conversation: Talking about Addiction with Family and Friends
Drug AddictionThe National Night of Conversation: Talking about Addiction with Family and Friends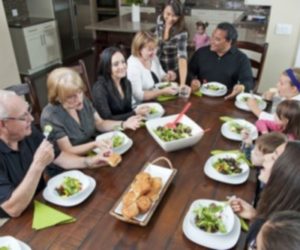 On October 4, 2015, tens of thousands of people came in support of the Unite to Face Addiction Rally in Washington, D.C. Speaking at the rally was television celebrity Dr. Mehmet Oz. A concert was held on the National Mall with rock stars Joe Walsh, Steven Tyler and Sheryl Crow who came to perform and show their support. The rally made history in its effort to address addiction and defeat it. There were over 700 partners in attendance also. The partners of this movement form an alliance of national, state and local organizations. Their aim is to unite and raise awareness about the enormous drug and alcohol abuse and addiction crisis in America.
On the Dr. Oz website you can find information about the National Night of Conversation, which will be held on November 19, 2015. Drugs Over Dinner is one of the programs featured on the website. It is an online toolkit designed to help anyone talk with their family and friends about drug and alcohol addiction during dinner. During the National Night of Conversation on Nov. 19, 2015, parents are encouraged to discuss the drug and alcohol crisis in America with their children. It will give American families a chance to have an open, honest discussion about the drug/alcohol problem.
Tips for holding your own Drugs Over Dinner event is also featured on Dr. Oz's website. It is suggested that you invite family and friends to dinner; preferably three to eight guests to ensure a formidable conversation. Guests could include parents, children, friends, relatives, co-workers, grandparents etc. The website asks you to choose which situation best suits your need. Some of the options are:
I have a family member or friend who is struggling with addiction
I have struggled with substance addiction and I would like to discuss this with family and friends, etc.
Once your option is chosen, the website will direct you to the appropriate conversation topics. Before the dinner commences, it is suggested that you and your guests watch, listen to or read a short piece of information regarding addiction. After the dinner is completed, you and your guests are asked to keep the conversation going about this project and to share your story. The website offers additional resources and outlets to accomplish this goal.
Facing Addiction (also on the website) is a national movement for people to face addiction and experience the power of recovery. The aim of Facing Addiction is to Stop the Silence of addiction, expose it and help people to recover. Another aim is to help the 22 million Americans with addiction, the 23 million more in recovery and the urgent need to start saving the 350 lives that are lost daily from addiction. Drug and alcohol addiction has become a major health crisis in America and there is a life lost every 4 minutes because of it. Facing Addiction aims to stop the silence, bring the problem out in the open, raise awareness and get help to the people that need it. There are numerous stories on the website where former addicts share their personal story and offer hope to those still addicted. About 90% of addicts do not seek treatment for their addiction, for a variety of reasons. The movement is determined to change this statistic. The American government has spent over one trillion dollars in the War on Drugs, and the problem has only gotten worse. It is time to take a new approach and get out to the people who need the help.
Join the movement to help others; and if you need help, all you have to do is ask. White Sands Treatment Center can provide you or a loved one with the addiction treatment and support needed to live a healthy, sober lifestyle.
If you or a loved one needs help with abuse and/or treatment, please call the WhiteSands Treatment at (877) 855-3470. Our addiction specialists can assess your recovery needs and help you get the addiction treatment that provides the best chance for your long-term recovery.