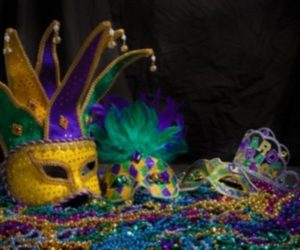 The Mardi Gras Carnival begins on Tuesday, February 9th and ends on "Fat Tuesday", the day before Ash Wednesday – the first day of Lent. Celebrated with parades, floats, music, picnics, and people dressed in costumes and masks, Mardi Gras is a time for partying and celebration. There is an overindulgence of eating, drinking and using drugs. How does a recovering addict stay sober during all the festivities taking place during this season? Here are some tips on how to stay sober for Mardi Gras:
It is not wise to attend Mardi Gras celebrations on your own. Whether you are in early recovery or have been sober for a long time, you may get caught up in the revelry and become tempted to indulge in alcohol or drugs. Always attend the celebrations with trusted friends and family who support your sobriety and will not allow you to succumb to temptations. Trusted family and friends are your first defense against slipping back into substance abuse. If you find that you are having a difficult time fending off temptation, then you are better off leaving the festivities and going to a safe place. Stay true to yourself and don't put yourself in a position to become vulnerable.

Celebrate by attending private Mardi Gras celebrations given by your relatives and friends in their homes who are supportive your recovery and will not allow you to become tempted. Many families also have huge picnics and celebrate on the picnic grounds. Celebrations at Church functions should also be a safe haven for recovering addicts. Look for safe places to enjoy the season or hold an event yourself with good food and non-alcoholic drinks.

Always have a back-up plan in the event that something unexpected happens. If people are urging you to have a drink or use drugs then you must be prepared to turn their offer down in a firm but friendly way. If they become pushy and obnoxious then you will have to remove yourself to a safe place. If you are feeling the pressure of temptations and triggers you should immediately go to a safe place. The purpose of the celebrations is to have fun and enjoy your self without becoming intoxicated. You can have a great time at Mardi Gras if you are with the right people.

If you decide that you are still very vulnerable to temptation then you may want to skip Mardi Gras altogether. You could plan to take a vacation or go out of town to visit a friend or relative. You could also attend support group meetings and enjoy the fellowship of other recovering addicts. There may be other activities that you enjoy that will keep you safe from the festivities such as: movies, concerts, sporting events or working out at a gym. You could also do a project in your house that you haven't had time for, like putting up shelving, painting, decorating etc. Devise a plan of action so that you don't feel lonely or bored.

Speak positive affirmations to yourself and remind yourself how wonderful it is to be sober and in control of your life again. Put notes up around your home to help keep your head and spirit up where they belong. Avoid ANTS, an acronym for Avoid Negative Thoughts. Whether you attend Mardi Gras celebrations or not, your mental state should always be positive, rational and strong. If you find yourself slipping into unhealthy thinking then immediately cast those thoughts out of your mind and replace them with healthy thoughts. You are empowered when you are in the right frame of mind.

To avoid becoming vulnerable, make sure that you are eating well, exercising, getting enough rest and avoiding stress. Practice your faith in God and enjoy His peace and empowerment. Mardi Gras does not have to be your downfall if you are prepared for it. Only you know how much you can handle at this point in your recovery. Know your limits and don't push yourself beyond them. Above all, start enjoying your new, sober life with trusted family and friends and continue on the right path.
If you or a loved one needs help with abuse and/or treatment, please call the WhiteSands Treatment at (877) 855-3470. Our addiction specialists can assess your recovery needs and help you get the addiction treatment that provides the best chance for your long-term recovery.