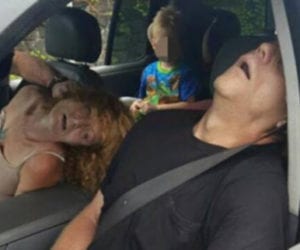 Ohio is in the midst of an opioid and heroin addiction epidemic and across the state the effects can be seen in communities large and small. According to the Ohio officials last year, 3,050 people died in Ohio from drug overdoses. Just this past weekend Akron, Ohio a small suburban community experienced 8 overdose deaths between Friday and Saturday and more than two-dozen overdoses where individuals were revived using the heroin antidote Narcan. This all occurred after a photo was released on Wednesday afternoon, after a East Liverpool, Ohio police officer discovered a 47-year-old man and 50-year-old- woman overdosed in their car with her 4-year old grandson in the back seat. Pictures were shared of the scene to draw awareness on the heroin overdose crisis in Ohio and across the U.S.
On a daily basis police and emergency medical responders see what is depicted in this photo, the sad and harsh truth of what addiction looks like. The photo of the couple slumped over in the front seats of the car, was shared across social media in hopes of being a voice for the individuals who are caught in addiction. Not only the users, but the children, parents, siblings, and loved ones of them who are suffering also.
"It is time that the non drug using public sees what we are now dealing with on a daily basis," East Liverpool city papers accompanied the photo saying, "We feel we need to be a voice for the children caught up in this horrible mess. This child can't speak for himself but we are hopeful his story can convince another user to think twice about injecting this poison while having a child in their custody."
Heroin OD Crisis Across the United States
Brian Allen, the East Liverpool director of public service and safety said the city is overwhelmed by with individuals suffering from opioid and heroin addiction. Even worse is that it doesn't have enough places to send people who are addicted and need help. It isn't just East Liverpool though that is seeing this epidemic other communities and states such as Huntington, West Virginia saw 26 heroin overdose cases in a span of just four hours.
Heroin overdose rates are on the rise in the United States accounting for 2.6 of every 100,000 deaths, according to statistics published by NJ Advance Media. In New Jersey, heroin overdose rates are especially high at 8.3 deaths out of every 100,000. Where in Ohio, the death rate for drug overdoses stands at approximately 24.6 per 100,000 people.
Why Are Heroin Overdose Rates so High?
The price of heroin has fallen in recent years, leading to an increase in heroin abuse across the rest of the United States. Many people begin using heroin after becoming addicted to prescription opiate pain medications like Vicodin. These drugs affect the mind and body in a similar way to heroin but are usually more expensive and difficult to obtain than the street drug. Because the drug is so dangerous people who use heroin are 20 to 30 times more likely to die than non-heroin users, according to the World Health Organization.
What Is Heroin Exactly?
Heroin is an illegal drug that is made from substances sourced from poppy plants. Its effects on the body are similar to those of morphine, binding to receptors in the brain called opioid receptors. When it does, the drug causes a euphoric feeling that is extremely pleasurable. Then, users go into alternating periods of being incredibly alert and drowsy. Heroin is usually injected into the veins or muscle tissue, but it can also be snorted, sniffed or inhaled.
Signs of Heroin Addiction
There are a number of physical, mental and social heroin addiction signs that a person may exhibit, including:
Bruising and discoloration of injection sites
Dry mouth or drinking water frequently
Shortness of breath
Small pupils
Disorientation
Going from being extremely energetic to falling asleep
Weight loss
Runny nose
Infections of the skin
Lying and stealing
Avoiding eye contact
Lack of interest in activities that were once enjoyed
Avoiding friends and family
Hostility and changes in personality
Wearing pants or long sleeves in hot weather to hide injection sites
Health Effects of Heroin Use
Over the long term, heroin addiction can lead to a number of problems, including:
Increased risk of HIV and AIDS due to sharing needles
Collapsed veins
Stomach problems
Liver and kidney disease
Pneumonia and other lung and breathing problems
Heroin Addiction Treatment
People who are addicted to heroin and stop using the drug abruptly may experience severe symptoms of withdrawal, including:
Body pain
Insomnia
Vomiting
Diarrhea
Goose bumps & cold flashes
Leg tremors
To control these symptoms, heroin addiction treatment usually begins with detox. Medical professional's help to keep the person comfortable while heroin is eliminated from the body, and the brain begins to return to normal functioning. After detox is complete, the individual is then ready to begin undergoing treatment for the mental and emotional aspects of addiction.
If you or a loved one needs help with abuse and/or treatment, please call the WhiteSands Treatment at (877) 855-3470. Our addiction specialists can assess your recovery needs and help you get the addiction treatment that provides the best chance for your long-term recovery.