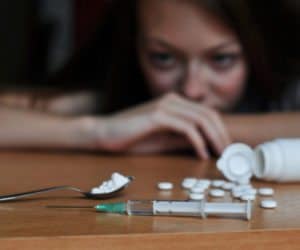 Is your teen abusing prescription pills? Know the signs.
Preoccupied with protecting children from street drugs, some parents neglect to consider this important question…is your teen abusing prescription pills? As a result, multiple teenage casualties have become a sad reality of the American prescription pill crisis. A gross misconception that prescription pills are safer than illicit drugs has been cited as a key reason for the spike in prescription pill addiction and overdose deaths among teens.
While it is true that prescription drug abuse is frequently the result of teenagers rifling through home medicine cabinets, today's teenagers are also more likely to be unsupervised when taking potentially addictive substances that has been prescribed for them by a family doctor.  With less concern about prescription drugs, even good parents can miss warning signs of substance abuse in their children. Unfortunately, neglecting to explore the possibility that your teen may be abusing prescription pills could turn out to be detrimental.
Although teens do not represent the largest sector of society impacted by accidental overdosing, teenage prescription drug abuse is one of the leading causes of drug overdoses in this demographic.  Recent surveys indicate that more than five million kids abuse prescription pills annually. And, based on emergency room data, approximately 50,000 drug overdoses occur annually for people age 13 to 24.  In fact, prescription drugs use among individuals in this age group is only exceeded by the use of marijuana.
Adhering to the caveat that parents be more proactive about seeking answers to the question "is your teen abusing prescription pill" is necessary if they are to respond appropriately to an affirmative answer.  In fact, it may possibly interrupt the process of prescription pill abuse before it segues into full blown addiction or worst.  As such it is critical to be cognizant of the warning signs your teen may be abusing prescription drugs by paying closer attention to the following indicators of a potential problem such as when your teenager:
Becomes more withdrawn or secretive
Begin acting out or seem to be more reactive, hostile or defensive
Complains more than usual of being tired or appear more lethargic or depressed.
Randomly change their peer group
Become neglectful in their appearance and overall hygiene
Lose interest in normal socializing activities, school and their school work
Miss classes or make excuses to skip school
Experience change in sleeping or eating habits
It is important that these signs of teenage prescription drug abuse are not simply shrugged off as typical adolescent patterns of behavior. Since according to the National Survey on Drug Use and Health, at least 2,000 teenagers start abusing prescription pills every day, the chance that more parents will need to get answers to the question of "is your child abusing prescription pills" is continually increasing.
Prescription drugs most commonly abused by teenagers include though not limited to:
Adderall
Ritalin
Ambien
Lunesta
Vicodin,
OxyContin
Codeine
Klonopin
Oxycodone
Valium
Xanax
The National Institute on Drug Abuse warn that the preceding medications have the potential to be addictive and can be fatal if they are consumed in combination with alcohol or other substances of abuse. When abused, prescription drugs have the same potential for causing dependence, addiction, withdrawal symptoms and drug overdose deaths as any other toxic substance. In addition, they put teens at risk for other harmful health effects as any illicit street drug. Parents with concerns that their teen may be abusing their medication should consult the prescribing physician immediately to determine risks for side effects.
What to do if your child is abusing prescription drugs:
Thanks to advancements in technology that has expanded the scope of scientific research, scientists are more informed than ever before about the nuances of drug abuse. As such, we have greater access to the tools and methodologies to help people stop harmful patterns of prescription pill abuse behavior and counter the negative effects of withdrawal symptoms.  With more customized programs, gender and age specific programs, addiction specialists are now equipped to address the unique needs of teenagers.
Early intervention however, remains a critical component to long term sobriety. As such, taking steps as soon as possible to address warning signs that your teen may be abusing prescription drugs should include:
Acknowledging the fact that your teen may be abusing prescription pills and need help to stop the abuse.
Contact a treatment center that provide rehabilitation services for teens to determine the best way to approach the situation.
Speak to the prescribing physician if your child is abusing a legally prescribed medication.
Open a nonjudgmental dialogue with your child about your concerns. It is important to avoid making accusations without sufficient evidence.
Take steps to get your teen into an appropriate treatment program as soon as possible.
Don't wait for your teen to become addicted or suffer the irreversible damage of a drug overdose before seeking help.
Sources:
https://www.drugabuse.gov/related-topics/treatment/what-to-do-if-your-teen-or-young-adult-has-problem-drugs
If you or a loved one needs help with abuse and/or treatment, please call the WhiteSands Treatment at (877) 855-3470. Our addiction specialists can assess your recovery needs and help you get the addiction treatment that provides the best chance for your long-term recovery.