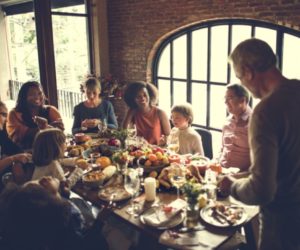 How to stay sober on Thanksgiving: tips for a sober Thanksgiving
Thanksgiving celebrations are traditionally filled with food, family, and a lot of stress that can make it difficult to maintain your sobriety. Family gatherings, with all their associated emotion and drama, can be challenging at any time. Add in the heightened expectations of holiday cheer, relatives that you only see occasionally, and you have a perfect storm that can make it hard to stay sober on Thanksgiving.
Here are some tips for a sober thanksgiving that can help you make through the day safely:
Don't expect picture perfect
Family members are often the ones who are most affected by your addiction. That brings us to one of the hardest challenges that come with Thanksgiving and addiction recovery – having to face people you have hurt in the past. It can be difficult for people to believe in your recovery, particularly if you have struggled with addiction for a long time. Just keep reminding yourself that it is going to take time for those you have hurt to accept that you have changed, and concentrate on staying sober.

Prepare for potential triggers
At Thanksgiving, you are likely to come face to face with certain people, places, and situations that you know will create feelings that threaten your sobriety. Take a minute and make a list of the triggers you know you are going to face at your Thanksgiving dinner. Figure out how to avoid as many as you can, plan a strategy for coping with the ones you'll have to face, and you will find it easier to stay sober on Thanksgiving.

Have support in place
Having a supportive person with you makes it much easier to have a sober Thanksgiving. If you will be attending a family dinner, bring a sober friend with you or arrange to have a sober family member meet you at the dinner. If you won't be sharing a Thanksgiving dinner with your family, it is not a good idea to spend Thanksgiving on your own trying to "tough it out". Arrange to spend the evening with supportive friends.

Don't get too hungry or tired
Thanksgiving dinners have a way of getting delayed – and that can leave you hungry and tired, facing two of the stress triggers that can make it more difficult to stay sober.  Make sure you grab a small meal before heading out to Thanksgiving dinner, and slip a few small, energy-packed snacks like nuts in your pocket or purse that you can grab if needed.

Keep a non-alcoholic drink in hand
Non-alcoholic drinks can be in short supply at Thanksgiving dinners, so it's a good idea to bring your own. Keeping a drink in your hand when mingling is a good way to avoid having someone hand you an alcoholic beverage.

Attend a meeting
Many cities have 24-hour self-help meetings during Thanksgiving, Christmas, and New Year's Eve. Look up the location of Thanksgiving Day meetings as the holiday approaches so you won't have to go hunting for one at the last minute. Don't hesitate to skip the family dinner or leave early to go to a meeting if you start feeling anxious or stressed.

Establish an exit plan
Removing yourself from a stressful Thanksgiving celebration isn't running away, it is being strong enough to do what you need to stay sober. If you start to feel a level of stress high enough that it threatens your sobriety, simply leave. Make sure you will be able to leave when you want to – if you are not driving yourself, make sure you have an established ride with someone at the dinner who understands that you may need to leave early.

Volunteer
If the thought of struggling through a stressful Thanksgiving dinner sounds overwhelming, steer clear and volunteer! Volunteering to serve at a soup kitchen or community center can foster an attitude of gratitude that will make staying sober during the holidays much easier.
If you or a loved one needs help with abuse and/or treatment, please call the WhiteSands Treatment at (877) 855-3470. Our addiction specialists can assess your recovery needs and help you get the addiction treatment that provides the best chance for your long-term recovery.