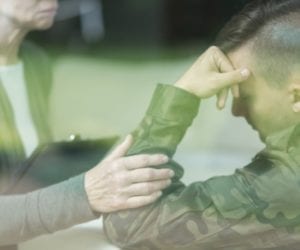 Understanding the facts about veterans and addiction can greatly help a loved one
Veterans of our armed forces are at an increased risk of substance abuse, and many returning warriors end up struggling with drug and alcohol addiction for years. The rigors that our military forces face can drive them into abusing prescription drugs and alcohol in an attempt to deal with the mental and physical stresses from their service.  Substance abuse can create and exacerbate a wide range of health conditions in vets, but the most damaging consequences of addiction are the ones that affect their personal and professional lives. Understanding the facts about veterans and addiction can help loved one give them the support they need to start on the road to recovery.
Veterans and substance abuse
Veterans who return home after combat operations have high rates of substance abuse, according to Psychiatric Times. The National Institute of Drug Abuse reports that alcohol and drug abuse is strongly associated with exposure to scenes of violence in combat. Vets frequently experience post-traumatic stress disorder (PTSD), traumatic brain injury, and chronic pain as a result of combat, each of which contributes to substance abuse.
Heavy alcohol use is frequently seen in veterans. Even when vets escape the trap of alcohol use when in active service, they may develop an addiction to alcohol after leaving the military. Transitioning to civilian life is difficult for some military members, particularly soldiers who see active duty in war zones. Many vets turn to alcohol to ease the transition.
Veterans and prescription drug addiction
Illicit drug use among vets is reportedly at an all-time low, but addiction to prescription drugs by veterans is growing at an astronomical rate. VA records reveal that opioid pain medications and benzodiazepines are the two prescription drugs most commonly abused by veterans. A 2012 investigation by the American-Statesman revealed that over the last decade, the military has spent at least $2.7 billion on antidepressants, and $1.6 billion on narcotic and opioid painkillers such as OxyContin.
The roots of many veterans drug abuse can be traced to medical treatment they received when they were actively serving in the military. Soldiers are frequently prescribed opioids for pain and given a stimulant like Adderall to keep them alert. As they start to build a tolerance, they are given increasing doses of medication to stave off withdrawal. When they leave the military, these vets are left to cope with escalating drug addiction problems.
Recognizing the signs of substance abuse in veterans
If you are wondering if a veteran you know has a substance abuse problem, there are certain warning signs that can indicate a problem. These signs include
Taking more drugs to achieve the same effect
Using any excuse to drink or use drugs
Continuing to drink or take drugs despite negative consequences, such as escalating arguments, losing a job, or health problems
Withdrawing from family, avoiding social situations, and not fulfilling professional obligations
If refraining from drugs or alcohol produces withdrawal symptoms, and prompts a quick return to using
If you recognize the signs of substance abuse in a veteran you know, it is important to encourage him or her to seek treatment as soon as possible. Veteran substance abuse treatment programs are available that provide specialized help for military service members facing addiction issues. By providing trauma care and dual diagnosis treatment that focuses on PTSD concurrently with addiction issues, these specialized rehab programs can help veterans make a successful long term recovery from addiction.
If you or a loved one needs help with abuse and/or treatment, please call the WhiteSands Treatment at (877) 855-3470. Our addiction specialists can assess your recovery needs and help you get the addiction treatment that provides the best chance for your long-term recovery.