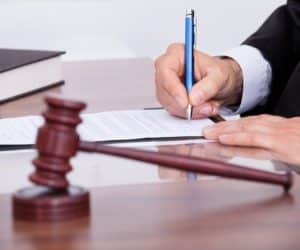 If you have questions about court ordered drug or alcohol treatment, this guide to court ordered rehab has the answers
If you have committed a drug or alcohol related offense, you may be sentenced to entering court ordered rehab instead of prison. Court ordered rehab is a golden opportunity for offenders even though it was not their choice, because it provides a way to stop the drug and alcohol abuse that is wrecking their lives. This guide to court ordered rehab provides the answers to the most common questions about court ordered drug and alcohol treatment programs.
Why is court ordered rehab sometimes an option?
According to NCADD, the National Council on Alcoholism and Drug Dependence, alcohol and drugs are a factor in as many as 80% of offenses that lead to incarceration. It is estimated that up to half of the inmates in the justice system are dependent or addicted to alcohol or drugs, but only 20 percent receive treatment in prison. If they don't receive rehab treatment, 60 to 80 percent of drug abusers commit a new crime once released. Court ordered rehab can break this cycle. The benefits of court ordered rehab are considerable for the community as well as the offenders, as they yield significant savings to the community in the form of reduced crime and lessened incarceration costs.
Who is eligible for court ordered rehab?
Offenders whose crimes are related to drug or alcohol use may be eligible for court ordered rehab. General guidelines include:
Offenses that are use-related to drugs or alcohol (committed when drunk or high) such as Driving While Intoxicated or Driving Under the Influence
Offenses economically related to drug or alcohol use, such as stealing to pay for drugs
Offenses directly involving drugs, such as possession or distribution of drugs
Juvenile offenders or first time offenders
Offenders who have not already been treated for substance abuse problems in the past
Offenders who have not committed violent crimes or assaults related to sexual abuse 
What are you agreeing to if you choose to enter court ordered rehab?
When you enter court ordered alcoholism treatment or treatment for drug addiction, you sign an agreement that you will enter and complete the rehab program as determined by the court. You agree to abstain from drugs and alcohol for the duration of the program, and undergo alcohol and drug testing whenever asked to prove compliance. You will most likely have to agree to perform a certain number of community service hours. 
What happens if you do not complete court ordered rehab?
If you leave treatment before your rehab program is complete, you will be incarcerated.
What happens during court ordered rehab?
Court ordered rehab for alcohol and drug abuse includes intensive therapy to prevent future substance abuse. If you enter court ordered drug rehab, your treatment may include medical detox where medications are administered to help you stop using drugs. Most court ordered rehab centers use a combination of cognitive behavioral therapy sessions, group and individual therapy, peer support groups, and motivational enhancements. Participants learn coping skills and relapse prevention strategies to prevent future returns to substance abuse.
Who pays for court ordered rehab?
The question of who will pay for court-ordered rehab is decided by the judge on a case-by-case basis. In some circumstances and in certain states, treatment must be paid for entirely by the offender. There are some free treatment programs around the country but they have long waiting lines and are extremely difficult to get into. If you have health insurance, it may pay for some or all of your treatment in court ordered rehab. If you do not have insurance, the rehab center may work out a payment plan. Costs may be on a sliding scale, where the cost of treatment is determined by your ability to pay. 
How long does court ordered rehab last?
Court ordered drug and alcohol rehab generally lasts at least 60 days of intensive rehab treatment, in the form of inpatient or full time outpatient treatment. After that initial rehab treatment, offenders may have to fulfill an extended commitment of 12 to 24 months of treatment. Depending on the severity of drug or alcohol addiction, this extended period may consist of aftercare support in the form of group support meetings, or a stay in a sober living community.
If you or a loved one needs help with abuse and/or treatment, please call the WhiteSands Treatment at (877) 855-3470. Our addiction specialists can assess your recovery needs and help you get the addiction treatment that provides the best chance for your long-term recovery.