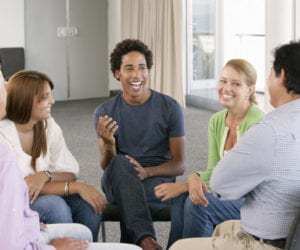 Get the Addiction Support You Need. Here are 12 Reasons to Go to AA Meetings.
AA meetings (Alcoholics Anonymous) are a proven and effective support program for those individuals who have an alcohol addiction and want to stop drinking. Tampa AA meetings help people attain sobriety and remain sober by providing support and holding the drinker accountable for his actions. AA is a fellowship of men and women who have a strong desire to overcome their dependence on alcohol and obtain lifelong sobriety. There are many good reasons to go to AA meetings in Tampa, such as:
The alcoholic will finally admit that he has a drinking problem and needs help. He will no longer remain in denial.
The alcoholic will come to the realization that he has no control over his drinking problem and has to depend on his Higher Power for strength and guidance to get through recovery and remain sober.
One of the many reasons to go to an AA meeting in Tampa for alcohol addiction help is that it is free. Meetings are held in small groups and last about 60 to 90 minutes, and you are not required to adhere to any political, religious or philosophical persuasion.
You will be provided with on-going support as you transition through the stages of alcohol recovery. You will have a chance to meet new people with the same addiction problem as you, and you will learn about your addiction and how to manage cravings and triggers.
You will be held accountable for your actions, and you will be encouraged to progress with your recovery. Tampa AA meetings may end with the Lord's Prayer or the Serenity prayer, but you are not required to say it if you don't want to.
Staying focused on sobriety is difficult for newly recovered alcoholics and many would probably relapse without the help of Tampa AA meetings, where they receive support and encouragement.
Other reasons to go to AA meetings are that you gain a network of support from members whose experiences help each other grow and learn.
You can find an AA meeting in Tampa, as the area has many meeting locations. AA has two different kinds of meetings; the closed meeting and the open meeting. Closed meetings are just for the recovering alcoholics. An open AA meeting in Tampa is for family, friends or anyone interested in AA, and there are usually scheduled speakers.
If you will follow the 12-step AA program, you will take a moral inventory of yourself, and admit to your wrongdoings. You will humble yourself before your Higher Power and ask to remove your faults, plus you will actively engage in being more self-aware to identify hidden faults within yourself.
AA keeps your identity and personal information secret and does not disclose it to anyone. You are not obligated to give any personal information or to return to a meeting. It is left entirely in your hands to continue with meetings or reveal anything about yourself.
Other reasons to go to AA meetings are that you will meet recovered alcoholics. They are the proof that it can be done, and although they may not be professional doctors or therapists. they do something to offer because they have "walked the walk" and can help you get over some hurdles that they have personally encountered.
Other reasons to go to AA meetings is that you will be able to remain spiritually, physically and mentally strong. Anything less can lead to disaster, but if you remain vigilant you will succeed in retaining sobriety.
AA meetings will help you recover from alcohol addiction. You will be able to receive the very best that they have to offer and you can also begin to give back and help others when you are ready. AA is a beautiful fellowship of caring individuals who want only the very best for themselves and for you.
If you or a loved one needs help with abuse and/or treatment, please call the WhiteSands Treatment at (877) 855-3470. Our addiction specialists can assess your recovery needs and help you get the addiction treatment that provides the best chance for your long-term recovery.