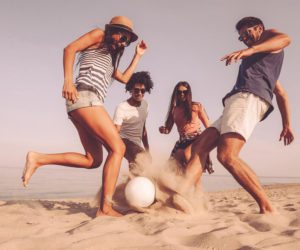 Sober Things to Do This Weekend – Long Term Recovery Tips
As a recovering alcoholic, the weekends can often be the hardest time to get through. The free time you have over the weekend might have been filled with drinking before but now you want to find new activities to keep yourself busy. It may be that many of your old friends are out drinking but you don't want to get involved with negative ties that support your past alcohol abuse. According to NIDA, the rate of relapse in alcohol and drug addicts after stopping is around 40 and 60 percent. In order to avoid relapse, what are some of the sober things to do over the weekend? 
1. Take a Trip to the Movies
One of the sober things to do over the weekend is to go and see a movie. See a movie with friends, family or even by yourself. A movie is great at distracting you if you are feeling the signs of relapse and need something to take your mind off it. Dine-in theaters are also a great way to have a meal while watching the latest movie.
2. Play Sports
Some fun in recovery activities is always a plus. With a quick search online, it is fairly easy to find local sporting clubs near you. Join a local club by yourself or with friends and play football, hockey, basketball or any other sport that you might enjoy. Not only can you have fun and meet new people, but the exercise can also improve your mood.
3. Learn Something New
Various night classes are available for people to learn crafts, cooking or another hobby. It is a great way to meet people while learning a new skill that you can carry over into your everyday life. You don't have to join a class with the many how-to videos posted on YouTube and similar sites. Learning how to cook is one of the fun things to do without alcohol at night.
4. Go Bowling
Bowling is a great pastime and best enjoyed at night. It is one of the things to do without alcohol at night that can be a great deal of fun with friends or family. If you do not have anyone to go bowling with, sign up to a team that participates in fun events such as leagues.
5. Enjoy the Theater
The theater is an excellent way to expand your entertainment horizon and one of the sober things to do over the weekend. Take a trip to a playhouse, theater or university theater and experience something new. The shows are usually inexpensive and happen on a regular basis.
6. Host a Movie Night
A movie night at home with friends is another one of the sober things to do that can be a lot of fun. If you have ample seating at your home, you could host a movie night. Invite a few friends over and enjoy a few favorite classics or new movies together. Ideas for themes can include movies from a single genre, by a specific director or lead actor. Prepare snacks to eat while watching the film and share your thoughts on the movie with your friends once it's finished.
There are many ways to have fun in recovery activities – things that can help you to take your mind off drinking. Don't be afraid to try new things that you've never done before. You might just find a new healthy hobby that can entertain you for years to come. To learn more, call WhiteSands Treatment today.
If you or a loved one needs help with abuse and/or treatment, please call the WhiteSands Treatment at (877) 855-3470. Our addiction specialists can assess your recovery needs and help you get the addiction treatment that provides the best chance for your long-term recovery.