How to Deal with Alcoholism in Your Family
Alcohol AddictionHow to Deal with Alcoholism in Your Family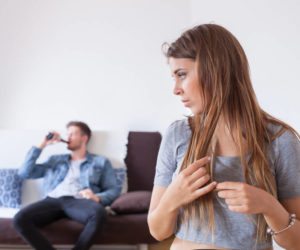 Alcohol addiction and abuse is a widespread problem throughout the United States. The National Institute on Alcohol Abuse and Alcoholism released findings that showed around 15.1 million people in the America had an alcohol dependence problem in 2015. Every year, roughly 88,000 people die as a result of alcohol abuse, including driving while intoxicated. The concerns that the family of an addict has is justified, but how to deal with alcoholism in the family can be difficult.
In this article, we will look at what to do when living with an alcoholic, how they can affect those around them and how to help them find help.
How is the Family Affected?
It is important to realize that in an alcohol addiction case, it is not just the addict whose life is affected negatively. Alcoholism makes the person put the alcohol abuse as a priority over everything else in their life. It is common for an addict to fail to tend to their responsibilities causing disruption in the family's life. An alcoholic losing their job as a result of the addiction is common, putting additional stress on the family. Conflict between spouses and infidelity can also occur as well as domestic violence. Addiction isolates the individual from others, which can lead to divorce.
Children are affected in similar ways but often at a greater scope because they are going through developmental changes.
It is important to note that the family is not the cause of the addiction, even if there may be enabling behavior present. It is a mental disease that requires professional treatment.
Intervention
One of the best ways on how to help an alcoholic in denial is through an intervention. Addiction causes a person to ignore the many negative effects being caused by the abuse of alcohol. An intervention done by close friends and family can bring these issues to light and allow the addict to see things in a way they didn't before. If you are wondering how to help an alcoholic in denial, then coming together with all the people who care about the individual can be one of the few ways to affect a change.
Interventions are the perfect starting stage in how to deal with alcoholism. Ensure that the rehab center has been chosen beforehand to take advantage of the time that the person is willing to enter into rehab. The intervention can be done privately with family and friends or be assisted professionally by intervention specialists.
Tips on How to Deal With Alcoholism in Your Family
What to do when living with an alcoholic can involve approaching the situation in the open. Hiding the problem or being ashamed of it is not conducive to recovery.
Start by getting everyone together who cares about the person and wants to help. As a united front, it can be easier to get across your concerns. Avoid dealing with the issue if the person is intoxicated.
When confronting the individual, keep calm and talk to them in a non-accusative way. If they have tried and failed to stop by themselves, then professional treatment is a must. For treatment to be successful, the person does not need to willing. By making them aware of the consequences of their actions and how it will no longer be supported, it can help them to take steps toward recovery. The aid of a professional interventionist is advised in situations where the addict is not willing to go to rehab.
How to deal with alcoholism in the family can be a challenging experience. Thankfully, many rehab centers are willing to help you through the process by providing helpful resources, intervention specialists and treatment programs.
If you or a loved one needs help with abuse and/or treatment, please call the WhiteSands Treatment at (877) 855-3470. Our addiction specialists can assess your recovery needs and help you get the addiction treatment that provides the best chance for your long-term recovery.