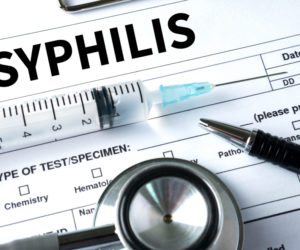 The drug crisis that America faces is constantly evolving. The rise of syphilis as a result of substance abuse is another in a long line of problems that drug abuse has created. Once thought to be a disease of the past, syphilis has surfaced again in the drug abusing community, especially communities where meth and heroin addiction is high.
What has caused the rate of the disease to rapidly increase in recent years? In this article, we will look at the elements that are causing syphilis rates to increase.
Syphilis on the Rise 2017
Data collected by the Center of Disease Control and Prevention in 2015 showed the sharp rise of syphilis cases per year. The country saw an increase in syphilis cases by 19 percent from 2014 to 2015. The total cases of syphilis reported in 2015 amounted to 23,872 cases. Males seem to be harder hit than females based on syphilis cases per year: 13.7 per 100,000 in males and 1.4 per 100,000 in females.
As syphilis on the rise 2017 reports begin to emerge, it is clear that it shows no signs of stopping without intervention.
High STD Rates in Addiction Cases
Sexually transmitted diseases have long been a concern among certain drug users. Addiction can cause a person to do things that they normally wouldn't do such as have unprotected sex and share needles with other high-STD risk users. The intense cravings that people feel in addictions to drugs such as opiates and meth can cause people to use sex and sexual acts as a way to pay for their drugs. These risky behaviors lead to a high risk of contracting a STD. Situations such as these are in part responsible for the rise of syphilis.
Human Trafficking and the Rise of Syphilis
Human traffickers are known to use highly addictive substances such as heroin to manipulate their victims into sexual slavery. Oftentimes children are the most affected by sex traffickers as they are kidnapped or romanced into the situation. They are given drugs such as heroin and once they are addicted, the withholding of the drug is used as way to control the victim.
In these situations, condoms are rarely required and the spread of STDs such as syphilis is inevitable. Dirty needles used for drug abuse are also shared among the users without any concern to what it could mean to their long-term health. Previously, human trafficking was major driving force behind the spread of HIV/AIDS but now it is also a driving force behind the spread of syphilis.
Congenital Syphilis
Another aspect in the rise of syphilis in the United States is congenital syphilis. This is when a mother passes the disease to their child. According to the CDC, 2015 saw the highest rate of congenital syphilis since 2001 with 487 reported cases. Regular screening for the disease can allow a pregnant mother to have enough time for treatment. Treatment for pregnant women with the disease in a timely manner can help to prevent the spread of syphilis to their child.
The many aspects of the drug crisis that the United States faces continue to become more problematic with diseases like syphilis resurfacing. If you need to find help for an addiction for yourself or someone that you care for, pick up your phone and call the White Sands Treatment Centers at (877) 855-6470 today.
If you or a loved one needs help with abuse and/or treatment, please call the WhiteSands Treatment at (877) 855-3470. Our addiction specialists can assess your recovery needs and help you get the addiction treatment that provides the best chance for your long-term recovery.