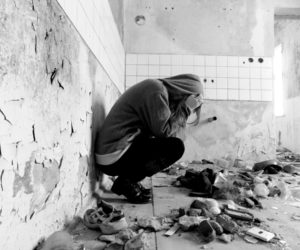 As America struggles to get a grip on an escalating opioid epidemic, countries around the world are trying to cope with their own drug crises. Here are some of the hardest-hit nations in the world, according to worldwide drug addiction statistics.
The Meth Crisis in Bangladesh
In recent history, rampant poverty and humanitarian crises have plagued Bangladesh, where their version of meth is called "yaba" and over half of the young people in the country are addicted to it. The most populated country in the world, Bangladesh has seen its yaba use and seizures skyrocketing, growing from 81,000 pills in 2010 to nearly 30 million in 2016, according to worldwide drug addiction statistics.
Yaba is cheaper than meth, with a purity of five to 20 percent. The rest of the ingredients consist mostly of caffeine. The pills are smuggled into Bangladesh from Myanmar, where they're manufactured. Yaba use is growing among adolescents and children who live on the streets, according to global drug abuse statistics, while use among high school and college students has been widespread since the drug started pouring in around 2000.
Officials see little hope for stemming the tide of yaba, since Myanmar is doing little to shut down manufacturing operations. Additionally, there are few resources for people who are addicted to yaba. The Bangladesh government lists just five public and 68 private treatment centers in the country.
The Opioid Epidemic in Iran
Iran has its share of drug problems, and they affect all corners of society. Crystal meth, opioid painkillers, synthetic hallucinogens, heroin, and opium are coming over the border from neighboring Afghanistan. According to worldwide drug addiction statistics, nearly three percent of Iran's population is addicted to drugs, and some experts say that number is actually much higher.
Opiates are the most heavily abused drug in Iran. That's because it lies on a major trafficking route for the poppy plant, from which opioids are derived. Global drug abuse statistics show that in 2014, Iran accounted for the most opiate seizures in the world. Despite efforts to slow the trafficking of opioids, which include fortifying the country's 600-mile border with deep ditches and concrete barriers, the flow of opioids across the border is increasing. Currently, the government is focused on getting as many addicts into rehab as possible. To date, they've authorized 8,000 rehab clinics to offer methadone maintenance therapy, and numerous private rehab programs have cropped up, but these are largely jail-like and ineffective.
Meth is also a problem in Iran, where it's used by rich young men and women to get high or lose weight.
The Prescription Drug Crisis in France
Like America, France is in the midst of an opioid crisis, driven largely by prescription painkillers like fentanyl and OxyContin. France's universal healthcare system and lack of strong regulations for opioid prescription medications makes it easy for French citizens to obtain and abuse these drugs. Making it even easier to support a painkiller habit is the fact that opioid drugs are inexpensive in France, costing as little as a third of what Americans pay, according to addiction statistics worldwide.
The second most problematic drug in France is benzodiazepines, which are central nervous system sedatives that are prescribed for anxiety and panic disorders. Benzodiazepines like Klonopin, Valium, and Xanax have led to widespread addiction and dependence, according to worldwide drug addiction statistics.
Treatment is the Answer
Drug abuse is a worldwide problem, and governments across the globe are struggling to reduce the amount of illegal substances that come across their borders. In the end, according to the World Health Organization and addiction statistics worldwide, getting people into treatment is essential for improving lives and communities across the world.
If you or a loved one needs help with abuse and/or treatment, please call the WhiteSands Treatment at (877) 855-3470. Our addiction specialists can assess your recovery needs and help you get the addiction treatment that provides the best chance for your long-term recovery.