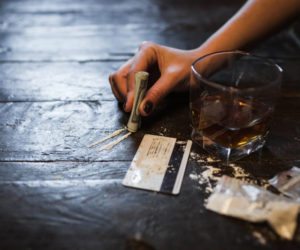 Mixing Cocaine With Alcohol Can Be Deadly
There are many risks associated with mixing cocaine with alcohol, but too many addicts believe they can beat the odds. Research suggests the risk of sudden death from the combination of alcohol and cocaine is 20 times more probable than when cocaine is used alone.
12 Risks of Mixing Cocaine with Alcohol
You might wonder why anyone would be mixing cocaine with alcohol when there are so many dangers, but people using drugs are not thinking rationally when they make that decision. Some of the reasons cocaine users combine the drug with alcohol is to reduce the feeling of drunkenness, magnify the high from cocaine, and decrease the intensity of symptoms when coming down off the substance. Cocaine produces a short-term euphoria, and users will often binge on the drug as the effects begin to wear off or mix with alcohol.
The combination of cocaine and alcohol causes the liver to produce the dangerous by-product cocaethylene, which is a highly toxic metabolite that stays in the body for some time. There are a number of risks associated with mixing cocaine with alcohol, which include the following:
Heart damage including arrhythmias, palpitations, chest pain, and stroke.
Seizures
Impaired judgment
Confusion
Paranoia
Anxiety
Nausea
Vomiting
Coma
Anger and aggressive sexual behavior
Violent thoughts and behaviors
Suicide
While not all users react the same to cocaine use, when combined with alcohol it creates serious health risks and can result in a drug-related death. WhiteSands Addiction Treatment Centers in Tampa and Fort Myers FL provide excellent care for their patients and create a personalized program to assure each addict has the greatest opportunity for a successful recovery.
Cocaine And Alcohol Addiction
According to the European Monitoring Centre For Drugs And Drug Addiction (EMCDDA), more than fifty-percent of cocaine-dependent people were also dependent on alcohol. The mixing of two or more recreational drugs can be deadly and suggests there is a polydrug abuse problem. Many overdose occurrences follow a night of partying where cocaine and alcohol are plentiful. When a person suffers from both cocaine and alcohol addiction, he or she has no idea how much they have used of either after a while and things get dangerous.
Too often, if a person goes into an overdose at a party, it isn't recognized in time to get the needed emergency help. If you, a friend, or loved one is addicted to cocaine, choose to get help right away before you end up in the emergency room or the morgue. Call WhiteSands Addiction Treatment Center in Fort Myers or Tampa FL to speak with a compassionate addiction advisor who will help you make arrangements to get off cocaine and alcohol and start down the road to recovery.
Mixing Alcohol And Cocaine
If you are mixing alcohol and cocaine, it's quite probable you are addicted to both substances and should seek help right away. Continued use of this lethal combination is damaging both your physical and mental health. If you are dealing with emotional issues, you need to enter a drug treatment facility that offers dual diagnosis care as well as treatment for polysubstance abuse. Sometimes there are underlying mental problems that are contributing to your addiction problems. WhiteSands is full accredited and has board certified doctors and psychiatrists on staff and their goal is to help each patient recover from the life-destroying dangers of drug and alcohol addiction.
Make arrangements with WhiteSands to enter their high-end drug addiction treatment program. Medical detox followed by rehab, and therapy is personalized to meet the specific issues you face. Don't wait another day to reclaim your life.
Sources:
https://www.drugabuse.gov/publications/drugfacts/cocaine
http://www.emcdda.europa.eu/online/annual-report/2011/boxes/p67
https://www.drugabuse.gov/related-topics/trends-statistics/overdose-death-rates
https://www.sciencedaily.com/releases/2016/04/160408101936.htm
If you or a loved one needs help with abuse and/or treatment, please call the WhiteSands Treatment at (877) 855-3470. Our addiction specialists can assess your recovery needs and help you get the addiction treatment that provides the best chance for your long-term recovery.