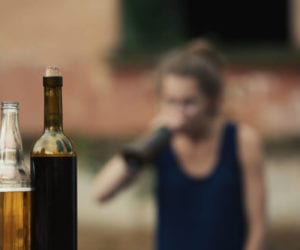 Where to Find Help with Alcohol and How It Can Help
Alcohol abuse and addiction is an ongoing problem in the United States – over 15 million people engaged in heavy and binge drinking on a regular basis in 2015. Of these, only 6.7 percent got any form of treatment. The low treatment rate can be, in part, attributed to alcoholics not knowing when they need help with alcohol, or where to find treatment. As such, we will discuss the signs of alcohol use disorder, how treatment works, and how to find rehabs for alcoholism near me.
Do You Need Help?
Alcohol use disorder is the clinical term used to described moderate to severe abuse of alcohol – encompassing alcohol abuse, dependence, and addiction. It generally occurs in people who partake in regular high-risk and binge drinking.
According to the DSM-5 classification of alcohol addiction, if a person answers "yes" to at least two of the following within a year, then they have alcohol use disorder:
After the alcohol's effects have worn off, do you experience common withdrawal symptoms such as insomnia, anxiety, nausea, restlessness, shakiness, or depression?
Have you developed a tolerance to alcohol's effects?
Even though drinking causes problems such as anxiety, blackouts, or depression, do you still carry on drinking?
Do you drink in situations where you could get hurt, such as unsafe sex or while driving?
Have you given up doing other things you once enjoyed just to drink more?
Do you continue to drink alcohol even though it's causing problems with your friends or in your family?
Has your drinking or the aftereffects of drinking caused problems at school, work, or in your home life?
Do you feel a craving to drink more?
Do you spend a lot of time drinking and recovering from alcohol
Have you tried to stop or slow down more than once but haven't been able to?
Do you sometimes drink for longer or more than you wanted to?
If you have answered "yes" to two of these questions, then professional help with alcohol should be your next step.
Types of Treatment Programs and Methods
To truly get help with alcoholism, rehabs for alcoholism near me focus their efforts on several fronts. The ways that rehab can help with alcoholism include therapy, medications, and aftercare services.
Behavioral therapy is an important part of treatment. It aims to work through the emotional and mental problems the person may have in order to improve their behavior and responses. There are several different types of therapy that is usually used, which include:
Family and marital counseling – This method incorporates family members and spouses in the counseling and therapy. Its purpose is to improve the family unit and help the family member or spouse to better support their loved one through recovery.
Cognitive-behavioral therapy – Either in a one-on-one or small group setting, this type of therapy provides help with alcohol by identifying stressors and triggers to alcohol abuse, and provides better ways to cope with the triggers.
Motivational enhancement therapy – This method of therapy helps to build the addict's confidence and promotes self-change through motivation.
Medications can be used during the detox phase as well as to help with long-term maintenance of alcoholism. They are FDA-approved and highly effective in preventing relapse by reducing cravings and blocking the effects of alcohol.
Rehabs for Alcoholism Near Me
For anyone staying in the state of Florida, or those who want to go to Florida for treatment, help can be found at WhiteSands. There are several inpatient and outpatient rehab centers across the state that have professionally recognized programs that can help with all of the aspects of alcohol use disorder treatment. Call them today at (877) 855-3470 for more information or help.
Sources:
https://pubs.niaaa.nih.gov/publications/treatment/treatment.htm
https://www.niaaa.nih.gov/alcohol-health/overview-alcohol-consumption/alcohol-facts-and-statistics
If you or a loved one needs help with abuse and/or treatment, please call the WhiteSands Treatment at (877) 855-3470. Our addiction specialists can assess your recovery needs and help you get the addiction treatment that provides the best chance for your long-term recovery.