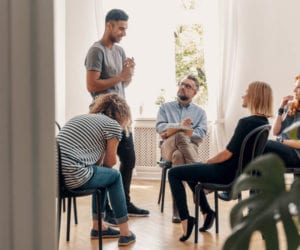 A 30 day inpatient drug rehab can help you end an addiction for good.
Addiction leads to numerous problems in your life, and quitting using drugs or drinking can seem like an insurmountable task when you're faced with cravings and the prospect of coping with life sober. That's why the National Institute on Drug Abuse (NIDA) points out that long-term recovery from addiction almost always requires professional treatment. While NIDA stresses that treatment lasting less than 90 days is of limited effectiveness, a 30 day inpatient drug rehab is an excellent way to jump start your recovery journey. 
Learn more about inpatient and outpatient drug addiction treatment here.
Inpatient vs. Outpatient Drug Rehab
Inpatient drug rehab involves living at a residential facility while undergoing rehab. The most common are 90, 60, and 30 day inpatient drug rehab. Long term drug treatment can last as long as six months to a year. A six or 12-month long term drug treatment program is typically known as a therapeutic community.
Inpatient rehab, for any length of time, is beneficial for a number of reasons:
It provides the opportunity to focus solely on recovery without external stressors getting in the way.
It offers a high level of structure and routine, which is important in the early weeks of treatment but hard to maintain without help.
It helps you develop and practice essential coping skills for dealing with stress, negative emotions, and cravings, which are common relapse triggers in early recovery.
It provides a high level of staff and peer support in the critical early days and weeks of recovery.
Once a 30 day inpatient drug rehab program ends, the next step will be outpatient treatment, which can last 30 days to several months, depending on your needs. During outpatient treatment, you'll live at home and travel to the treatment center each day for therapy, classes, and other programming. Outpatient treatment enables you to work, attend school, or care for the family while in rehab. It offers a great deal of support as you begin navigating a sober life.
What to Expect in 30 Day Inpatient Drug Rehab
A high quality inpatient rehab will take a holistic approach to treatment that addresses issues of body, mind, and spirit. This whole-person approach, according to the Substance Abuse and Mental Health Services Administration, offers the best outcomes of treatment.
Holistic 30 day rehab centers offer a variety of therapies, classes, workshops, and interventions that address all of an individual's complex needs and issues.
Traditional therapies include cognitive-behavioral therapy and family therapy, which are staples in high quality treatment programs and focus on changing unhealthy thought and behavior patterns.
Complementary therapies like art therapy and music therapy help you look at problems from a variety of angles, and they increase self-awareness and self-confidence.
Psychoeducational classes help individuals better understand addiction, mental illness, recovery, and the issues they may face in recovery.
Workshops help individuals develop practical and life skills that are essential for living a self-directed life.
Other interventions may include legal, educational, vocational, or housing assistance; medical or mental health care; and other needs-based programs that help promote long-term recovery.
Through the varied programming at 30 day rehab centers, individuals in treatment:
Identify and replace dysfunctional thought and behavior patterns with healthier ways of thinking and behaving.
Address underlying issues behind the addiction, which often include trauma, stress, and mental illnesses like anxiety and depression.
Develop coping skills to navigate challenges in recovery.
Learn to relax and have fun without drugs or alcohol.
Find purpose and meaning in a life of sobriety.
Develop healthy lifestyle habits to support long-term recovery.
Repair damaged relationships and restore function to the household.
A 30 day inpatient rehab program can help you end your addiction for good. Rehab works for most people who engage with their treatment plan, and the more engaged you are in treatment, the better your chances of successful recovery and a higher quality of life for the long-haul.
If you or a loved one needs help with abuse and/or treatment, please call the WhiteSands Treatment at (877) 855-3470. Our addiction specialists can assess your recovery needs and help you get the addiction treatment that provides the best chance for your long-term recovery.