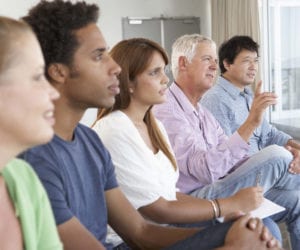 How Does Substance Abuse Group Counseling Work and What Are the Benefits?
One of the most important lessons in addiction is that you're not alone; addiction is a rampant disease that affected as many as 20.2 million people over 18 in the United States in 2014. For those that find professional help, they will soon be surrounded by other people going through the same issues that are trying to turn their life around. One of the types of therapies that is effective in the treatment of substance use disorder is substance abuse group counseling. 
The benefits for group counseling while overcoming substance abuse is numerous. Learn more here.
In this article, we will examine how substance abuse group therapy works and what some of the benefits are.
How Does Substance Abuse Group Counseling Work?
It may seem that talking about personal feelings and experiences in front of a group of strangers is a daunting task, but in truth, the way that the substance abuse group therapy is structured makes the experience easy and natural. In most cases, by the time you start to share your thoughts in the group, you will be acquainted with everyone, making it more akin to talking among friends.
There are different types of substance abuse group counseling methods; some being more freeform while others are highly organized with group activities and the like. An example of the freeform type of substance abuse support groups is where a member shares a story among the group, led by the therapist, and then the other members give feedback, helping to solve the problem together. In a rehab program, all such group meetings will be led by a therapist who guides the discussion and feedback to ensure that positive outcomes are reached. However, the therapist won't usually force a point of view to allow each person to learn on their own lessons.
The goal of group therapy is to incorporate peer learning. As people share their stories or problems, other members can provide a different insight allowing for a more in-depth exploration of the topic. Substance abuse support groups tend to promote a safe therapeutic space where anything can be shared and discussed, and members often develop a close bond with other members in the group.
The Benefits of Substance Abuse Group Counseling
So, what does being a part of a group therapy program do for you? Group therapy has several benefits that each person can attain. It is usually a part of every rehab program because of how effective it can be for recovery.
Some of the benefits of group therapy or counseling may include:
More affordable than individual therapy.
Peer learning as each member's experience can be learned from by each member, and new viewpoints can be attained.
You can gain the support of your peers along with the therapist, all of whom are rooting for your recovery.
Gain new insight into your own problems that are mirrored in another.
It allows for experimentation of new ideas since it is a safe environment.
We, as humans, have always learned from others, and learning in a group tends to be easier for us than going it alone.
Many of the most famous recovery programs are focused on the group element of recovery, such as Narcotics Anonymous and Alcoholics Anonymous. Support groups can be a crucial part of long-term recovery, too. If you would like to get started with your recovery and partake in group therapy along with other evidence-based approaches to treatment, contact WhiteSands today at (877) 855-3470.
Sources:
https://www.samhsa.gov/disorders
https://www.drugabuse.gov/publications/drugs-brains-behavior-science-addiction/treatment-recovery
If you or a loved one needs help with abuse and/or treatment, please call the WhiteSands Treatment at (877) 855-3470. Our addiction specialists can assess your recovery needs and help you get the addiction treatment that provides the best chance for your long-term recovery.