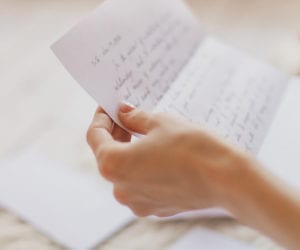 What to Write to Someone in Rehab: How to Express Your Emotions and Support
Before your loved one entered rehab, your daily life with them may have been strained due to the drug-seeking behavior. Frustration, avoidance, indifference, and arguments might have been common place in your relationship during their addiction, but now that they are in rehab, it can be difficult to know what to say to them to not fall back into old habits, and to be supportive of their new goals. In order to help with your communication with a loved one in rehab, we will look at what to write to someone in rehab. 
A Medley of Emotions
One of the skills that is often lost during an addiction is proper communication. Addicts may be closed off and isolate themselves from those around them in order to better facilitate their drug-seeking needs. However, this situation often leads to a substantial buildup of emotions that can make knowing what to write to someone in rehab difficult.
Among the flood of emotions that can get in the way of what to say to someone struggling with addiction include the following:
Sadness over your predicament
Anxiety over whether or not your loved one will get better
Anger over the pain that their addiction caused
Shame over what you might say to others about the situation
Weakness due to not being able to help the addict yourself
Even though your emotions may gain the upper hand at times, establishing a healthy line of communication is an important part of the addict's and your healing process.
What to Write to Someone in Rehab
One of the best ways to communicate concisely with someone in rehab is to write them a letter. It is an excellent way prevent negative emotions from taking over a conversation on the phone since you are able to carefully plan what you want to say, and you are able to say it in the best way possible. Another great aspect of writing a letter is that your loved one can read it, and re-read it to fully understand what it is that you're trying to convey. This can even act as motivation for them during their time in rehab.
What to say to someone struggling with addiction should come from a place of love, acceptance of their new path, and total support of their new lifestyle. Some of the following will help you to know what to write to someone in rehab.
Start with love – Now that the person is in recovery, you can start to let go of the things that the disease of addiction caused. Remind the person that you love them because they are likely already beating themselves up over what they did.
Forgiveness – Offering your forgiveness for the wrongs that were done to you in the addiction is in part to help the addict heal, but it is also important for you to forgive and let go of all the negative emotional baggage you are carrying. If you find it hard to forgive them, consider family therapy to strengthen and heal your relationship.
Motivate them – Self-esteem and confidence is often at an all-time low for an addict in early recovery. A few words of motivation to help build their confidence can go a long way to their recovery. What to say to someone going to rehab should help to motivate their chosen path.
Be supportive – What to say to someone going to rehab should also be focused on offering your support. You may want to talk about your future together doing things you both used to love, or that you understand that the disease has caused much of their behavior, but you are there for them during their healing – however long it may take.
Sources:
https://www.drugabuse.gov/publications/drugs-brains-behavior-science-addiction/treatment-recovery
https://www.ncbi.nlm.nih.gov/books/NBK64269/
If you or a loved one needs help with abuse and/or treatment, please call the WhiteSands Treatment at (877) 855-3470. Our addiction specialists can assess your recovery needs and help you get the addiction treatment that provides the best chance for your long-term recovery.