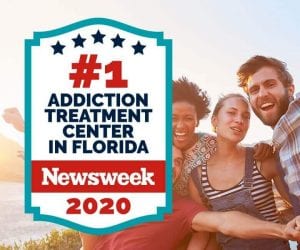 Our Center Makes Top Of List For 2020
WhiteSands Alcohol and Drug Rehab has just been recognized by Newsweek as the top-rated Addiction Treatment Center in the state of Florida. The facility's two main locations in Plant City and Fort Myers made the 1st and 4th spot in Newsweek's, "2020 List of Best Addiction Treatment Centers in Florida".  We are so proud of our premier drug and alcohol addiction treatment center, and it is wonderful to be recognized for our outstanding success!
The rankings were based on several factors including:
The range of programs offered
Quality of services provided
Accreditation
Credentials
Reputation
Newsweek's Survey of Medical Experts
WhiteSands Alcohol and Drug Rehab has always strived to be the cornerstone of addiction care and now Newsweek and the medical community in Florida have confirmed this. To create its list, Newsweek relied on Statista Inc, a global market research firm who's rankings are informed by a survey of:
Doctors
Health care professionals
Health care administrators
The survey asked respondents to evaluate addiction treatment facilities based on:
Quality of care
Service
Follow-up care
Accommodations
Amenities
When it comes to seeking addiction treatment, people have what can feel like an overwhelming number of options to choose from, especially in the state of Florida.  Treatment centers can range from sub-par facilities to ones that offer a full range of top-notch treatment options.  Knowing how to make the best choice can be challenging. Newsweek's recommendations, based on the advice of trusted medical experts, will help people in need of addiction treatment find the effective quality care they deserve.
If you or a loved one are struggling with addiction, call WhiteSands Alcohol and Drug Rehab today at 877.969.1993 to learn how we can help.
By consistently raising the bar as it relates to levels of care, qualified staff, and refusing to cut corners, we are able to offer the very best continued care to our patients on a long-term basis.
About WhiteSands Alcohol and Drug Rehab
WhiteSands Treatment is a drug and alcohol addiction treatment center with numerous locations throughout Florida. Our facilities offer a full range of evidence-based treatment modalities starting with admission and medically assisted detox and extending to aftercare, relapse prevention, and active alumni programs. Our inpatient treatment facility offers private rooms to all patients, an amenity we have found helps to foster a healthy recovery. We do not believe in an institutionalized approach to recovery as we understand that this tactic is highly ineffective and leads to an increased rate of relapse. We believe that each guest should be treated on a personal basis which is why we tailor our programs to meet the individual needs of each and every patient that we treat. We also offer a host of luxury amenities for guests to enjoy during their free time including a full-sized gym, athletic complex, recreation center, yoga classes, and tranquil walking paths.
If you or someone you love is struggling with a substance use disorder, reach out to the best treatment center in Florida.  Call now and speak with a WhiteSands intake specialist who can answer all your questions and help guide you on the next step toward long-lasting addiction recovery (877) 969.1993.
If you or a loved one needs help with abuse and/or treatment, please call the WhiteSands Treatment at (877) 855-3470. Our addiction specialists can assess your recovery needs and help you get the addiction treatment that provides the best chance for your long-term recovery.