KO Addiction Boxing Program at WhiteSands Alcohol and Drug Rehab
addiction and recoveryKO Addiction Boxing Program at WhiteSands Alcohol and Drug Rehab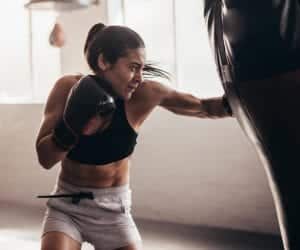 Fitness in Recovery Remains Vital to Overcoming Addiction
WhiteSands Treatment has dedicated an immense amount of time and effort into their brand new state-of-the-art athletic complex and recreation center. An addition to the center that we believe is a real asset to recovery is a boxing ring located in the athletic complex. 
In this athletic facility, clients can receive one-on-one training from our boxing trainers, who are also professional boxers. We have three team members who fought professionally and continue to train our guests through our boxing program. 
Boxing allows patients to funnel their energy into something constructive that will improve their agility and advance their skills. Boxing is not only a great form of physical exercise, it is also very beneficial for the mind.  
If you or a loved one are struggling with addiction, call WhiteSands Alcohol and Drug Rehab today at 877.969.1993 to learn how we can help.
The Psychological Benefits of Boxing 
Boxing is a complete mind-body workout. It goes without saying that boxing has its physical advantages for those who partake in the sport, increasing their stamina to boost their fitness abilities and goals. Still, there are also significant benefits for the mind. 
Some of the ways boxing can improve the mental health, and well-being of patients, are: 
Improves mental strength while combating mental health issues such as anxiety and depression  

Increases endorphins and dopamine levels in the brain (feel-good chemicals that are naturally produced in response to working out) 

Enhances the ability to concentrate  

Promotes self-confidence to battle insecurities  

Teaches individual discipline  
Boxing is a demanding sport and requires full focus and dedication from the individual. While patients are bettering their coordination, agility, technique, footwork, and movement, they are also improving their strategy and focus. 
The owner of WhiteSands Treatment has a true passion for the art of boxing and has trained and managed many nationally-recognized boxers. Some of the fighters he has worked with are Erickson Lubin, Jared Gordon, and Mike Tyson. He is a firm believer in boxing's therapeutic benefits and has seen first-hand how it helped individuals in a bad mental and physical state due to addiction and overcame their struggles by providing a mental, physical, and emotional way to release tension and stress.  
Battling Addiction Through Fitness 
We have several boxers on staff at our facility that are recovering addicts themselves, overcoming their addictions, and finding solace in boxing. By shifting focus from an addiction mindset to one that is dedicated to becoming stronger and healthier on a physical and mental basis, individuals can reap boxing therapy benefits. There is an element of pride that comes with pushing your limits, and reaching your capabilities and boxing is a great way to accomplish your goals.  
Those who participate in the boxing program report increased self-esteem and are much more confident in their emotional safety. Individuals also experience a better attitude toward recovery and sobriety and view these with a newfound optimism.  
We generally underestimate our resilience as humans, and it's important to remember that our past does not define us; our addiction does not dictate who we are today. We are all capable of overcoming our struggles. When the resources are available to us, we can leverage those to create the best person.  
By channeling energy through our boxing program, guests can work toward a recovery that will last a lifetime. Transformation is possible through WhiteSands Treatment, the professional trainers here, and the qualified staff committed to patients' recovery. Call now to speak with an intake specialist and learn how our tailored and individualized treatment programs can lead you toward long-lasting sobriety. 
If you or a loved one needs help with abuse and/or treatment, please call the WhiteSands Treatment at (877) 855-3470. Our addiction specialists can assess your recovery needs and help you get the addiction treatment that provides the best chance for your long-term recovery.