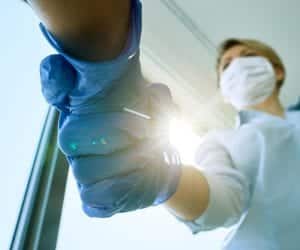 WhiteSands Continues to Help People Overcome Addiction, Even During a Pandemic
A former patient named Justin credits WhiteSands Drug and Alcohol Rehab with saving his life.  Justin was consumed by his addiction when he entered the addiction treatment center's Plant City, Florida location. He came to WhiteSands amidst a global pandemic and was very impressed with how precautions related to COVID-19 were handled. 
"I was a client during the Coronavirus outbreak and always felt good about their safeguards and policies concerning the virus," he states. 
During the COVID-19 outbreak, WhiteSands Alcohol and Drug Rehab went above and beyond to ensure that patients were safe throughout their time there. While the pandemic posed particular challenges, the quality of care, safety, and well-being of patients were never compromised, and Justin is a prime example of this. 
"WhiteSands allowed me to safely focus on myself and recovery," he says. 
WhiteSands Alcohol and Drug Rehab ensures that patients' safety and health are never put at risk as they follow strict protocols when it comes to COVID-19. This strict safety regimen allows patients to focus on their recovery without worrying about the virus. 
If you or a loved one are struggling with addiction, call WhiteSands Alcohol and Drug Rehab today at 877.969.1993 to learn how we can help.
Covid-19 Precautions at WhiteSands
WhiteSands takes the risk of COVID-19 extremely seriously, never cutting corners related to the safety and well-being of patients. Some of the safety measures that WhiteSands continues to implement include: 
Practicing social distancing 

Mandating masks be worn throughout the property 

Reducing the size of group gatherings (fewer people per meeting) 

Expanding gym hours so that everyone has a chance to enjoy the amenities 
WhiteSands has overcome obstacles during the global pandemic and continues to be on top due to an unwavering dedication to helping patients overcome addiction. The pandemic has not been favorable to those struggling with addiction. In fact, it has exacerbated issues of substance abuse. By keeping treatment available when people need it most, WhiteSands demonstrates their commitment to patients and their recovery. 
The Benefits of Health and Fitness Programs  
Justin, like many of the patients who enter treatment at WhiteSands, came in malnourished and unhealthy. It is not uncommon for patients to enter treatment in this condition as their health has not been their top priority; substance abuse was. It's easy and common for people to neglect their health when consumed with drug or alcohol abuse. Our personal trainers and dieticians help get patients back to a balanced, healthy state both mentally and physically.  
What Is Drug Addiction? 
Addiction is characterized by the compulsive desire to use drugs or alcohol despite experiencing adverse side effects. Some of the common signs an individual struggles with addiction are: 
Hiding their problem from close friends and family 

Continuing to use substances despite harmful side effects 

Depleting bank accounts to support the habit 

Wanting to get help but never doing so 
It is not uncommon for those who are struggling with addiction to downplay their addiction. Being in denial about substance abuse is quite normal. The impact of drug and alcohol addiction will eventually become too noticeable to hide, and the individual will inevitably reveal they are struggling with an addiction.  
If you notice the behavioral and physical signs of addiction in a friend or loved one, the key to overcoming it is to seek professional treatment. WhiteSands Alcohol and Drug Rehab offers a full range of treatment options for those struggling with addiction. They customize each treatment program to the unique needs of individual patients. WhiteSands does not believe in a one-size-fits-all approach to recovery and, instead, personalize all their recovery plans. 
Contact WhiteSands to speak with an intake specialist today and learn how treatment can help you or a loved one make a full recovery from drug or alcohol addiction. 
If you or a loved one needs help with abuse and/or treatment, please call the WhiteSands Treatment at (877) 855-3470. Our addiction specialists can assess your recovery needs and help you get the addiction treatment that provides the best chance for your long-term recovery.