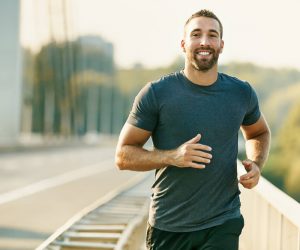 WhiteSands Offers a Full Continuum of Treatment Options Coupled With a Personalized Recovery Program 
Jacob, a patient who recently completed inpatient treatment at our Plant City, Florida location, credits the top-notch care provided, as well as the amenities offered, for his success in recovery. Living in nearby Sarasota, he required a transfer to WhiteSands' Plant City-based residential facility, which our team of specialists coordinated seamlessly for him.  
He first started his recovery journey through WhiteSands Treatment's medical detox program, located directly on-site in Plant City. 
"The staff is always willing to help you with anything and so friendly," Jacob said. "The other patients are the same, everyone here is welcoming."
WhiteSands Treatment has earned its spot as one of the best treatment centers across the nation. With the highest-qualified staff, all-inclusive programs, and premier amenities and accommodations, the facility works relentlessly to ensure patients receive the best care possible while having comfortable accommodations and a host of activities to enjoy. 
If you or a loved one are struggling with addiction, call WhiteSands Alcohol and Drug Rehab today at 877.969.1993 to learn how we can help.
The Benefits of Activities and Amenities in Addiction Recovery 
Like many of our patients, Jacob found that the boxing program had a huge positive impact on his success in recovery. Boxing exercise is a unique therapy program offered at WhiteSands, and the facility is one of the few rehab centers in the nation that offers this.
Patients work one-on-one with professional boxers and personal trainers as they master the sport's art and technique. Boxing therapy is so successful because it requires the patient's undivided focus and attention, so they aren't thinking about anything other than their next move.  
"They have a full gym, a boxing ring, a pool, and lots of other things that take your mind off of your addiction," Jacob said. 
Some of the benefits of boxing therapy include: 
Physical: 
Boosts agility  

Increases stamina and endurance 

Improves overall strength  

Better stability  

Enhances cardiovascular health  

Better sleep, less restlessness  
Mental: 
Relieves stress  

Helps to alleviate anxiety  

Improves the side effects of mental health disorders  

Better concentration 

Increases endorphin production 

Boosts self-esteem  
Exercise Therapy  
During addiction recovery, patients must stay focused on reaching their goal of sobriety. A great way to do this involves staying mentally and physically active and stimulated. Exercise therapy is a great coping mechanism and a fantastic tool for managing triggers to mitigate stress and boost overall physical fitness and health. Boxing is an evidence-based therapeutic and holistic means of therapy that aids in the overall recovery process.  
By managing dysfunctional behaviors and negative thought processes by attending ongoing treatment and taking part in exercise therapy, individuals will have every opportunity to recover. Boxing is not a 'stand-alone' type of treatment, as combination therapy remains the best way to achieve and sustain long-lasting sobriety from drug and alcohol abuse. 
Boxing is a sport that continues to challenge the individual. Rather than simply reaching a goal and plateauing, as many forms of exercise therapy do, individuals can always improve their boxing skills, so there is always a new goal to meet and exceed. This progression is also something patients can continue to take with them upon discharge from treatment as it will keep them occupied, so they don't turn to drugs and alcohol.  
If you or someone close to you struggles with drug or alcohol addiction, call an intake specialist at WhiteSands Treatment today. Regaining control of your life is possible through quality treatment, compassionate care, routine exercise, and dedicated addiction specialists. 
If you or a loved one needs help with abuse and/or treatment, please call the WhiteSands Treatment at (877) 855-3470. Our addiction specialists can assess your recovery needs and help you get the addiction treatment that provides the best chance for your long-term recovery.