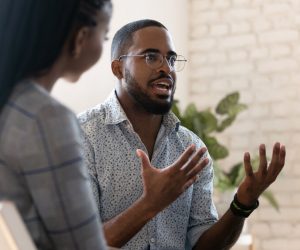 Offering All Levels of Care On-Site Has Proven to Promote Long-Lasting Sobriety 
Many patients who enter WhiteSands Alcohol and Drug Rehab to overcome drug addiction are at rock bottom and have nowhere else to turn. They know they need help to get better, but finding the right support presents challenges many are not willing to face.
Luckily for Brandon, Florida resident John, the decision to seek help at WhiteSands Treatment proved to be a life-saving choice.   
"I had no hope in sight and nowhere to go for help," he states. "I had the great privilege to discover this facility." 
The assistance and guidance offered through treatment, counseling, and therapy that John received from WhiteSands cannot be understated as addiction is a chronic disease that requires professional help to overcome.  
WhiteSands Alcohol and Drug Rehab in Plant City is rated as the number one addiction treatment center in Florida by Newsweek magazine. The facility offers all levels of care, including medical detoxification using the most effective detox and withdrawal management medications for drug and alcohol addiction.  
The main levels of care provided at WhiteSands Treatment are: 
Medical detox 

Inpatient/residential treatment 

Intensive outpatient programs (IOP) and partial hospitalization programs (PHP) 

Aftercare and relapse prevention 

Alumni support
If you or a loved one are struggling with addiction, call WhiteSands Alcohol and Drug Rehab today at 877.969.1993 to learn how we can help.
The Benefits of Offering All-Inclusive, Comprehensive Treatment 
When trying to overcome drug and alcohol addiction, patients must look for a facility offering all levels of care from start to finish with treatment provided by board-certified professionals. This level of care will ensure individuals receive the range of support they need and the quality of assistance needed for long-lasting sobriety.
"When I arrived, I was given amazing information on their plans to help get me back on my feet," John says.  
What makes WhiteSands Drug and Alcohol Rehab unique is that it offers personalized and tailored treatment programs for each patient. They never utilize a generic, one-size-fits-all approach to treatment and each program is uniquely curated and crafted based on the specific needs of the patient. This process ensures patients receive individualized substance abuse treatment for their drug or alcohol addiction.  
Amenities Play a Critical Role 
The amenities offered to patients at WhiteSands are top-notch and provide a healthy outlet for them to exert extra energy. After an intense day of counseling and therapy, patients must have ways to expend their energy, and there is no better way to do so than enjoying the host of amenities that WhiteSands Offers.  
"They welcomed me with open arms, and I have never experienced better care between a state-of-the-art gym, swimming pool, and one-of-a-kind staff. I left here with a clear mind and a new hope I thought I'd never had," John says.
Trigger management is key to long-lasting sobriety as individuals in recovery must avoid situations that will put their sobriety at risk. Some of the feelings and emotions that can put your sobriety in jeopardy during addiction recovery are: 
Loneliness 

Fear 

Anger 

Boredom 

Guilt 

Disappointment  

Resentment 
When people in recovery are occupied and stimulated with physical and mental activities, they are much less likely to experience these emotions, which can ultimately help them stay on the path of sobriety.  
The specialists at WhiteSands work to address both the mental and psychological effects of addiction, so patients know how to manage this relapsing and chronic disease properly. When addiction is addressed and treated on all levels, an addict has a much better chance at sustaining their sobriety on a long-term basis. 
If you or someone close to you is like John and struggles to find the help needed to overcome addiction, contact WhiteSands Alcohol and Drug Rehab today. Their intake team is on standby 24/7 and can help you begin the process of recovery right away. You are one decision away from an entirely different life and one that is fulfilled and free of the grips of addiction, just like John.  
If you or a loved one needs help with abuse and/or treatment, please call the WhiteSands Treatment at (877) 855-3470. Our addiction specialists can assess your recovery needs and help you get the addiction treatment that provides the best chance for your long-term recovery.