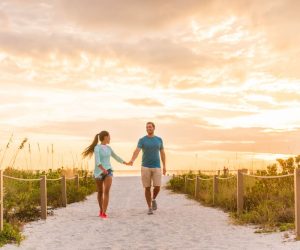 Melbourne Patient Credits Amazing Staff and Top-Notch Amenities for His Recovery
Melbourne, Florida resident Joshua had struggled with alcohol abuse for years. Still, it wasn't until he was pulled over for a DUI that he realized things truly needed to change.  It was then that he decided to enter treatment at WhiteSands Alcohol and Drug Rehab. 
"I thought my life was over until I came here," Joshua said. 
Driving under the influence of alcohol was a turning point for him.  It was an event that drove home the point that help was needed; there was no other option. Unfortunately, people who struggle with drug and alcohol abuse often need a life-altering event like a DUI charge to realize they have a problem and that it needs to be addressed immediately.  
"I was broken when I entered WhiteSands, and now I'm a sober man with my life back," Joshua proudly stated. 
It takes immense courage to admit you have a problem and recognize that the destructive life you're living is not going to end well. Often, the most difficult action for people struggling with a substance abuse problem is admitting they need help.
When they realize help is needed, a person is already in the recovery mindset, something that's inherently beneficial. Forcing an individual into treatment rarely works, they have to want to change. Luckily for Joshua, he found the change he needed within himself.
If you or a loved one are struggling with addiction, call WhiteSands Alcohol and Drug Rehab today at 877.969.1993 to learn how we can help.
Exercise Plays a Key Role in Treating Addiction  
Like many of our guests, Joshua thoroughly enjoyed the amenities and health-focused activities offered at WhiteSands Addiction Treatment Center.
"The amenities like the gym and the pool help keep me in shape physically," he says. 
WhiteSands' facility focuses on promoting a healthy and active lifestyle.  Being physically and mentally fit is a key factor in long-lasting sobriety. Staying active and engaged in recovery has proven to be an essential factor in the journey toward long-lasting sobriety. Some of the activities and amenities we provide at our residential campuses include: 
A full-sized gym 

A newly-construction athletic complex with a regulation boxing ring 

A recreation center 

Indoor and outdoor lounge areas  

A swimming pool 

Walking paths  

Personal training with certified coaches/trainers 

Basketball  

Volleyball  

Yoga  
When patients have constructive ways to spend their time, they are more likely to succeed in long-term recovery. They can take the hobbies and interests adopted while in treatment and apply them to their lives upon discharge.
Individuals will be faced with a host of challenges and adversity when they leave treatment, which is why it's vital to have healthy outlets and activities to help them sustain their sobriety and avoid triggers that could lead to relapse. Knowing how to handle temptation can be the difference between sobriety and relapse.  
A Facility That Always Puts Patients First 
It's patients like Joshua that truly make all of the efforts that WhiteSands has put into their treatment center and recovery modalities worth it.  
"I love this place and would recommend it to anyone. Thank you, WhiteSands, for helping me when I couldn't help myself," Joshua states.
WhiteSands Alcohol and Drug Rehab invests a tremendous amount of time and effort into every treatment program we offer. We continuously put patients' best interests first and ensure their well-being while making sure they receive quality, compassionate care. The staff we have onboard make it their mission to treat each patient with individualized programs that consider every aspect of addiction, including underlying mental health disorders.  
If you or someone close to you struggles with drug or alcohol addiction, get in touch with WhiteSands Treatment today. The intake team will speak to you about the various treatment options available and help guide you toward taking the first step in addiction recovery. Don't wait for a life-altering event like a DUI to seek help. Assistance is always available at any of our treatment centers around Florida. 
If you or a loved one needs help with abuse and/or treatment, please call the WhiteSands Treatment at (877) 855-3470. Our addiction specialists can assess your recovery needs and help you get the addiction treatment that provides the best chance for your long-term recovery.