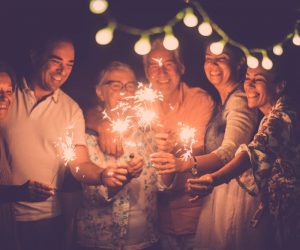 Tips for Celebrating New Year's Eve in Recovery  
New Year's celebrations can be nerve-wracking for people in recovery from drug or alcohol addiction. With so many parties involving alcohol, it can ultimately put their sobriety at risk. Knowing how to properly manage triggers and learning how to be around others who may be consuming substances during the New Year can be the difference between remaining sober or experiencing a relapse. 
However, you can still have fun and enjoy the New Year without the influence of drugs or alcohol. There are plenty of enjoyable ways you can celebrate New Year's Eve while sober.  In fact, we believe that ringing in the New Year with a clear mind and genuine happiness will make for the best celebration ever.  To show you how, we've decided to explore many of the ways you can enjoy your holidays without being under the influence of drugs or alcohol. 
If you or a loved one are struggling with addiction, call WhiteSands Alcohol and Drug Rehab today at 877.969.1993 to learn how we can help.
1. Create a Dance Party  
There's a certain feeling that arises when you hear the beat of your favorite songs. You can ring 2021 by creating a playlist of your top favorite songs to dance and sing along to. Both dancing and singing have proven to boost your overall mood as they naturally release endorphins and dopamine, the 'feel-good' chemicals produced by the brain. 
2. Attend an AA or NA Meeting 
There is no doubt the holiday season, especially New Year's Eve, can bring on feelings of stress and anxiety. A great way to handle these emotions is to attend AA and NA meetings, many of which are held daily at varying times during the holidays. During these meetings, attendees will learn tips for staying sober during times of temptation and pressure. Attendees also learn how to manage cravings, lessening their chances of relapse.  
3. Have a Breakfast Marathon 
Holidays mean it's time to treat yourself, and what better way to do so than indulging in a delicious breakfast fit for a king. Put on some holiday music, and enjoy a delicious breakfast complete with copious amounts of coffee. This is a great alternative to the party scene that's often associated with the New Year, and it will help maintain your sobriety without the temptation of substances.  
4. Travel Somewhere 
Getting away is always fun, and the New Year represents the perfect time to travel to a destination you've always wanted to visit. Whether it's getting away from the cold and traveling down south or hitting the slopes to test your winter sports activity, traveling opens your mind. It introduces you to new cultures and experiences which are inherently enjoyable. Create new memories by booking a getaway for 2021.
5. Host a Family and Friends Game Night 
Getting together with your closest family and friends for a game night is always a fun time. Share some laughs and participate in a competitive yet enjoyable game that will put your game strategy to the ultimate test.  
6. Host a "Mocktail" Party 
There are still ways to enjoy drinks without experiencing the effects of alcohol. Mocktails are a great alternative to real cocktails, so long as they do not induce cravings for the real thing. Staying on the sober path is possible. It just takes consistency and commitment, along with a solid support network of individuals who are also on a sober journey. Gather your friends together this New Year, put out a spread of juices, sodas, and fancy garnishes, and have fun mixing new concoctions.    
7. Stay Dedicated to Sobriety Around Drinkers
If you decide to attend a party where there will be alcohol, it's important to know how to handle being around others who are drinking without feeling the urge to give in to cravings. Understand where you are in your sober journey and decide whether or not you want to be around alcohol this New Year's Eve.  If you do decide to attend, be sure to have an exit plan prepared ahead of time, so if you start to feel uncomfortable or overwhelmed, you know exactly when to leave and where to go. 
WhiteSands Alcohol and Drug Rehab has helped thousands of people overcome addiction and achieve long-lasting sobriety. If you or someone you love are struggling with active addiction, or if you are feeling like your sobriety may be in jeopardy this holiday season, our team is ready to help.  Call us today so that we can help guide you toward effective addiction treatment programs that are designed uniquely for you. Contact us any time 24/7, a specialist is waiting to speak with you on a confidential line.  
If you or a loved one needs help with abuse and/or treatment, please call the WhiteSands Treatment at (877) 855-3470. Our addiction specialists can assess your recovery needs and help you get the addiction treatment that provides the best chance for your long-term recovery.