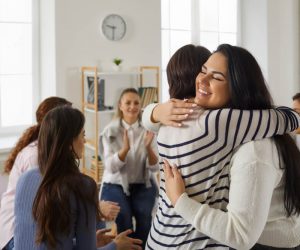 Plant City Rehab Sets Patients up for Long-Term Success Through Aftercare and Outpatient Programming 
Bartlomiej, a former patient from Naples, Florida, attended inpatient residential treatment at WhiteSands Alcohol and Drug Rehab in Plant City, Florida. She sought treatment at WhiteSands because the facility offers a full continuum of treatment options and all levels of care, which meant she could truly focus on her recovery without having to transfer to a new location for each different level of care.  
Bartlomiej was particularly impressed by the premier, resort-style facility itself and the compassionate and professional therapists, counselors, and staff members. 
"Everyone has been accommodating, and the counselors were on point. I got a lot out of my individual sessions and was able to meet with my therapist whenever I needed to," she states.  
If you or a loved one are struggling with addiction, call WhiteSands Alcohol and Drug Rehab today at 877.969.1993 to learn how we can help.
Best Features of WhiteSands  
The Plant City facility is rated the number one treatment center in Florida, and for a good reason. It offers multiple one-on-one treatment sessions with a primary therapist several times per week, allowing patients to form a deeper bond and connection with the clinical staff. 
Some of the other unique features that set WhiteSands apart from competitors are:  
Personalized treatment programs crafted for the specific needs of patients 

Effective slow tapers during medically assisted detox 

On-site board-certified addictionologists  

Dual diagnosis programs 

A low patient-to-therapist ratio  

Allocates time for individual attention 

A brand new state-of-the-art recreation center and athletic complex 
WhiteSands allows more time for one-on-one sessions with patients' primary therapists, enabling them to explore the deep-rooted causes of addiction. 
"I got a lot out of my individual sessions and was able to meet with my therapist whenever I needed to. The knowledge of recovery they had helped me gain a better understanding of my issues with addiction," Bartlomiej states. 
The center also offers dual diagnosis programs that help determine and treat any underlying mental health issue that may be the driving force behind the addition. Once patients can manage their mental health disorder and are stabilized, they become much more receptive to treatment and recovery. By determining where the addiction stems from can help form the foundation for a successful and long-lasting recovery.  
A Range of Therapies and Program Types 
WhiteSands Treatment offers a wide range of treatment therapies for all types of addictions. Some of the therapies that are provided here are: 
One-on-one Therapy 

Group Therapy 

Moral Reconation Therapy (MRT) 

Cognitive Behavioral Therapy (CBT) 

Dialectical Behavioral Therapy 

Family Therapy 

SMART Recovery 
The treatment center is at the forefront of addiction recovery and strives to consistently raise the bar for the range of services they offer and the levels of care provided. 
"I went through residential at the main campus in Plant City before transferring to their outpatient treatment program," Bartlomiej states. 
The admissions staff here set patients up with outpatient services at one of their outpatient offices located throughout Florida to ensure they have ongoing care and support post-treatment. This process involves the most crucial time in a patient's recovery journey, and there needs to be continuous support, so they know where to turn to when temptation becomes too strong.  
If you or someone close to you is struggling with a drug or alcohol addiction, WhiteSands Treatment can help. With an extremely high success rate of individuals who maintain their sobriety long-term, the center is confident that they can help you meet your recovery goals and sticking with them. 
If you or a loved one needs help with abuse and/or treatment, please call the WhiteSands Treatment at (877) 855-3470. Our addiction specialists can assess your recovery needs and help you get the addiction treatment that provides the best chance for your long-term recovery.