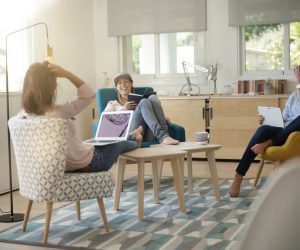 Find Sober Living Houses in Tampa
For those in recovery from drug or alcohol addiction and looking for a way to transition into everyday life without feeling overwhelmed, sober living houses in Tampa can help. After completing drug rehab in Tampa, through WhiteSands you may be ready for sober living. If you are in the Tampa, FL area and are looking for sober living, contact WhiteSands Alcohol and Drug Rehab today. We can help arrange sober living accommodations and transitional care for those in remission from drug or alcohol addiction who prefer added support during this time.
It takes an unwavering commitment to sobriety to make it long-lasting, as addiction involves a relapsing disease that will try to creep back into your life if you don't dedicate yourself to managing it. Sober living has proven to be a beneficial contribution to long-lasting recovery from drug and alcohol addiction. Having an environment where individuals are surrounded by others who have the same goals assists in the overall recovery process. Sober living coupled with continued care is the best way for patients to transition to daily life as it sets them up for a promising substance-free future.

What Is Sober Living?
Sober living entails a part of a 'whole-patient' approach to addiction recovery. Patients who have completed their inpatient treatment programs and are re-entering society can enter into a sober living home for several weeks or months after being discharged from inpatient residential treatment. Sober living provides a less structured environment allowing recovering addicts to get an idea of how managing daily life is like when they are off on their own. Many individuals find moving back home to a familiar environment can jeopardize their sobriety as it can be full of temptation, urge, and cravings, which can put an individual's sobriety at risk. Having this transitional level of care available to patients who complete inpatient treatment at WhiteSands Alcohol and Drug Rehab eases the time between discharge and re-entering day-to-day life.
Sober living sets itself apart from residential treatment in that it is less structured while still promoting organization and order. While sober living does provide more freedom than an inpatient residential facility, there are still rules and requirements that must be followed. Some of these include being home by a specific time and partaking in random drug testing. This process ensures patients understand the seriousness of following the house rules as it sets them up for life outside of a regulated environment. There is no room for error in a sober living environment. It is a regulated setting monitored to ensure patients adhere to the rules, ultimately setting them up for success.
The idea behind sober living entails setting patients up to become independent and self-sufficient. When these individuals realize they are responsible for themselves, they begin to understand how to navigate their lives once they are out of this supportive environment. When individuals live in a sober living home, they often support themselves by purchasing their own groceries, partake in cleaning, attend their job during the day, and essentially take on any life responsibility they would in their everyday lives. Sober living gives patients a taste of life outside of a controlled and boundary-set environment to test their ability to function as law-abiding, non-substance abusing citizens.
Benefits of Sober Living Housing
Sober living housing is designed for those who have exited residential treatment but are not yet ready to live independently in their homes and prefer a more transitional way to adapt to real life. These sober homes provide a supportive, structured environment for those in the rehabilitation stage post-treatment. Sober living homes offer a particular element of freedom, but the homes also require patients to adhere to the house's rules. Some of the rules involve a zero-tolerance for drug and alcohol use, cleaning up after each own, and completing their assigned chores.
The sober living environment is inherently beneficial for those in recovery as it promotes long-lasting sobriety. Adjusting to life after treatment can be overwhelming, which is why sober homes are a great option. The sober living environment helps make the transition from a rehab environment to an independent one more manageable.
When individuals are in sober living housing, they are surrounded by others who genuinely support their recovery. If an individual is experiencing an urge or craving to use drugs or alcohol while they are in a sober living home, there are on-site staff who will help guide them toward help. The support staff help patients through their time in post-treatment and provide ongoing care while patients adjust to life without constant restrictions such as stringent residential treatment rules.
Some of the other benefits of sober living homes are that they help individuals form meaningful, lasting relationships, help restore vital life skills, promote independence, create an easier transition to mainstream life, and reduce relapse chances. One of the essential elements of sustaining sobriety is ensuring that patients do not feel lonely, as this is a feeling that can convince an individual to relapse. Sober living homes provide company as residents here reside among other guests in recovery. Living among those who have the same goals helps create an environment where individuals can feed off each other's coping mechanisms and trigger management skills.
Recovery-Friendly Things to Do in Tampa
Staying engaged in your recovery can help you stay on the path of long-lasting recovery. Luckily, there are many fun and exciting things in the Tampa area conducive to sobriety and will aid in your overall recovery. If you missed our "Things To Do In Tampa" article, make sure you take a read!
Let's take a look at some of the fun things to do in Tampa:
Flatwoods Wilderness Park

If you are looking for an active day of biking, Flatwoods Wilderness Park is a must-see. The park boasts many miles of trails for visitors to enjoy with picnic areas and bird watching. Gather some friends together and check out this park that brings visitors from all over.
14302 Morris Bridge Rd. Thonotosassa, FL 33592
Florida Aquarium

The Florida Aquarium is a must-see whether you are a Tampa resident or merely visiting. The 250,000 square-foot aquarium is operated by a non-profit organization and relies heavily on its supporters' donations. Get some friends together and check out the famous aquarium.
701 Channelside Dr. Tampa, FL 33602
Audubon Center

If you are looking to get outside and enjoy the fresh air and natural beauty that Tampa has to offer, check out Audubon Center. The area offers walking trails on elevated boardwalks, bird watching, fishing, and biking paths. The center is a great place to get out and enjoy everything that nature offers.
Lettuce Lake Park Trail Tampa, FL 33637
Tampa Riverwalk

The Tampa Riverwalk is a popular spot among all those who live and visit Tampa. There are plenty of restaurants and fun things to see and do as you make your way down the riverwalk. Feel the ocean breeze as you ride your bike or stroll along the beautiful waterway. Enjoy city views on one side and the blue ocean on the other.
Tampa Riverwalk Tampa, FL 33602
Tampa Bay History Center

Tampa Bay History Center is a museum focused on the history of Tampa's native residents. The Tampa area is abundant in history, and the museum is a great place to get in touch with Tampa's roots and what contributed to its greatness present day.
Sober living homes provide a regime that can be followed when the patient exits the home. The experience here will teach patients how to live a happy, fulfilled, productive life and re-establish responsibility and conduct.
If you or someone close to you is looking to get into a sober living house, contact WhiteSands Alcohol and Drug Rehab today. Our admissions and intake team are available 24/7 to take your call. The sooner you get into rehabilitation, the quicker you will live a productive and fulfilled life no longer controlled by your substance abuse. We offer all levels of care, beginning with medically assisted detox through aftercare, outpatient treatment, sober living, and transitional care. Our team is ready and waiting for your call.
If you or a loved one needs help with abuse and/or treatment, please call the WhiteSands Treatment at (877) 855-3470. Our addiction specialists can assess your recovery needs and help you get the addiction treatment that provides the best chance for your long-term recovery.