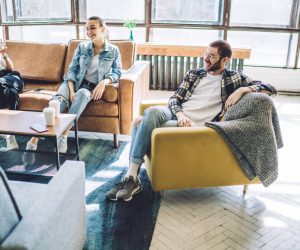 Find Sober Living Houses in Fort Myers
If you have recently completed your residential inpatient treatment and outpatient treatment program and are looking for a supportive environment during the adjustment phase between these levels of care and everyday life, sober living housing can help. Sober living houses in Fort Myers represent an excellent option for those who need a structured environment post-treatment.

WhiteSands Alcohol and Drug Rehab offers sober living and transitional care for patients. We set patients up with accommodations that will allow them to get an idea of what living in remission is like and adapt to day-to-day life. Through our 'client-centered' approach, we are right by patients' sides during each transitional level of care, ensuring the utmost comfort and care. While WhiteSands offers the #1 program for drug rehab Fort Myers, we also offer a full continuum of care across our network of locations.
Our specialists are available 24/7 to assist patients in setting them up for sober living. We encourage patients who have completed our inpatient and outpatient treatment programs to continue their recovery journey in sober living homes. The homes add an extra element of structure to patients' lives as they re-adjust to life after treatment. The most crucial time in a patient's recovery is the time directly after discharge as they will be faced with temptation and scenarios that may put all of their hard work in jeopardy. Knowing how to handle situations that make recovering patients vulnerable can be the difference between sobriety and relapse.
Even when patients live in sober homes, they can still communicate with their primary therapist and attend counseling and therapy sessions. Our team will help to coordinate therapy for our sober living patients, so patients know exactly what is expected of them throughout their time in these homes.
What Is Sober Living?
The goal of sober living entails assisting patients in the transition into everyday life while realizing they can and will lead productive and fulfilling lives for as long as they are committed to their sobriety. A rewarding life is attainable when patients have the tools and resources necessary to reach their goals. Our goal involves providing patients with everything they need to feel safe, confident, and secure once they exit sober living and enter day-to-day life. Individuals will be on their own once they leave sober living, which means they will have to regulate their lives and know how to manage their addiction, so it does not creep back into their lives.
Often, patients find it helpful to move out of their old house and into a new accommodation where they can begin their life on a blank slate. Old places, people, and things can promote relapse, which is why it's encouraged that all patients remove themselves from areas that may influence them to use.
Sober living allows patients to continue to get support while allowing them the opportunity to get their lives back on track. We help patients in any way we can during their time in sober living, including setting them up in school, helping them take the right steps in obtaining employment, and reunite them back to regular society. It may seem simple for the average person, but adjusting back to day-to-day life as a recovering addict remains challenging. There are triggers and temptations everywhere they look. Knowing how to navigate these situations properly can be the difference between relapse and sobriety.
Sober living provides a safe and structured environment that allows residents to gradually integrate daily life such as work, school, and family obligations into their schedule. Our goal is to set patients up with a solid foundation for a successful, long-term recovery. For those looking for transitional care, sober living houses in Fort Myers can offer a gateway out of addiction and into recovery.
Benefits of Sober Living Housing
There are countless benefits of sober living housing. While the sober living environment provides more freedom and less structure than an inpatient treatment program, there are still rules that guests must adhere to. Some of these include respecting a curfew, attending therapy, cleaning up after yourself, and creating a viable aftercare plan that involves being a constructive and contributing citizen of society. During patients' time in sober living, they will be sporadically drug tested to ensure they do not use substances of abuse. These are part of living in a sober home designed to set patients up for long-lasting success in recovery.
Sober living homes effectively decrease the relapse rates of those who drug and alcohol abuse by having a 'zero-tolerance' for substance abuse while also providing an environment conducive to sobriety.
Recovery-Friendly Things to Do in Fort Myers
It's imperative that you take part in activities that will help you stay active and engaged in your sobriety journey while in recovery. Luckily, there are many sober-friendly things to do and places to visit in Fort Myers conducive to recovery and sobriety.
Trailhead Neighborhood Park
If you love to lead an active and healthy lifestyle, Trailhead Neighborhood Park is a must-see. The park boasts biking trails for both novice and advanced bikers, picnic areas, and nature trails. The paths run along beautiful natural wetlands and wooded areas, so be sure to stop and check out some of the animals that are native to the site.
4000 Veronica S Shoemaker Blvd. Fort Myers, FL 33916
Ford Winter Estates

If you are looking to soak in a bit of history, you must check out the Edison and Ford Winter Estates. The historical site is a museum as well as a botanical garden that boasts over 21 acres of gorgeous gardens featuring a host of flowers. Thomas Edison and Henry Ford had their winter vacation homes here, and the site is not far from the famous Caloosahatchee River.
2350 McGregor Blvd. Fort Myers, FL 33901
Six Mile Cypress Slough Preserve

Six Mile Cypress Slough Preserve offers visitors a chance to stroll through the natural beauty that Fort Myers has to offer. Many species of butterflies call the preserve home, as well as the opportunity to bird watch as you walk along the elevated boardwalk past tall ancient trees.
7751 Penzance Blvd. Fort Myers, FL 33966
Manatee Park

Manatee Park is a picturesque waterfront park that boasts miles of waterfront for visitors to enjoy. Get up close to manatees and watch these gentle creatures in their natural habitat. There are also kayak rentals available where visitors can conduct a self-guided tour of the wetlands. Grab some friends and check out Manatee Park.
10901 Palm Beach Blvd. Fort Myers, FL 33905
Centennial Park

Centennial Park is an excellent place for friends to gather and enjoy the serene outdoors. There are picnic pavilions where visitors can enjoy picnic tables under covered pavilions offering shade and shelter from the sun and rain. There are also walking paths here to enjoy.
2000 W First St. Fort Myers, FL 33901
Long-lasting recovery from drug and alcohol addiction remains possible with a proper support network and an environment conducive to sobriety. Our specialists will do everything they can to ensure our patients' comfort during their time in our sober living homes. We understand that transitioning through each level of care can be overwhelming. This difficulty is why we set patients up with therapy and counseling sessions that help them work through these emotions to tackle and handle them.
Recovery is a lifelong battle, and the disease of addiction is chronic, which means it will have to be managed appropriately, so it does not resurface. Many patients continue to attend alcohol anonymous and narcotics anonymous meetings for years after being discharged from outpatient treatment and sober living homes. These support groups provide ongoing counseling in an environment where individuals are also going through the same things.
If you or someone you love is struggling with a drug or alcohol addiction, come and get in touch with our specialists at WhiteSands Alcohol and Drug Rehab today. Our intake and admissions team are available to help guide you through each phase of recovery. We have helped over 10,000 people reach and sustain sobriety on a long-term basis, and we are prepared to help you or a loved one as well. The first step to gaining control of your life is to pick up the phone and call our intake team today.
If you or a loved one needs help with abuse and/or treatment, please call the WhiteSands Treatment at (877) 855-3470. Our addiction specialists can assess your recovery needs and help you get the addiction treatment that provides the best chance for your long-term recovery.