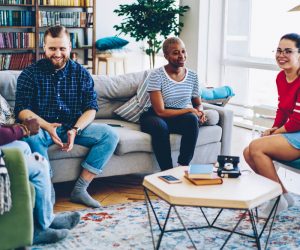 Find Sober Living Houses in Orlando
Being in remission from addiction without a stable and substance-free living environment can significantly increase the risk of relapse. Sustained abstinence from drug and alcohol abuse takes constant work and the most critical time in an individual's recovery is the time directly after discharge from inpatient treatment. Once you complete drug rehab in Orlando Florida, sober living might be just what you need. Sober living houses in Orlando offered through WhiteSands Alcohol and Drug Rehab offers support during the transition between outpatient treatment and entering day-to-day life. The added support has proven to be extremely useful for patients who are not quite ready to re-enter everyday life and prefer a more gradual transition.

During sober living, patients will continue to seek support through peer support groups, group therapy, and individual counseling as they adjust to life outside of a strict treatment environment. Sober living homes are a less structured environment than your typical inpatient residential treatment facility. Patients have more freedom, which allows them to look for employment, attend school, or partake in family obligations. Individuals will reside in the homes during their time in sober living. This form of transitional living has proven to be very effective in easing the switch between a structured environment into a life outside of rehab. When patients have this additional time to adjust and adapt to what life will be like outside of a treatment environment, it sets them up for real-life situations.
What Is Sober Living?
During sober living, patients reside in a sober living home for a certain amount of time. During this time, some rules must be adhered to, such as cleaning up after oneself, creating an aftercare plan, and refraining from substance use at all costs. During patients' time in sober living homes, they will develop healthy coping mechanisms, habits, and relapse prevention techniques to use once they are discharged from this level of care.
Sober living is a type of bridging level of care designed to set patients up for the real world. It has elements of an inpatient residential facility while also having an outpatient program structure. Returning home directly after inpatient and outpatient rehab can be overwhelming, and the adjustment period can put individuals into a frantic state. Sober living housing is a sort of in-between level of care and a great recovery option that reinforces the unique lessons learned during rehab and how to apply them in real life.
Going back to old habits due to familiar and toxic environments when patients go home can genuinely be the difference between relapse and sustained sobriety. During patients' time in sober homes, they will learn how to properly manage triggers and situations that may jeopardize their sobriety.
Benefits of Sober Living Housing
During patients' time in sober living homes, they can come and go as they please but must adhere to the home's curfew. Patients will not be completely immersed in a rehabilitation program; instead, these programs are scheduled throughout the week to introduce independence to the individual's life gradually.
Some of the countless benefits of sober living homes include having a structured environment, accountability, cultivating sober friendships, and partaking in 12-step programs. Counselors here help to facilitate patients in making informed treatment and life choices. Sober living homes also help residents cultivate positive and sober friendships they can then take with them once they exit the sober living home. It's imperative that recovering addicts only associate with those who will not influence them to use drugs or alcohol. Having friends looking out for your best interest during this critical time can be the difference between relapse and sobriety.
Instead of going to an immersive environment with very stringent rules and strict guidelines, sober living is a sort of 'supplemental' level of care. It is in the overall recovery period after inpatient treatment and before returning home.
If patients enter sober living while coping with an underlying disorder, part of their sober living responsibility is to attend therapy and counseling. This process ensures these patients are stabilized and can manage their co-occurring disorder during a transitional and often overwhelming time. Our specialists will help set everything up for patients once they enter sober living.
Recovery-Friendly Things to Do in Orlando
It is essential that you stay active and engaged in your recovery when you return to everyday life post-treatment. Staying engaged in your recovery means you are making a conscious effort to partake in activities and adopting new healthy and constructive hobbies that are conducive to long-term sobriety. Fortunately, Orlando has lots of fun and exciting things to do and see for both visitors and residents alike.
Here are our favorite venues to visit:
Lake Druid Park

If you are an avid biker and looking to test your skills, Lake Druid Park is a must-see. The 19-acre park features trails designed for mountain bikers and several walking trails. There is also a volleyball pit where visitors can play a competitive game while enjoying the park's beautiful foliage.
Madame Tussauds Orlando

If you are looking for something out of the ordinary to do, check out Madame Tussauds Orlando. The wax museum boasts eerily accurate wax statues of famous actors and historians. Tour around the museum and admire the detail and intricacy that went into every wax statue. They are so lifelike that it may be hard to decipher which ones are real and wax.
8387 International Dr. Orlando, FL 32819
Harry P Leu Gardens

Harry P Leu Gardens is a tropical botanical garden that spans over 50 impressive acres. There are several lakes nestled within its gorgeous landscaped grounds making it the perfect spot to snap photos and simply enjoy the natural beauty of it all. Walk the trails and take a glance at the 200-year-old oak trees that call this garden home. This site is truly a must-see.
1920 N Forest Ave. Orlando, FL 32803
Shadow Bay Park Pavilion

Shadow Bay Park Pavilion is a great place to ride your bike, jog, or take a leisurely walk. They also offer a picnic area and a tennis court, so be sure to get some friends together for a challenging yet fun match of tennis. There are several different types of paths here, including paved ones and others that are more rough terrain.
Oak Knoll Ln. Orlando, FL 32819
LaCosta Urban Wetlands

If you are looking to get away from it all and enjoy a serene lake and waterfront, look no further than LaCosta Urban Wetlands. The park is a great place to sit back, relax, and digest the natural beauty offered here. There are elevated boardwalks and walking paths that lead visitors through the wetlands and provide plenty of opportunities to spot wildlife that call this place home.
5814 La Costa Dr, Orlando, FL 32807
It's essential that you surround yourself with those who have your best interest at heart when you are in remission from addiction. This means associating with individuals who will not use or abuse substances in your presence and will not pressure you to use them. Surrounding yourself with a community of individuals committed to your sobriety is a critical factor in maintaining long-term sobriety.
If you or someone you care about is struggling with a drug or alcohol addiction, get in touch with WhiteSands Alcohol and Drug Rehab today. Our intake team is available 24/7 to take your call. The quicker you get into rehab, the sooner you can lead a productive and fulfilled life that is no longer controlled by your addiction. The good news is that addiction is a treatable and manageable disease. Many individuals have learned how to properly maintain their independence from addiction on a lifelong basis. We offer a full continuum of treatment options. We are with patients each step of the way, starting for medical detox through inpatient treatment, sober living, aftercare, and alumni.
We are confident that we can help guide you on the road to recovery. The first step in regaining control of your life is picking up the phone and calling our team today. We have helped over 10,000 individuals reach and sustain their sobriety, and we are confident that we can help you.
If you or a loved one needs help with abuse and/or treatment, please call the WhiteSands Treatment at (877) 855-3470. Our addiction specialists can assess your recovery needs and help you get the addiction treatment that provides the best chance for your long-term recovery.