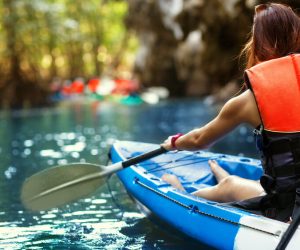 Don't Sleep on These Top Kayaking Spots in Tampa 
Once you've completed treatment at WhiteSands Alcohol and Drug Rehab and are ready to transition back into life in the world outside of rehab, it's vital to stay engaged in healthy, positive activities that support your sobriety. Many people find they rediscover old interests or discover entirely new ways to have fun, now that drugs and alcohol are no longer a part of their lives.
Outdoor activities like kayaking are great for people in recovery in many ways. Kayaking supports good physical fitness, helps keep mental health in balance, and provides a way to connect with a community of like-minded people who also enjoy healthy activities. To help you get started, we've compiled a list of the best kayaking spots in and around Tampa.  
Our favorite areas include:
Shell Key Preserve
Shell Key Preserve includes several locations for kayaking. If you prefer calm waters with lots of marine life, the eastern side of the preserve, between Shell Key and Pinellas Bayway, is right for you. The water can be choppier on the gulf side of the preserve, but the beautiful, sandy beaches can only be reached by boat, so they can be less crowded during the week and are an excellent location for collecting shells.
2187 Oceanview Dr, Tierra Verde, FL 33715
Weeki Wachee Springs
The Weeki Wachee Springs is beautiful, and the water is crystal clear. You may also want to consider taking a swim here because the water is a perfect 70 degrees at all times of the year. There is also plenty of shade, so you don't have to worry so much about sunburn. You have the option to paddle upstream or downstream, so you can make it a relaxing day on the water or get a more intense workout while enjoying the views around you. Keep an eye out for dolphins and manatees, who like to frequent this location often.
6131 Commercial Way, Spring Hill, FL 34606
Cockroach Bay Preserve
Cockroach Bay is a great place to kayak if you're looking for a variety of mangrove trails and also open waters. It has a lot of wildlife, especially horseshoe crabs and sometimes dolphins and rays. It's a great site for fishing and is generally pretty quiet and calm.
End of Cockroach Bay Road, Ruskin FL 33570
Hillsborough River
The Hillsborough River is a great place for kayaking, especially if you're interested in seeing otters and possibly alligators! The entire paddling trail is 30 miles long, but there are several parks along the river where you can begin or end your kayaking trip. Many of the parks also have fantastic playgrounds and picnic areas for you to stop and take a break or eat your lunch. The river runs into downtown Tampa, which gives you a very different scene to end your trip.
15402 US-301 N, Thonotosassa, FL 33592
Benefits of Kayaking
Kayaking has so many benefits, physically, mentally, and socially. Kayaking is a low impact activity (easy on the bones) that promotes cardiovascular health and increases blood circulation throughout the body, improving the effectiveness of your blood vessels, heart, and lungs. Specific areas of the body that can be strengthened from kayaking are the chest, back, arms, and shoulders. You can decide how much of a workout you get by paddling quickly and getting more resistance or slowing your pace to relax, soak it all in and enjoy the nature around you. 
There's also the option of moving upstream or downstream, making your trip harder or easier. Often before, during, or after kayaking, you may even end up swimming, which provides a total skeletal muscle exercise while still being incredibly gentle on your joints. Building on skeletal muscles helps our bodies move and adapt to our environments better. When your skeletal muscles are more substantial, your body is more muscular, and you feel better.
Kayaking also supports good mental health. Focusing on the nature around you and taking it all in is sure to help you feel more at peace and have some fun at the same time. When you enjoy what you are doing, you will put your whole heart into it. Kayaking promotes mental health by simultaneously engulfing you in a beautiful natural environment and making you work for it.
Kayaking also helps support mental health by promoting fun. Whether you enjoy a slow-paced route down a river or waterway, or you would rather be on a fast-paced river with turns and bends, you can find the right kayak experience sure to bring you right into your perfect setting. Paddling through waters using your whole body allows you to relax and clear your mind. It's a great way to allow yourself to use your senses and focus on the nature around you, which has a naturally calming effect on the body. Taking in the views and sounds of water and birds, along with soaking in the sunshine and cool water, are excellent ways to destress and relax.
Kayaking is a great activity that you can do on your own or with a group of friends. If you find that you look forward to the alone time you create when getting out on the water or you prefer to make it more of a social atmosphere for yourself, it has its benefits either way. If you choose both alone time and a social atmosphere, then you are in luck. That is the great thing about kayaking; it is so flexible and customizable to you. 
Kayaking ultimately involves you, the kayak, a paddle, and the water. Centering your whole self into the experience allows you to connect with yourself, your surroundings, and those in your group. Whether you are on the water by yourself or with a group, just get out there. It's a great way to disconnect and reconnect all at the same time.
Peaceful Exercise for People in Recovery
Finding a new and healthy hobby like kayaking is a perfect way to keep yourself busy and focused on the goal of recovery. Kayaking provides excellent exercise for many parts of your upper body and can be as relaxing or challenging as you would like for it to be. Continuing to exercise during recovery is essential because it allows your body to regulate your mood by releasing endorphins, which help you feel better.
Many people enjoy the peace of being alone with their thoughts while taking in the beautiful nature around them. This is a perfect time to relax the mind and stay centered in your recovery. Kayaking with a friend is also a great way to keep yourself busy. Not only can this activity support a sense of camaraderie when using a tandem kayak or teaching someone else how to kayak, but there is also downtime for conversation while getting some exercise in.
Places to Rent Kayaks in Tampa 
There are plenty of places to rent kayaks for adventures in and around Tampa. Here are a few to check out to get you started:  
Get Up and Go Kayaking – Shell Key Preserve
Get Up and Go Kayaking is the first transparent kayak tour company in Florida. Here, you can enjoy guided tours where you will learn about local wildlife. Depending on the tide, you may be able to get out of your kayak and explore the mangroves, shores, and sandbars. Marine animals of all sorts are known to be spotted along this tour. Nighttime tours are also an amazing way to experience marine life with lights under each kayak, illuminating the water underneath you.
1 Collany Rd, Tierra Verde, FL 33715
Bay Breeze Paddle Adventures
Bay Breeze Paddle Adventures offers single and tandem kayaks for rent. If you are more into exploring on your own, renting a kayak with friends or yourself is the way to go. They also offer fun night tours in their glass-bottom kayaks that light up the water beneath you while feeding the fish.
2900 Bayport Dr, Tampa, FL 33607
Clear Kayaking Tampa Bay – Tours by See Through Adventures
See Through Adventures Tours take you to Shell Key Island or Fort DeSoto. Each of these tours is along generally calm and shallow waters. They are very confident that you will see a manatee and possibly dolphins on their tours. Their approach is "passive observation" of wildlife, allowing for the animals to come to you.
5520 58th St N, St. Petersburg, FL 33709
Liberty Outdoors
Liberty Outdoors brings the kayaks to you. They will meet you wherever you want to go in the St. Petersburg area. They also offer guided tours in Shell Key Preserve, where you are guaranteed to see tons of wildlife, or you can take a fishing tour. The kayaks for fishing come with a chair, rod holders, and an anchor. 
Fish While Kayaking
Fishing is another great activity for people in recovery. And why not combine it with kayaking for an even more adventurous day out? Both activities are known to relax the body, ease anxiety, and lower blood pressure. Fishing also teaches concentration and patience. It takes you away from the overstimulation that day-to-day life can bring. Using a kayak while fishing can take a little extra balance and coordination, creating a fun challenge for yourself, and hopefully, a great reward.
If you or a loved one needs help with drug abuse in Tampa, please contact WhiteSands Alcohol and Drug Rehab today. Our addiction specialists can assess your recovery needs and help you get the addiction treatment that provides the best chance for your long-term recovery.
If you enjoyed this article, please check out these other Tampa articles:
Yoga Studios in Tampa
Tampa Gyms
Hiking Trails in Tampa
Tampa Beaches
Sober Living in Tampa
Colleges in Tampa
Colleges in Tampa Post Rehab
If you or a loved one needs help with abuse and/or treatment, please call the WhiteSands Treatment at (877) 855-3470. Our addiction specialists can assess your recovery needs and help you get the addiction treatment that provides the best chance for your long-term recovery.