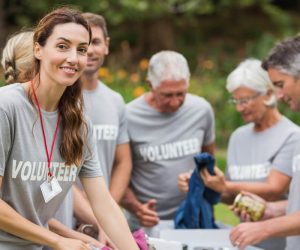 Why Volunteering Is Great for
People in Recovery, Orlando FL
When you complete a drug and alcohol rehab program in Orlando, you will have learned many ways to stay on the road to recovery once you are back home. Keeping yourself busy with support meetings, etc., can help your mind stay focused on your goal: sobriety. Another way to remain active and keep your thoughts where they need to be is by giving back and helping others. 
The benefits of volunteering are many, and in the large region of Orlando, Florida, there are many opportunities depending on what you like to do. No matter what type of volunteering you enjoy, social or humanitarian, it adds significant value to others and yourself. The truth is that it is difficult to find time for others and especially when we are investing so much time and energy in our own recovery process. However, the benefits of volunteering are so vast and beneficial to the body and mind that it is worth considering this activity as one of the tools that will help you heal. 
One benefit of volunteering while in recovery is the possibility of meeting new people and making friends. As we know, building new circles of positive friends is crucial to help stay away from triggers or temptations that could be harmful to one's recovery. Also, you will be able to develop skills and experience that can later be added to a resume or help you in your career. Perhaps best of all, when it comes to volunteering is helping someone less fortunate and taking the focus off yourself for a period. 
If you want to look at volunteering from a health angle, you'll be happy to know research shows volunteering offers many health benefits. Almost any age can volunteer, but studies show it is especially beneficial in older populations because it forces them to move. Studies have found that people who volunteer have a lower death rate than those who don't, even when factors such as the health of the participants are considered. In addition, the volunteer helps decrease symptoms of chronic pain or heart disease. When you are volunteering, you are not only helping the person in need, but you are reaping many benefits as well, making it a win-win for everyone involved. 
Benefits of Volunteering
In general, volunteering helps us make new friends, expand our social network, and increase our social skills. In fact, one of the best ways to make new friends and strengthen existing relationships is to engage in an activity together with others. And with so many different types of volunteering opportunities nearby, you will be able to find other service-oriented people with common interests with whom you can carry out fun and enjoyable activities. Volunteering also strengthens ties with the community and broadens your support network, which is very important when you are in recovery.
Volunteering is also a great option to get out of your bubble of anxiety and fear, which can happen after completing a rehab program and facing the world more independently. It is normal to isolate and protect ourselves, but giving your time to others allows you to practice and develop your social skills, even if you are a bit shy or reserved, and lets you meet regularly with people with shared interests and goals.
This activity can also do wonders for one's mental health as volunteering increases self-confidence, self-esteem, and life satisfaction levels. Doing something nice for others will make you feel fulfilled and proud of yourself. And the better you feel about yourself, the more likely you are to have a more positive outlook on life and the future. You will put your energy into the things that really matter, things that will continue to guide you in your sobriety. 
Reducing the risk of depression is another of the great benefit of volunteering. A key risk factor for depression is social isolation. When someone is experiencing an intensely emotional period, they tend to isolate themselves and fixate on the same issues. Volunteering keeps us in regular contact with others. It helps develop a strong support network that will protect you against sadness and feelings of despair when you are going through difficult times.
Additionally, volunteering gives you experience in an area of ​​interest related to your career, and over time, you can meet people in that field. Plus, volunteering offers you the opportunity to practice essential skills necessary for many jobs, even if your profession is not directly related to your volunteer work. When we are going through life changes, we desire different things in our lives. This could be a great opportunity to turn our lives 180 degrees and start with a clean slate. And, it is an easy way to explore your interests and passions in a fun way. 
Finally, volunteering will help you renew your creativity, motivation, and life vision, which you can take advantage of in your personal and professional life. 
Volunteer Opportunities in Orlando
TEARS of Seminole County
If you are more into animal support, TEARS will be a perfect fit for you. They take care of the homeless, abused, abandoned, and relinquished animals throughout Central Florida. You can help by adopting a dog or a cat, be part of the staff at their events and fundraising activities, or even being a virtual volunteer. You could make a difference in the lives of the homeless animals and stay busy with a positive activity. 
375 E Altamonte Dr, Altamonte Springs, FL 32701
Hands On Orlando 
Hands On Orlando is a nonprofit organization specializing in one-and-done projects that may occur once or hundreds of times. Hands On Orlando wants to improve communities by inspiring, educating, and empowering people and companies to make a difference through volunteer action. One of the most incredible things about this program is that they always have varied projects since they work in conjunction with other organizations that require support. Projects typically last three hours and often cause a long-term impact upon volunteers and the community. No long-term commitment is required. Hands On Orlando identifies, plans, manages and leads hands-on group volunteer projects for other nonprofits. You should contact them and check out their project calendar. 
1850 Lee Rd #220, Winter Park, FL 32789
Second Harvest Food Bank of Central Florida 
What about helping people with millions of meals per year? The volunteering program of Second Harvest Food Bank leads feeding programs to fight hunger. They also run programs that help seniors and children and culinary and warehouse training programs to create self-sustaining opportunities to decrease the number of people in need.
You will be welcome to be part of this program, as they are looking for ambassadors that help them enhance a committed community of volunteers. Also, you can become a virtual volunteer helping them from your home. This program also accepts group volunteering of five or more volunteers, which could be a great option if you want to spend some time with your friends from recovery groups or AA meetings.
411 Mercy Dr, Orlando, FL 32805
Harbor House of Central Florida 
At Harbor House, there are many opportunities to volunteer to help people who have been suffering domestic abuse or people that traffickers abused. This nonprofit works to prevent and eliminate domestic abuse in Central Florida. They provide critical life-saving services to survivors and offer them the right tools and resources to have a better life. You would have the opportunity to help work in the emergency shelter, answer hotline calls, serve as foster grandparents in childcare, or assist with support groups.
Also, you could become a social media ambassador, managing playtime in the child care center and more, depending on what you prefer. You can also sign up to help out one time or take on regular tasks. These opportunities include serving on event planning committees, helping at fundraising and awareness events, performing administrative duties in the office, serving a meal in the shelter, or doing what is needed around the campus like landscaping, painting, sorting donations, or building furniture.
Habitat for Humanity Greater Orlando & Osceola County 
We think this is an excellent volunteer program if you are a hard worker, passionate, and like construction activities. Habitat for Humanity Greater Orlando & Osceola County builds affordable housing, revitalizes neighborhoods, and wants to create safe places to live. You can be part of this program, helping them construct, repair, and renovate affordable homes.
4116 Silver Star Rd, Orlando, FL 32808
Living With Gratitude: Why Volunteering
Helps Everyone Involved
Research has shown there is a strong connection between happiness and gratitude. Some people may think that it's the joy that makes people grateful; the truth is quite the opposite. When we volunteer, we give, and we gain. As we touch the lives of others, we improve our own life. It's a win-win activity, and all of the people involved will experience joy and gratitude on multiple levels. It is genuinely the ideal activity to partake in when on the road to recovery, as it keeps your mind healthy, and the positive areas of life give your self-esteem the boost it needs knowing you are spending your time helping others. 
If you or a loved one needs help with drug abuse and addiction treatment, please contact WhiteSands Alcohol and Drug Rehab today. Our addiction specialists can assess your recovery needs and help you get the addiction treatment that provides the best chance for your long-term recovery.
Farmers Markets Orlando
Kayaking in Orlando
Healthy Restaurants
Community Colleges
NA Meetings
Bike Trails
Colleges
Coffee
Al-Anon
Fishing
Museums
Nature Spots
Smoothie Spots
Churches
If you or a loved one needs help with abuse and/or treatment, please call the WhiteSands Treatment at (877) 855-3470. Our addiction specialists can assess your recovery needs and help you get the addiction treatment that provides the best chance for your long-term recovery.