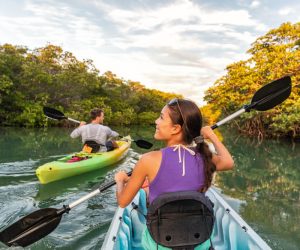 Don't Sleep on These Top Kayaking Spots in Fort Myers
It's no secret that alcohol and drug addictions affect your mental health just as much as your physical health. This is why addiction programs and drug rehabs for Fort Myers, Florida residents use modalities and treatment methods that help heal all body and mind areas. What is also as equally important as these modalities is how you will continue to make your physical and mental health a priority as you go through the rehab process and complete the program.
For many individuals who have completed treatment at WhiteSands Alcohol and Drug Rehab, exercise and outdoor activities such as kayaking are preferred to keep one's spirits up and take charge of their physical health. In addition to the variety of health benefits kayaking offers, it can also provide peace, solace, and relaxation, which can improve focus and mood.
There are many top kayaking spots in Fort Myers that are loved by those who have completed rehab programs at WhiteSands. Here are a few of our favorites:
Marinatown Dolphin Kayak Rental & Bait Shop
Marinatown Dolphin Kayak Rental in Fort Myers, Florida is the perfect place to choose if you are looking for a one-day vacation full of kayaking, paddle boarding, or fishing along Hancock Creek or Caloosahatchee River. Here you can rent single and double kayaks, SUPs, bait, fishing poles, life vests, and more. You also have the choice of one and two-hour or full-day kayaking rentals in Fort Myers with Marinatown.
3444 Marinatown Ln #8, North Fort Myers, FL 33903
K
ayak Excursions – Bunche Beach
Whether you are looking for guided tours or just a sole kayak or SUP (stand-up paddleboard) experience, Kayak Excursions Bunche Beach has you covered. Spend the day in the sun by visiting one of their two locations (either Bunche Beach or Pelican Bay), or have them deliver kayaks and SUPs to your rental home, hotel, or public launch site. Their Kayak Eco-Tours are family-friendly and the perfect way to get up close and personal with manatees, sea turtles, dolphins, and birds. True kayaking enthusiasts won't want to miss the Bunche Beach Preserve and its network of Mangrove tunnels, allowing you to see eagles, egrets, osprey, sea turtles, manatees, and more.
17950 John Morris Rd, Bunche Beach Activities Center, Fort Myers, FL 33908
Lover's Key Adventures
Whether you want to kayak, paddleboard, bike ride, or canoe, Lover's Key Adventures and Events have you covered. You can adventure alone, with a friend, or even reserve rentals if your group is ten or more people. Consider half-day water equipment rentals, a one-hour paddleboard rental, a kayak estuary tour, or a half-day bike rental. Lover's Key is located between Fort Myers Beach and Bonita Springs and is the perfect place to explore beaches, woods, and glorious sunsets.
8720 Estero Blvd, Fort Myers Beach, FL 33931
Benefits of Kayaking
If you wonder how activities like kayaking can positively fit into a life of sobriety, you may be surprised at all of the benefits you can reap by taking part in it. For starters, kayaking keeps you active and focused. Even leisurely kayaking outings require you to keep your mind on things like not tipping over, constant movement with the water and taking in all of the sights around you. By keeping your mind busy, you cannot allow an opportunity for thoughts of alcohol or drugs to take up space in your mind. And, by keeping active, you can reap both the physical and mental rewards thanks to endorphins such as dopamine, norepinephrine, and serotonin being released.
Kayaking is an ideal exercise for strengthening your core because of the repetitive arm and shoulder movements and engagement of the hips, which keep the kayak from rocking too much. The more you improve your body, the more overall mobility increased balance, and better stability you will have. In addition to all of these kayaking benefits, it doesn't hurt that an hour of kayaking can burn up to 350 calories.
Kayaking also provides a time of peace and connecting with nature and the outdoors. If you are kayaking alone, you can disconnect and enjoy the sunshine, water breeze, and quiet that is often found on kayaking trails. In some cases, you may be kayaking with a friend or a larger group of people. Creating memories, having fun, laughing, and engaging in a team sport together will all be motivating factors in helping you build a list of activities you enjoy that don't involve drugs or alcohol.
If you have never tried kayaking before, now is the perfect time to branch out and discover new ways to have fun – alone and with others. And, with a wide variety of kayaking rental companies in Fort Myers, Florida, there is no shortage of waterways, beaches, and estuaries to explore. Plus, many kayaking companies also have paddleboards and canoes for rent or fishing opportunities.
Peaceful Exercise for People in Recovery
We can't talk about kayaking without discussing how it can help lower stress and anxiety, which some people struggle with after they complete rehab treatment and are trying to build a new life free from drugs and alcohol. Becoming one with nature, soaking in the sunshine, experiencing the calmness of the water, and enjoying the peace often found on waterway trails all help in soothing the body and mind. You may even want to incorporate music therapy or breathing exercises as you kayaking, adding more body-mind benefits.
Kayaking immerses you in nature therapy, which is shown in study after study to reduce cravings for things like alcohol and cigarettes the more someone is exposed to nature. Nature therapy is becoming more and more popular over pharmaceutical interventions. It is even one of Japan's main treatments for people experiencing stress, anxiety, and other mental health challenges.
Luckily, you can engross yourself in various nature therapy sessions thanks to the endless waterways and beaches in Fort Myers that offer the perfect kayaking and paddleboard backdrop.
Places To Rent Kayaks in Fort Myers
Adding physical exercise and spending time in the sunshine is encouraged upon completing drug rehab in Fort Myers or any of our other locations. Exercise provides benefits to your body and mental state, and kayaking is one of the best ways to incorporate both. Here are other places to rent a kayak and other water sports equipment in Fort Myers:
Manatee Kayaking Company
Spend time on a two and three-hour guided kayaking tour and witness manatees and more as you cruise along the Orange River. Tours happen throughout the day floatation devices, dry bags, paddles, paddle lessons, and more.
10901 Palm Beach Blvd, Fort Myers, FL 33905
Fish While Kayaking
While spending the day kayaking is a great way to find peace and relax as you adjust to a new life of sobriety, if you are a fan of fishing, many companies in Fort Myers offer both. Here are a few you want to try for yourself:
Estero River Outfitters
This family-owned operation near Fort Myers offers all the supplies and gear you need to spend the day fishing and kayaking. They also offer canoes and paddleboards if you want to change them up. You can venture out on your own or join their group tours of the historic Estero River or one of their guided kayak fishing sessions. No matter what you choose, you are bound to have a day of fun in the sun with Estero River Outfitters.
20991 South Tamiami Trail, Estero, Florida 33928
Holiday Adventure Tours and Boat Rental
Get ready for kayaking and more in Fort Myers Beach, Florida, with Holiday Adventure Tours. Here you will find kayak, SUP, wave runner, and powerboat rentals that you can use to watch the sunset, spend time with dolphins, and more. And, if you are a lover of fishing, Holiday Adventures has you covered by also offering nature cruises, private cruises, plus back bay and offshore fishing.
275 Estero Blvd, Fort Myers Beach, FL 33931
WhiteSands Alcohol and Drug Rehab encourage anyone recovering from drug and alcohol addiction to stay active and find ways to relax. Whether you have ever kayaked before or not, you can start with a guided tour where there will be other people around to help lead you. And with so many kayaking companies in Fort Myers, Florida, you will have no shortage of places to consider.
If you or a loved one needs help with alcohol or drug addiction, please call WhiteSands Alcohol and Drug Rehab today. Call and see why Newsweek listed us as the #1 Addiction Treatment Center in Florida. Call our drug rehab Fort Myers team and see how we can help you or a loved one. 
Related Life After Rehab in Fort Myers Articles:
Yoga
Beaches
Hiking Trails
Gyms
If you or a loved one needs help with abuse and/or treatment, please call the WhiteSands Treatment at (877) 855-3470. Our addiction specialists can assess your recovery needs and help you get the addiction treatment that provides the best chance for your long-term recovery.