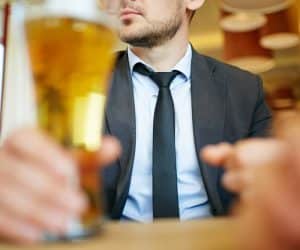 How to Determine If You Are a High Functioning Alcoholic 
Across the U.S., alcohol abuse is a widespread problem due to its prevalence in society, ease of accessibility, and legal status. When people think of an alcoholic, they often have a specific image that comes to mind. However, learning to spot the features of an alcoholic can actually be quite challenging, and the reality is that anyone can be a high-functioning alcoholic. 
A high-functioning alcoholic could be your boss, mother, best friend, or your spouse. They do not have to display the stereotypical 'look' of an alcoholic to be classified as one. In fact, many executives and very successful people are high-functioning alcoholics, despite their success. 
Certain factors can determine if you or someone you care about is a high-functioning alcoholic. If you find yourself being able to prosper in your career, take care of your family, and adhere to life obligations but consume an excess amount of alcohol as well, you may be a high-functioning alcoholic.  
Keep reading to learn how you can identify these addictive behaviors and what actions you can take to prevent alcoholism from controlling your life. 
If you or a loved one are struggling with addiction, call WhiteSands Alcohol and Drug Rehab today at 877.969.1993 to learn how we can help.
The Definition of High Functioning Alcoholism 
A high-functioning alcoholic is defined as someone who can maintain a job, have friendships, sustain a relationship, raise a family, and take care of life obligations while exhibiting alcoholism. These individuals can function in everyday life while suffering from alcoholism. 
Functional alcoholics will appear completely 'normal' to others because they do not exhibit classic alcohol use disorder symptoms such as mood swings, behavioral changes, and blacking out. In fact, high-functioning alcoholics can be very hard to spot and define, as they can appear to be completely normal even under the influence of alcohol.  
Unfortunately, this pattern has imminent outcomes, and these types of alcohol abusers cannot sustain their habits without serious adverse health effects and consequences.   
Signs and Symptoms of High Functioning Alcoholism 
While individuals who abuse alcohol regularly know they have a drinking problem and are able to hide it, some indicators of alcoholism could still be present. If you suspect that either yourself or a loved one is a high-functioning alcoholic, certain signs and symptoms can help clarify. Some of the characteristics of well-adapted alcoholics include: 
Joking and teasing about having a drinking problem  

Having trouble meeting the basic demands of life

Losing friendships due to drinking 

Running into legal issues as a result of drinking 

Leveraging the effects of alcohol to have 'liquid courage'  

Requiring alcohol to feel relaxed

Starting your day with an alcoholic beverage 

Having trouble remembering what you did while drinking
Not being able to go a day without drinking in fear that you may be edgy and tempted may indicate you are at risk. If you or a loved one is exhibiting these signs and symptoms, they may be struggling with alcoholism.  
Alcohol Rehab at WhiteSands 
WhiteSands Alcohol and Drug Rehab offers comprehensive alcohol rehab programs for those struggling with alcoholism and alcohol use disorder (AUD). Through an in-depth patient assessment, therapists and psychologists will understand the driving force behind the individual's addiction so we can craft the right treatment plan for them. Our treatment centers throughout Florida do not apply a one-size-fits-all approach to recovery. Instead, each program is uniquely crafted based on the specific needs and requirements of the patient.  
If you or someone close to you struggles with alcohol abuse, it's time to get into treatment. With the right treatment program in place and ongoing support, guidance, and care, patients at WhiteSands Alcohol and Drug Rehab will have the tools and resources necessary to succeed in long-lasting recovery.  
If you or a loved one needs help with abuse and/or treatment, please call the WhiteSands Treatment at (877) 855-3470. Our addiction specialists can assess your recovery needs and help you get the addiction treatment that provides the best chance for your long-term recovery.