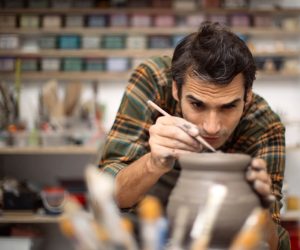 How Creative Outlets in Fort Myers Can Help People Stay Free From Relapsing
Many people struggling with drug addiction in Fort Myers may feel deep feelings of guilt or shame. Past trauma and long-term substance abuse can also lead to feelings of stress, anxiety, and depression. Creative outlets provide non-verbal ways to explore and work through inner feelings and share their pain without speaking about it directly.
Creative expression gives you the freedom to explore inner feelings and develop healthy ways to work through painful emotions. At the same time, you may even begin to feel a sense of freedom from the stresses of recovery and your daily life that becomes more like a joyful way to spend your free time.
While you're engaged in creative activities, you're also releasing emotional energy in a positive, healthy way. Many people say they feel more relaxed while they're focused on creative activities. They may also find any feelings of stress or anxiety are alleviated.
Creativity can also act as a form of self-discovery. Feelings you may not even know you might have buried deep within your subconscious mind can surface when you engage in creative outlets. Of course, when you complete a creative endeavor, you're also working towards accomplishing a task. Once finished, you'll find that the completed creative work can instill feelings of achievement and boost your confidence, at the same time improving your self-esteem.
Throughout any comprehensive rehab treatment program, you're encouraged to explore several healthy ways to enjoy your free time without the need for drugs or alcohol. Many people aim at exercise or fitness programs, while others relish the opportunity to relax and rejuvenate in more gentle forms of alternative therapy, such as yoga or meditation.
Likewise, creative therapies offer so many benefits and advantages during your healthy recovery that you can take with you long after you leave rehab. While you're focused on creative pursuits, you're actively aiming at a positive goal. You're also working on completing your project, which means you're not focusing on cravings or other aspects of your recovery. Instead, you're focusing on positive activities that leave you feeling a sense of accomplishment for your achievements. The more activities you engage in, the more likely you'll uncover one or two you genuinely enjoy that can benefit you throughout your recovery and long into the future.
The key to finding the right types of creative outlets for you is to engage in a variety of different options. You may find you enjoy activities you might never have considered previously. You might also learn you have hidden talents you never knew were there before.
Art Classes in Fort Myers
It's surprising how many people believe they won't be any good at art, so they don't try. You might not realize that art isn't all about creating a detail-perfect likeness of an image. It's also about finding forms of expression that make sense to the artist.
Even if you create abstract shapes in colors and styles that only make sense to you, that's still art. The key is to use the medium before you to express vague ideas, forms, feelings, or just textures that work for you, and it's still art.
There are plenty of different art classes available in Fort Myers that focus on various mediums, styles, textures, and forms. Why not try out a few and see which ones work for your creative flair?
Alliance for the Arts 
The Alliance for the Arts offers a variety of different Adult Art Classes that let you explore your inner creativity. When you come to the Alliance for the Arts, you're joining a strong community with more than 1,700 students committed to learning a range of different artistic skills and talents. Take a photography workshop and capture moments in life that inspire you or learn to weave intricate patterns in macramé. Create your own scene direction and ending in an improv class or take an abstract painting class that lets you really be accessible in your creative expression. With so many different art classes to choose from, you really can explore your inner creativity to your heart's content.
10091 McGregor Blvd, Fort Myers, FL
Fort Myers Beach Art Association and Gallery
Even if you've never even tried painting, drawing, or any type of art before, why not join up with Fort Myers Beach Art? You'll learn about technique and style, colors and textures, so you can create your own unique piece of artwork that reflects your inner creativity.
3030 Shell Mount Road, Fort Myers Beach, FL
Pastel Classes – Southwest Florida Pastel Society 
Working with pastels is a unique way to express yourself. It's similar to drawing with chalk, so it's a bit easier than learning to paint, but you'll be creating effects identical to intricate paintworks. The Southwest Florida Pastel Society offers a range of different classes tailored towards your own skill levels and abilities. There is no judgment, only opportunity. Classes are held at Drury Inn & Suites Fort Myers Airport FGCU.
9950 University Plaza Drive, Fort Myers, FL
Woodworking Classes in Fort Myers
When most people think of woodworking, they think of making furniture or other major carpentry projects. Yet woodworking can also mean creating pieces of art that use refined techniques and tools to create something truly unique. Fort Myers offers many classes around the area, including:
Florida School of Woodwork
Whether you're a complete beginner or a more accomplished woodworker, the Florida School of Woodwork provides classes suited to your skill levels. You can choose to carve intricate pieces or build complex furniture; the choice is yours. There are classes available to suit all skill levels, so you're sure to find one that suits you.
1609 N. Franklin Street, Tampa, FL
Woodturners of Southwest Florida
Located in the Riverside Community Center right on the river in downtown Fort Myers, the Woodturners of Southwest Florida is the ideal place to learn how to create beautifully turned pieces. No matter whether you're a beginner or a more advanced woodturner, classes cover all skill levels and can teach you new techniques you may not have considered before in your finished pieces.
3061 E Riverside Drive, Fort Myers, FL
Pottery Classes in Fort Myers
Creating your own unique pottery pieces is not only a great way to enjoy your spare time. It's also a healthy way to express your creativity. It doesn't matter whether you're creating brand new pieces from raw clay or perfecting ceramic molds; the end result is whatever you want it to be.
Clay More Ceramics 
No matter whether you've never dealt with ceramics before or whether you're a more experienced potter, you'll find classes available to suit your skill levels at Clay More Ceramics. Book classes that fit your needs and speak with instructors about customizing your designs so you can create the finished pieces you want to see as your result.
5560 Shirley Street, Naples, FL
What Else Helps You Express Yourself? Tap Into Your Creativity to Find Ways to Fill Your Time
One of the keys to your successful recovery from drug or alcohol addiction is finding healthy and productive ways to spend your free time. While most people think of painting, art, woodwork, or pottery as the most prominent creative pursuits, there are many other alternatives available in Fort Myers.
Some suggestions for creative outlets include:
Quilting
It's surprising how satisfying quilting can be. From scraps of material to stunning masterpieces of finished quilted designs, learning quilting can be a great way to manage your recovery and create magnificent finished pieces of art at the same time.
Music Classes
It's long been recognized that music can be therapeutic on several different levels. Whether you're learning to play an instrument or just learning to appreciate various forms of music, taking a music class can open your inner creativity to new worlds that can help you through your recovery.
Community Theatre
Participating in a community theatre production allows you to portray someone else who isn't you. While you're on the stage, you're actively portraying another person and creating a piece of performing art simultaneously. Not only can you take the opportunity to escape into your role momentarily, but you can also take the opportunity to add your creative license to someone else's character creation and make it your own.
Creative Writing
The beauty of creative writing is that you can create fictional characters and let events unfold for them that don't involve you personally. You have the freedom to develop your narrative, your plotlines, and your satisfying endings. Creative writing classes are the ideal way to express your emotions and flex your creativity at the same time.
Dance Classes
Dance classes are the ultimate creative form of expression. When you're dancing, you're entirely non-verbal. You're promoting the healthy release of feel-good endorphins. You're building physical health and fitness, and you're given the freedom to express your feelings without saying a word.
No matter what type of creative outlet appeals to you, it's always a good idea to try multiple options. You might surprise yourself with what talents and creative skills you uncover that could be enormously beneficial for your overall recovery.
If you or a loved one needs help with abuse and/or treatment, please call the WhiteSands Treatment at (877) 855-3470. Our addiction specialists can assess your recovery needs and help you get the addiction treatment that provides the best chance for your long-term recovery.