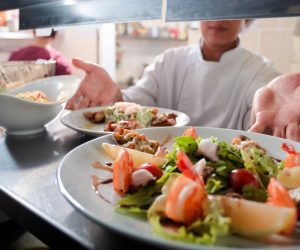 A Healthy Body & Mind Stays in Focus. Top Restaurants in Orlando for People in Recovery
Recovering from drug and alcohol addiction is about keeping a healthy mind and a healthy body. Nutritionally dense, organic foods are one of the key ways to do both. Proper nutrition promotes normal growth, development, and aging, maintains appropriate body weight, and reduces chronic disease risk. It helps maintain overall health and well-being.
Food influences the way the brain functions as well. Certain vitamins and minerals are needed to produce the many brain chemicals that help balance our mood and sleep cycles. Consistently eating over-processed foods has been shown to cause irritability, anxiety, insomnia, and depression, as well as a range of other physical health issues. Food can either make you feel good or feel bad, and you have all the power to choose how that will go. As much as your mind is clearer after you stop using drugs and alcohol, there are still lingering feelings of anxiety, depression, or even just feeling emotionally exhausted. Good nutrition is essential for anyone, but you might find you are significantly more sensitive to those changes in the diet than the average person, and your body may be less forgiving to eating poorly.
Eating healthy out of rehab is especially important for your road to recovery. Years of alcohol and drug abuse puts a toll on the body, and now it is your chance to rebuild your body. Drugs and alcohol can cause nutritional deficiencies by leaching out vitamins from the body and wreaking havoc on the digestive system, which lowers its ability to absorb foods properly. Eating well-balanced meals with plenty of fruits, vegetables, whole grains, and organic animal products can help your body restore its nutritional deficiencies.
During your time in rehab, your nutrition and meals are customed tailored and planned out for you. You have easy access to fresh, healthy foods and are also in an alcohol-free environment. Once you are out on your own, it can be a little more challenging to keep up with it. But like most good habits, they can be built with consistency over time and finding delicious, healthy places to eat out can be one of those ways. In the past few years, restaurants with plenty of healthy options have become much more popular, and you may find these places are just as tasty as other less healthy options because they enhance their flavors with herbs and spices as opposed to only fats and sugars.
Here are some of our favorite places to eat healthy in Orlando:
Fresh Kitchen
Fresh Kitchen locations have popped up around Florida, and there is one in downtown Orlando. Offering fresh, high-quality ingredients and options for any diet from gluten-free to vegan to keto. Their goal is to make good, healthy food convenient and affordable. This restaurant offers a friendly counter service that custom makes your own bowl, starting with various size options depending on your hunger level. You go down the counter line, choosing which base, veggies, proteins, sauce, and extra add-ons you would like in your bowl. They offer ingredients such as cauliflower mash, sweet potato noodles, salads, brown and coconut rice, roasted veggies, tofu, steak, chicken, salmon, avocado mash, feta cheese, and much more. You can also get various homemade ice teas and Frescas with flavor combinations like cucumber, lemon ginger, and peach-mango. 
2855 S Orange Ave, Orlando, FL 32806
Market on South
Market on South is located in Orlando's Milk District, a cultural hub with a progressive music and art scene. This plant-based deli-café is home to Dixie Dharma and Valhalla Bakery, plus many local vendors. They offer vegan comfort food with a southern twist, including dishes like Carolina BBQ Pulled Jackfruit on Texas Toast, the Dharma Fried Chicken DFC sandwich, and a Wet Burrito with black bean mash and pulled Jackfruit. At the bakery, you will find all sorts of treats you would typically find at a regular bakery, but these are all vegan, made free of eggs and dairy. You can get baked goods such as cookies, doughnuts, cinnamon rolls, or even a whole cake to take home. Open seven days a week from 8:00 am to Midnight, this is the perfect place for breakfast, brunch, lunch, dinner, or a late-night snack. With a lovely bohemian vibe and outdoor space, this is ideal for enjoying good, healthy food.
2603 E South St, Orlando, FL 32803
Too Much Sauce
This family-owned restaurant is 100% gluten-free, and because its ingredients are so well labeled, it is an excellent option for anyone with food allergies. They brand themselves as clean, comfort food. Too Much Sauce has an incredibly unique menu with its signature bowls. Still, you can also create your own bowl with a large variety of ingredients, including 10+ homemade sauces and locally produced sauces in a separate bar area. Using only fresh ingredients, some of their signature bowls include a Beef Stroganoff bowl, Luau Pork bowl, and a Poke bowl made with AAA sushi-grade tuna. They also have many drinks to choose from, such as Stubborn Sodas, which are made with no artificial sweeteners or flavors, Bubbly flavored sparkling waters, freshly brewed teas, and juices. They are open every day from 11 am to 9 pm, making them an excellent spot for lunch or dinner, whether you are in a hurry for take-out or would like a nice place to sit down at their outdoor tables.
1430 N Mills Ave #170, Orlando, FL 32803
Equilibre
A lovely, quaint café style restaurant perfect for a fresh, healthy breakfast, lunch, or afternoon snack. They are known for smoothies, juices, and acai bowls but also offer wraps and sandwiches. Acai bowls are one of those food trends that warrant attention. Made with a superfood berry from Brazil, it is basically like a thick smoothie in a bowl that tastes and feels like ice cream but is good for you. It is then topped with various toppings such as fruits, granola, honey, or peanut or almond butter. You can get so many vitamins and nutrients in this bowl that it tastes like a dessert. Their juices and smoothies are freshly pressed and available in bottled containers so that you can pick up some for later in the week. They also have a wonderful outdoor garden to sit and enjoy the Florida sun. They are open seven days a week from 8:30 am to 5:30 pm.
1807 N Orange Ave, Orlando, FL 32804
Zoe's Kitchen
Zoe's Kitchen is a healthy chain restaurant with locations all over the country; three of them are in Orlando. They are inspired by the Mediterranean diet, including lots of fresh fruits and vegetables, whole grains, and lean meats. Fresh ingredients are their number one priority and have the most extensive menu on the list. You can get sandwiches, pitas, wraps, soups, salads, kabob plates, and even family meals that serve 6. Even though they are a chain restaurant, everything is made from scratch. The restaurant features vibrant colors and a cozy atmosphere, making it a fun place to dine-in. This is also a great option if you are in a hurry, to-go orders can be made quickly, and if you order ahead, it could be even speedier than a fast-food drive-thru. Enjoy lunch or an early dinner here; they are open from 11 am to 8 pm.
236 E Michigan St Suite B105, Orlando, FL 32806
How to Eat at Restaurants and Not Fall Off the Wagon
After your stay in rehab, it's time to get back to your regular life and participating in everyday activities. One of these activities is eating out at restaurants. In early recovery, you might want to choose places that don't serve alcohol, and eventually, you may end up at a place that does serve it. There are several ways to enjoy these restaurants and not jeopardize your sobriety.
Eating out at restaurants can be incredibly beneficial for your social health as well. Sharing a meal is one of the main ways people interact with friends and family, and being able to go out to places that serve alcohol while staying sober can be challenging. It would help if you versed yourself in saying no to alcohol. For those who have been sober for longer, it is second nature to refuse, but when you are new to sobriety, it can be a good idea to go over how you say no in a manner that feels comfortable. You may not be ready to tell your loved ones or certain people about your sobriety, so you can rehearse your reasonings for not drinking beforehand to avoid any anxiety around those types of questions. If you feel there is too much pressure to drink, you can always excuse yourself from the meal.
Many restaurants now offer a "mocktails" menu. Specialty cocktails made with zero alcohol. This is a great way to feel you are getting something exciting and can even pair with your meal without putting your sobriety at risk. This can be a good way to avoid people asking you why you are not drinking because they can look like a regular cocktail.
Beware of foods that contain alcohol. Generally, most foods that are served hot cook off the alcohol, leaving just the flavor, and are safe to eat. Cold foods, such as tiramisu, may still have traces of alcohol that may be enough to awaken alcohol cravings. You can always ask your server which dishes are prepared with alcohol and if it has been cooked off or not. More likely than not, they have encountered these questions before.
Also, on your journey to eating and drinking healthier options, you may come across Kambucha. What many consider a healthy tea that aids in energy levels and digestion is actually a fermented drink that contains anywhere from 0.5% to 2.5% alcohol. There is no regulation on how much alcohol can be in these drinks, so it's best just to avoid them.
Fast food can be an easy and cheap way to get a meal, but it offers little nutritional value and can come with psychological risks for people struggling with addiction. Some of the ingredients in fast food, such as sugar, can be addictive themselves, so it is best to eat meals made with fresh ingredients. Luckily, many people are looking for healthier options when eating out, and health-based restaurants are popping up all over. Here we are listing just some of the top healthy restaurants Orlando has to offer, but a quick internet search should give you a variety of options nearest to you.
Additional Orlando Articles:
Yoga Studios
Gyms
Hiking Trails
Farmers Markets
Kayaking
If you or a loved one needs help with abuse and/or treatment, please call the WhiteSands Treatment at (877) 855-3470. Our addiction specialists can assess your recovery needs and help you get the addiction treatment that provides the best chance for your long-term recovery.