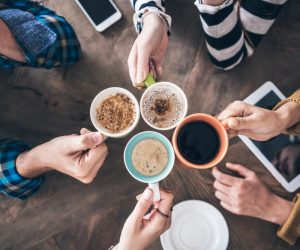 Coffee – It Makes The World Go Round. Best Java Spots in Tampa
Tampa, Florida, on the west coast of the state, anchors the Tampa Bay – St. Petersburg area. The city has a lot of great neighborhoods, including Seminole Heights, Interbay, and Channelside. Tampa has many attractions, including major sports teams like the Lightning and Buccaneers, museums including the Museum of Science and Industry, and a ton of outdoor activities. Tampa and the surrounding counties are home to over 3 million people. Still a stronghold of the U.S. cigar industry, cigar-making was the backbone of Tampa's economy during the first few decades of the 20th century. This same Cuban and South American influence makes Tampa a great place to get a cup of coffee.
It's hard to imagine if you started today and named one kind of coffee each day, how long it would take you to cover all the brands and types and flavors that exist around the world. With that in mind, even the most hardcore coffee drinker has their favorite. That's probably what makes it so popular and why it makes the world go round. In the United States, people start their days with coffee, meet friends for coffee, have it to round off their lunch or dinner, and basically every other time of the day. Coffee breaks have weaved their way into every part of our culture, from the boardroom to the classroom. No matter whether you're a specialty flavored kind of person or want your straight-up cup of Joe, sometimes all you need is a few sips to change your whole day.
Coffee spots are great places to spend some time, whether it's for work or leisure, on your own, or with the whole gang. They're also excellent alternative places to hang out rather than bars. This makes them a good place for people in recovery to add to their regular routine. One of the most important things for people in recovery to do, especially in the beginning, is to find new activities and things to do that don't involve the people, places, and things that negatively influenced your life when you were in active addiction. Working out, running, playing basketball, or tennis are all great, but everyone needs to spend some part of their life leisurely, and that's where java spots come into the picture. In today's on-the-go world, coffee shops are also an excellent place to meet new people, again, without being in a bar or other drinking environment. WhiteSands strives to be the best alcohol & drug rehab center in Tampa. As such we want to provide valuable content like this. Here are a couple of places in Tampa to try out when you're ready for your next cup:
Urban Bungalow at Pickford's Sundries
Located in the West Tampa section of the city, Urban Bungalow is part coffee shop and part old-time provisions store. While you're sipping away, you can pick up anything from a unique gift to a kitchen necessity. This spot is excellent for locals and tourists alike, with the wide variety of items they have to choose from throughout the store. Urban Bungalow prides itself on its friendly customer service. Whether you order the same coffee or tea every time or try something new, your barista will be on top of it. Plus, you don't have to stop with just something to sip; the pastries are amazing, too. They have fantastic breakfast sandwiches on their menu, which they serve all day, upon request. So if you're looking for a quick stop for a coffee and a danish or to while away part of an afternoon, Urban Bungalow is definitely a place to try.
2606 W Hillsborough Ave Tampa, FL 33614
Espresso Yourself Coffee Shop
This adorable coffee shop is located South of Gandy in Tampa's Interbay section, directly across the street from The Home Depot. There's plenty of parking available. They have an extensive coffee menu so that you can get anything from a classic cup of classic, or if you want something with all the fixings, they've got you covered. There is a simple indoor seating area where you can relax with a friend or get some work done. They also offer wonderfully delicious paninis and desserts, including pastries and cakes that will have your mouth watering. It's always great to have the options of just coffee, breakfast, lunch, or dessert all wrapped into one place. So no matter whether you're running errands and need a break or plan on making a meal out of your stop, this spot in south Tampa is the perfect place.
5130 S Dale Mabry Hwy #106, Tampa, FL 33611
Best Sober Friendly Spots To Grab Coffee in Tampa
When a person has come through alcohol or drug detox and rehab, many changes happen in their life all at once. Drugs and alcohol can affect a person's mind, body, and spirit, and time spent in detox and rehab may not solve every issue that exists for an individual. That's why it's essential to eliminate bad habits and start some new ones that will help keep you busy. During rehab, people learn skills that help them avoid relapses, and one of the simplest ways is staying away from places where they typically drank or did drugs. Additionally, the time that a person spent abusing drugs or alcohol also needs to be filled. Exercise is always encouraged, but there are a lot of other activities to consider, too.
Starting your day with a long walk to your favorite coffee spot can be a significant new part of your routine. It's good to start a day with consistent activity, adding to the structure of your day. Here are some more coffee spots in some of Tampa's great neighborhoods that you can incorporate into your day:
The Grind Coffee Shop and Cafe
If you're looking for coffee in the Westchase area, The Grind Coffee Shop and Cafe is a great independent with handcrafted coffee and espresso drinks, a full tea bar, and natural food options. The cafe offers traditional breakfast choices, including eggs, omelets, pancakes, and plenty of healthy options, including gluten-free, vegetarian, and vegan. They have weekend specials, providing new opportunities that are delicious and different for regulars and new customers alike. They also serve a wide variety of salads, sandwiches, and flatbreads for the lunchtime crowd. The owners of The Grind are Westchase residents, adding another level of local flare to the establishment. The friendly staff is always willing to make something new, so feel free to challenge them to fully satisfy your taste buds with a drink you've just created. The Grind is open every day of the week and has online ordering available. There's a kid's menu, making it an excellent place for the whole family. Finally, don't forget to pair your favorite coffee drink with one of their superb pastries; you won't be sorry. If you're in a rush before noon, you can use the drive-through and pick up something to go without getting out of your car.
9532 W Linebaugh Ave, Tampa, FL 33626
Sips Specialty Coffee Shop
With offerings like Pumpkin Spice Latte and S'mores Mocha, Sips Specialty Coffee House provides delicious, top-grade espresso-based coffee choices that can't be beaten. This Logan Gate coffee shop also has a great variety of teas and iced or blended drinks. They also offer fruit smoothies, bagels, muffins, and more delicious offerings on their menu. They are known for providing excellent customer service and a unique experience that is appreciated by all. The menu includes everything from Americanos to Cappuccinos to Lattes, hot and iced, with all sorts of ways to make it your own. Sips was recently featured in an article titled 9 of Florida's Best Coffee Shops by Trips to Discover, proving it's not only a great local spot but one you might want to drive a little bit to experience.
6118 Gunn Hwy, Tampa, FL 33625
Spaddy's
Spaddy's coffee shop has a great story to tell. Beginning in 2015 as a mobile coffee bar, the founders traveled around the bay area to local markets, weddings, food truck rallies, and all types of other events. In 2016, Spaddy's found an empty grass lot adjacent to a local bakery on Florida Avenue. Now known as Spaddy's Courtyard, they quickly created an outdoor, community-driven coffee shop in Seminole Heights' heart. Paddy's Coffee Company is a locally owned coffee shop with a focus on coffee and community. They offer a variety of specialty coffee drinks and tea, cookies, Cuban bread, and light bites. In 2019 Spaddy's collaborated with a smoothie shop and opened their first brick and mortar location in South Tampa. The menu is filled with tantalizing options, from Cafe Con Leche on the coffee side to Chai Latte on the tea side. Other specialty drinks are also available. Don't miss the Cookie and Milk pairing option when you want something sweet.
5206 N Florida Ave, Tampa, FL 33603
Life after rehab can present numerous challenges but finding activities and places to visit like coffee shops around Tampa can help addicts avoid the negative influences impacting their addiction.
Additional Tampa Topics:
Farmers Markets
Outdoor Activities
Biking Trails
Fishing Spots
If you or a loved one needs help with abuse and/or treatment, please call the WhiteSands Treatment at (877) 855-3470. Our addiction specialists can assess your recovery needs and help you get the addiction treatment that provides the best chance for your long-term recovery.