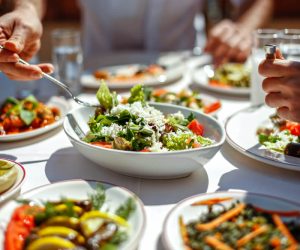 A Healthy Body & Mind Stays in Focus: Top Restaurants in Fort Myers for People in Recovery
The foods you eat while in recovery can definitely affect your health and well-being. You're still healing from the ravages of addiction while in recovery. It's possible that the substances you were abusing, whether alcohol or drugs, may have led you to ignore sticking to a proper diet and nutrition regimen. 
While you were maintaining your addictive behaviors, you were likely spending a lot of time, money, and energy seeking out substances and concentrating on ways to achieve your next high. Your appetite may have been suppressed during your time spent under the influence; you may even have forgotten to eat while you were drunk or high.
The chances are good that you were eating poorly at that time because money was being spent more on substances than groceries. You might have binged on fatty, unhealthy foods when you were hungry, leading you to gain unwanted, unhealthy pounds.
Now that you're in recovery, it's time to help your body heal and pay better attention to eating a healthier, more nutritious diet. Besides making a shopping list that's full of superfoods that support recovery for meals eaten at home, you'll also want to eat out sometimes and enjoy being waited on. Your life after rehab doesn't mean you have to forgo dining out or having fun. There are plenty of healthy restaurants in Fort Myers where you can have a delicious meal that's also good for you, healthwise.
Taking care of your mental, emotional and physical health while in recovery from addiction is an integral part of maintaining long-lasting sobriety. Your system is now cleansed of substances and toxins that have caused harm to your mind and body. Now is the time to add to your healing process by eating healthy foods to help repair and restore your system, whether you're cooking at home or dining out in Fort Myers restaurants. WhiteSands is committed to being the #1 destination for alcohol & drug rehab in Fort Myers. That's why we spend so much time providing content like this to help readers get their life optimized pre and post-rehab. 
When looking over a restaurant menu, keep in mind that a healthy diet for recovery should include complex carbohydrates, like legumes, root vegetables, pasta, and breads. Round out your meal with a delicious protein serving, too, such as meat or fish. Some of our favorite restaurants for healthy eating include:
Harold's
This cozy restaurant is run by its chef/owner Harold Balink who changes the menu weekly and uses the freshest seasonal ingredients available in the area. Not only will you dine well in this spot in south Fort Myers, but you'll also feel as though you're having a meal in a comfortable, family setting. Chef Balink greets you at your table to welcome you, and his wait staff is friendly and personable. Enjoy the desserts made from scratch after you dine on delicious fare like mangrove snapper in a light lemon cream sauce, flash-seared octopus with fingerling potatoes, or beet terrine topped with microgreens. At Harold's, you can expect to be served locally sourced fish, meat, and produce, in addition to fresh cheeses available on the seasonal menu. Harold's is a recipient of the Florida Trend Spoon Award for two consecutive years. 
15250 S Tamiami Trail #107, Fort Myers, FL 33908
Chef Brooke's Natural Cafe
Delight in the colorful art and fun ambiance at this quirky café as you dine on healthy fare that tastes delicious. Chef Brooke accommodates nearly any diner's unique needs, whether you adhere to a vegan, vegetarian, paleo, raw, or organic-only diet. Try the Buddha Bowls that come in many different formulations, with one, The Caveman, that's full of protein, nuts, and vegetables, perfect for your recovery diet. You'll also find eight fresh soups prepared daily and tasty dessert treats, many of which are grain- or sugar-free. If you're a juice-lover, you'll delight in the fresh juices available here that are made with such ingredients as wheatgrass. Chef Brooke's Natural Café is at 1850 Boy Scout Dr. in Fort Myers. Come for breakfast or lunch and look for the special night events held here that often include cooking classes.
1850 Boy Scout Dr #A106, Fort Myers, FL 33907
Harvest & Wisdom
This is a fantastic farm-to-table restaurant run by a Michelin-starred chef specializing in using fresh, local, and organic ingredients. The eatery focuses on wellness, with a substantial no-till garden on-site providing most of the ingredients for the restaurant's delicious dishes. Other necessary ingredients are provided by carefully sought-out sources with environmental concerns, and they are committed to quality-only products. Local farms provide the restaurant's protein, raising and selling only grass-fed, pasture-raised animals. The restaurant has lovely gardens you can explore before you dine, and the organic produce grown here is picked daily for serving and cooking. Harvest & Wisdom is a dining destination for indulging in organic food that will keep your body and soul intact and healthy. 
27750 Old 41 Rd, Bonita Springs, FL 34135
The Veranda
Linger over a sumptuous, healthy meal in a romantic spot that will remind you of the old South right in downtown Fort Myers. Set in two turn-of-the-century houses, The Veranda is a lovely place to enjoy a delicious meal, served to you by a professional wait staff of first-class caliber. Everyone from meat-lovers to vegetarians to vegans will find an exciting, nutritious meal prepared to order at this elegant venue. Diners rave about the giant sea scallops, perfectly cooked prime rib, and fresh salads served here. The ambiance at The Veranda is reminiscent of Old Florida beauty and charm, with beautiful gardens and great rooms, some of which overlook a courtyard. Dress up a little and have a great afternoon or evening out at this historic downtown setting. 
2122 Second St, Fort Myers, FL 33901
BLANC
BLANC is a cozy restaurant offering fantastic food and excellent service. Its chefs use the Robata Grill to sear meats and cook fresh vegetables to perfection, putting its intensely high heating capacity to good use. The eatery's owner is very picky about the ingredients used in all of the dishes served at BLANC. Fish is brought in fresh every day, and the salmon is cured in-house, served in various ways. The freshest seasonal fruits and vegetables are purchased from local markets, resulting in a seasonal menu that chock full of interesting new dishes mixed with classics we all love. 
13451 McGregor Blvd #10, Fort Myers, FL 33919
How To Eat at Restaurants That Serve
Alcohol & Not Fall Off the Wagon
It can be challenging to eat out at restaurants that serve alcohol while you're sober and in early recovery. It's tempting to see waiters serving alcohol to other diners, perhaps even to friends or family who still drink and are sitting with you. You might even have to be wary of certain dishes on the menu that contain hidden alcohol ingredients.
You can remain sober and still eat at restaurants without falling off the wagon and experiencing a relapse. You deserve to have fun eating out with your closest friends and relatives while remaining sober. 
Just understanding ahead of time that you will likely see other people drinking alcohol when you go to a restaurant can help prepare you for what you will encounter. You can find eateries that don't serve liquor, but at some point, you'll eat somewhere that does. Your waiter at a fine restaurant may even recommend wine pairings for the dishes you and your guest have ordered, so be ready to deal with these scenarios by knowing that you will say "no" to any alcoholic offerings. Plan ahead to choose a non-alcoholic drink or sparkling water if you don't just want to have plain water or a soda with your meal.
Remember, just because others at your table or around you are drinking, you don't have to join them. Try to eat out with those who support you in your recovery and won't partake of alcohol when in your company, if possible. If your loved ones know you're uncomfortable around alcohol, they can encourage you to keep your ground and provide some support by not ordering drinks.
Sometimes when eating out, you also have to be wary of certain dishes on offer that may contain some kind of alcohol. Most hot, cooked, or baked dishes that have liquor in them are usually fine, as the alcohol gets burned off during the preparation. But dishes that are served cold or uncooked and contain alcohol could have a small amount of alcohol remaining, so it's best to avoid these. Most of the danger concerning menu items with alcohol involves desserts, such as Tiramisu, certain mousses, and other items that have alcohol extracts in them. Avoid these kinds of desserts at restaurants and in bakeries to help you remain safe and sober.
Eating healthy can help you with addiction recovery in so many ways. Maintaining a nutritious diet in recovery can keep your mood stabilized, increase your focus, up your energy levels, reduce cravings and heal the damage that substance abuse has caused to your body. 

Fort Myers Topics:
Colleges Fort Myers
Outdoor Activities Fort Myers
Biking
Kayaking
AA Meetings
Al Anon Meetings
Community Colleges
If you or a loved one needs help with abuse and/or treatment, please call the WhiteSands Treatment at (877) 855-3470. Our addiction specialists can assess your recovery needs and help you get the addiction treatment that provides the best chance for your long-term recovery.