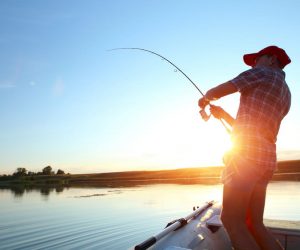 Make Sure You Hit These Fishing Destinations While in Fort Myers
Finding sober activities and hobbies to enjoy while in recovery is vital to your continued health and well-being. Rather than hanging out again with friends who may still be abusing substances, it's to your advantage to seek out companions who either won't drink or use drugs when in your company or who are also in recovery, like you are. Fort Myers' top-rated drug rehab program is here to help.
Enjoying a fun pastime, such as fishing in Fort Myers, not only takes your mind and body away from the distractions of substance use that once took up a lot of your time, fishing also gets you out into the fresh air and sunshine.
Perhaps fishing was an activity you used to love before drugs or alcohol become your main priority in life. Now, as you begin to live a life in recovery, you can finally get back to doing the things you once were passionate about or discover new hobbies that will bring you happiness. When you fully embrace sobriety, you'll find that you're finally more able to experience emotions more fully again than when you were in the throes of addiction.
Best Fishing Spots in Fort Myers
North Shore Park
This quiet fishing spot sits within a lovely public park that's on the Caloosahatchee River banks. North Shore Park has excellent river views where you can admire stunning sunsets in a natural setting. There's a nice pier for fishing, but you need a saltwater fishing license to fish from the shore.
13001 N Cleveland Ave, North Fort Myers, FL 33903
Riverside Park
Fish in the Caloosahatchee River from the long fishing pier located beneath the bridge in this beautiful, serene park operated by the City of Fort Myers. Riverside Park is a small community park where you can also have a picnic in the shaded pavilion and enjoy some fantastic river views.
3061 E Riverside Dr, Fort Myers, FL 33916
Tarpon Street Pier
A peaceful, secluded fishing spot on a long pier, Tarpon Street Pier is a beautiful place to de-stress and watch the world go by, think about what you might reel in, and watch the sunset over the river.
714 Tarpon St, Fort Myers, FL 33916
Centennial Park
Reel in a big one at this pier located at a well-maintained park located in Fort Myers' historic downtown on the Caloosahatchee River banks. Centennial Park is an incredibly excellent fishing spot for catching snook and redfish.
2000 W First St, Fort Myers, FL 33901
Lakes Park
This is a 279-acre family-friendly park with a freshwater lake that's great for fishing. There's a preference here for catch-and-release, though you can bring home your catch of the day if you'd like. You might even snag a giant bass at Lakes Park on a good day.
7330 Gladiolus Dr, Fort Myers, FL 33908
Fort Myers Beach Fishing Pier
Watch the sunset and relax on the beach after a full day of fishing at Fort Myers Beach Pier. A variety of fish, including pompano and sea trout, can be found in these waters off the Gulf of Mexico.
10 Old San Carlos Blvd, Fort Myers Beach, FL 33931
Harns Marsh
A peaceful, scenic fishing spot, Harns Marsh is also great for a short hike and fabulous bird watching. This spot might not be easy to find, but it's worth seeking out if you're looking for a few hours of quiet fishing in a serene natural habitat.
38th St W, Fort Myers, FL 33905
Fort Myers Fishing Charters
Let professional guides take you on a fishing charter, leaving from a convenient Fort Myers boat ramp. You'll learn how to fly fish, lure fish, or live-bait fish on Florida's Gulf Coast with an angler who will customize your trip using your own equipment or the rods onboard.
14341 Port Comfort Rd, Fort Myers, FL 33908
Bernice Braden Park
Across the Cape Coral Bridge from Fort Myers is Bernice Braden Park, a spot that offers relaxing fishing in the Caloosahatchee River. This 10-acre linear park is a great place to enjoy a bit of serenity as you fish or simply enjoy the spectacular river views.
2051 Cape Coral Pkwy E, Cape Coral, FL 33904
Horton Park & Boat Ramp
Located at the Midpoint Bridge's foot just south of Fort Myers, Horton Park is a cozy spot to enjoy some saltwater fishing on the Caloosahatchee River that offers access to the Gulf of Mexico. Fish from the rocks on the east side of the park, or launch your boat for a fun day on the water.
2600 SE 26th Pl, Cape Coral, FL 33904
Types of Fish That You Will Catch in Fort Myers
Snook
Fort Myers has some of the country's best fishing spots for reeling in snook. This delicious fish loves the warm waters of the Gulf Coast. You'll find snook mostly in the shallower saltwater flats, along the Caloosahatchee River, at the many piers beneath the bridges in Fort Myers, and also right off the beaches.
Snook is a white fish with excellent flavor that has heavier meat than a trout but lighter meat than a swordfish steak. During the open season in Florida, anglers with a saltwater fishing license for catching snook can hook and keep one of these fishes per day. Your catch has to be between 28 and 32 inches long from chin to tail-tip. Except during snook season in Florida, this fish is catch-and-release only in state waters. Most find that using live bait, such as shrimp or crab, is the best way to catch snook.
Tarpon
Tarpon, also known as the Silver King, has gorgeous silver scales. The shallow saltwater shores in Boca Grande off the Gulf of Mexico are regarded as being the Tarpon Capital of the World. Boca Grande is a quick boat ride from Fort Myers. You'll find that catching tarpon right in Tarpon Bay off Sanibel Island is an excellent spot for fishing anglers. These fish leap out of the water to try and get off the hook, making for some fantastic photographs and videos.
Growing to over seven-feet long, some tarpon can weigh as much as 300 pounds, with most weighing about 100 pounds. Anglers use a heavier 30-pound test line and monofilament line to better handle the way this fish will thrash about once they're hooked. Responsible anglers in Fort Myers release tarpon rather than keep their catch. Fishing for tarpon is a great sport to enjoy, but this fish isn't particularly edible, as they have many bones. They're a lot of fun, though, to catch and release for the adventure and photos alone.
Redfish
These beauties are found by the mangroves and grass flats outside of Fort Myers. They're easy to find in the Caloosahatchee River and the many small keys and islands that abound in the area, especially during the fall season. Redfish are simple to hook, too. The best season for fishing redfish near Fort Myers is in May and then from September to November. Although there's no closed season, the low months are January and February.
Fishing for redfish is a great sport as they are good fighters that will give you a run for your money, testing your angling skills. The redfish found near the shore are younger, with the more mature fish living in near- or offshore waters. You'll find redfish in the backwaters of Estero Bay and Pine Island Sound. The bait to use when hunting redfish is live shrimp, pinfish, and greenbacks. When fishing for redfish, use a 12-15-pound monofilament line.
Spotted Seatrout
These light-tackle game fish is are abundant in this area of Florida, targeted in the many canals of Fort Myers and along the shorelines of the Caloosahatchee River. You can also fish for them in the estuaries and salt marshes. The best time to catch spotted seatrout is in the evening, between 10 pm and 2 am, although mornings are good, too. Fish from lighted docks, bridges, and piers when fishing at night for this species.
The best bait to use when fishing for spotted seatrout is live shrimp, but you can also use artificial lures. Use a treble hook as it won't get tangled up as much as others will, and it makes unhooking spotted seatrout an easier job. As far as fishing lines for spotted seatrout, a light line of 2-6 pounds test range will be sufficient.
Largemouth Bass
This freshwater fish can be reeled in on the Caloosahatchee River and Lakes Regional Park, in addition to finding them in the freshwater canals of Fort Myers.
The best lines to use when fishing largemouth bass are monofilament, braided, and fluorocarbon lines. The monofilament line is the most popular, especially if you only have one rod available. Use a green line that will blend into the surroundings. Green will also be easier to see if you're fishing in clear waters. Largemouth bass will go for various baits so that you can use artificial lures or any small fish, like crayfish or shad.

Popular Fort Myers Topics:
Colleges Fort Myers
Outdoor Activities Fort Myers
Biking
Kayaking
AA Meetings
Al Anon Meetings
Community Colleges
Restaurants Fort Myers
NA meetings
Volunteer
Museums
If you or a loved one needs help with abuse and/or treatment, please call the WhiteSands Treatment at (877) 855-3470. Our addiction specialists can assess your recovery needs and help you get the addiction treatment that provides the best chance for your long-term recovery.