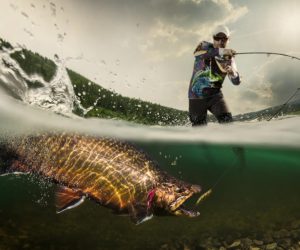 Make Sure You Hit These Fishing Destinations While in Orlando
When you have completed a drug & alcohol rehab program in Orlando, Florida, you have learned that continuing work on both your physical and mental state is crucial to your sobriety. One way to make sure you are getting enough physical activity is by taking advantage of Orlando's many parks that offer fishing and other water-related activities. And the great news is that fishing doesn't just benefit your physical body. Did you know it also has many benefits for your emotional and mental state?
First, fishing allows you to unplug. You can put the cell phone away and just enjoy the sounds of nature as you sit along the water. With the sunshine that is readily available in Florida, you are also increasing your levels of Vitamin D naturally, which is essential to maintaining a great mood. By spending time with nature and reflecting on thoughts or things that are going on in your life, you can even reduce your stress levels. For some people, the act of fishing even improves concentration, as you have to take an active role at times in setting up your line and finding the right spot, etc. 
Also, you may not even realize that spending a few hours on the lake fishing is a terrific physical workout. Fishing works out your arms as your cast your line and row (if you are in a canoe or kayak). You also improve your core and back muscles as you maintain good posture and reel in fish. Your legs also play a vital part – the most utilized muscle groups when fishing – whether you are balancing on slippery rocks, wading in the water, or dealing with strong currents. In addition to working out various muscle groups, past studies have shown that people who go on fishing outings lower their stress hormone levels. Lowering this hormone can have many benefits on the body as a whole. And, the best thing about fishing is that just about anyone can do it – young, old, athletic, people recovering from injuries or illness, etc. 
So why not add fishing to your list of activities to take part in now that you have completed a rehab treatment program. If you are in the Orlando area, here are some of the top fishing spots by locals and visitors:
Harbor Park
Located on Lake Baldwin, Harbor Park is a popular fishing spot if you want a smaller park atmosphere with plenty to see and do. You will find piers and docks you can fish off of while enjoying the sunrise or sunset. The park tends to get busier in the afternoon and evening with families, couples, joggers, and those just looking to feed the fish or take in the scenery. 
4990 New Broad St., Orlando, FL 32814
George Barker Park
George Barker is one of Orlando's most famous parks for fishing, with literally hundreds of excellent reviews online. There are two piers, and it is known as an outstanding recreational park for those who love to fish. The water is known for having an abundance of bluegill along with other fish. After a day of fishing, you can take in the scenery and this park's peaceful vibe. 
2000 Monte Carlo Trail, Orlando, FL 32805
Lake Ivanhoe Park
Welcome to Lake Ivanhoe, a dog-friendly spot frequented by fishermen and those who love watersports. This 125-acre paradise is the ideal place to find relaxation and plenty of fish. Known for being a great spot for bass fishing, Lake Ivanhoe Park also offers the perfect location if you want to incorporate some kayaking or paddleboarding into your day of fishing. This location also provides ramps for boats and plenty of green spaces. 
57 S Ivanhoe Blvd, Orlando, FL 32804
Bill Frederick Park
Turkey Lake, where Bill Frederick Park resides, will offer you over 187 acres of green space and fishing spots, in addition to tent and cabin rental if you want to stay for more than just a few hours. You can also rent kayaks and canoes at this park if you're going to incorporate those activities into your fishing. 
3401 S Hiawassee Rd, Orlando, FL 32835
Lake Underhill Park
Searching for a new fishermen hotspot in Orlando? You don't have to look much further than 9-acre Lake Underhill Park. The park, known for its sunsets, also has boat ramps, workout equipment, gazebos, running trails, and much more. If you are searching for a place in Orlando to get your bass fishing fix, this is the spot for you.
4355 Lake Underhill Rd, Orlando, FL 32803
Clear Lake Park
Are you looking for a park that offers fishing but with more of an intimate, smaller feel? Clear Lake Park is a quiet refuge in Orlando, filled with oak trees and a reputation for plenty of bass for fishermen. Enjoy a day of sunshine, fishing, relaxation, and in this private oasis before you head back to the city. 
2301 29th St, Orlando, FL 32805
Shadow Bay Park
Shadow Bay Park is a hidden gem with a smaller fishing area that is popular among the locals. It is a very well-maintained and beautiful park with numerous ponds, lots of green spaces, trails, exercise areas, and more. After a day of fishing, take in the various wildlife seen in this area, a sunset, or try your hand at their full service-tennis courts. 
5100 Turkey Lake Rd, Orlando, FL 32819
Demetree Park
Spend a quiet day on the fishing pond at Demetree Park, a beautiful green space known for fishing. Locals say this park has abundant shade to help cool you off on sunny Florida days, walking paths, basketball courts, and a very peaceful atmosphere. While it is a smaller park, it is a great place to find catfish and bass, enjoy bird watching, and just spend some time in nature. 
650 Santiago Ave, Orlando, FL 32807
Types of Fish That You Will Catch in Orlando
If you are ready to incorporate fishing into your post-rehab body/mind activities, you probably want to know what types of fish are commonly found around Orlando. Here are a few popular types of fish found in lakes and waterways in Orlando, along with the best line to reel them in:
Largemouth Bass
If you are talking about fishing in the Orlando area to just about anyone who partakes in the activity, you are sure to have a conversation about bass – particularly Largemouth Bass, which are prevalent in the region. This fish is known for its evasiveness and being one that anglers want to catch. Most lakes, ponds, reservoirs, and upper estuaries in the Orlando area have these fish, and if you have to nab one on your goal list, be sure to use monofilament or braided fishing lines.
Black Crappie
Also known as the Speckled Perch and Strawberry Bass, you will often find the Black Crappie in many of Orlando's fishing spots. This fish thrives in natural lakes and reservoirs and prefers water temperatures up to 75 degrees, though some will tolerate warmer waters. Black crappies are known as excellent game fish and can be easily caught if you fish during pre-spawning periods when they swim in large schools. You can use fluorocarbon, braid, or monofilament line to catch this species of fish. 
Bluegill
Bluegills are also quite popular on the Florida fishing scene and can be recognized by their lavender and bronze coloring. They are found in abundance throughout the Orlando area and love quiet, weedy waters where they can eat and hide. They also tend to "bed" or congregate in large groups, and the number of Bluegills peaks around May and June when Florida water temperatures rise. Bluegills have small mouths, so be sure to use ultralight tackle and light line. 
Redbreast Sunfish
Known as the brightest colored Sunfish, these fish are often found in Central and Northern Florida. They tend to stay around rocky areas of rivers, lakes, and streams and can usually be found hiding around vegetation or within tree roots. Like Bluegill, you will want to use a light line when fishing for Redbreast Sunfish. 
Striped Bass
Also known as the Striper, this bass is the largest of the family. You can find this species in numerous lakes and rivers, typically in waters ranging between 65 and 70 degrees. Some stripers of over 40 pounds have been found in Florida and are considered an underrated trophy sport fish by many fishermen in Florida. Braided lines or copolymer lines are often used when fishing for Striped Bass. 
Catfish
You can find various catfish in Orlando, Florida, including the blue catfish and the Bullhead brown catfish. They enjoy the slow-moving waters of lakes, streams, and ponds and tend to gravitate toward areas with vegetation. You can often find them in waters that range from 70 to 80 degrees in temperatures, and the best line to use when fishing for catfish is monofilament. 
At WhiteSands Alcohol and Drug Rehab, it is encouraged that if you have just completed a treatment program, that you find some form of exercise or hobby that will keep your mind and body active. Whether you are a skilled fisherman or have always wanted to try your hand at the sport, Orlando, Florida, is one of the ideal places to get your feet wet.

Orlando Articles:
Farmers Markets Orlando
Kayaking in Orlando
Healthy Restaurants
Community Colleges
NA Meetings
Bike Trails
Colleges
Coffee
Al-Anon
If you or a loved one needs help with abuse and/or treatment, please call the WhiteSands Treatment at (877) 855-3470. Our addiction specialists can assess your recovery needs and help you get the addiction treatment that provides the best chance for your long-term recovery.