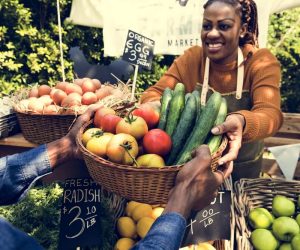 Sober-Friendly Activities: Farmers Markets in Fort Myers
The substances you put into your system when you were in the throes of active addiction affected your mind and body.  Now that you are clean and sober in recovery, the foods you put into your body also have a substantial effect on your entire system. Eating more nutritiously is vital to the recovery process. Checking out your local farmers market in Fort Myers is a tremendous sober-friendly activity that will reap substantial benefits while you're also having a fun morning or afternoon wandering through the market.
Here are a few of the more popular farmer's markets in the area that offers excellent farm-fresh foods and other shopping opportunities. Bring your pet along at some of the outdoor markets, and make a day of it with a picnic in the park to enjoy some sumptuous fruits or prepared take-out items. Some markets even have entertainment and artisans selling their unique homemade items.
Check out these farmers markets in the Fort Myers area:
Downtown Farmers Market
Located under the bridge in Centennial Park, a beautiful area that overlooks the scenic Caloosahatchee River, the Downtown Farmers Market is an excellent spot to pick up locally sourced fruits and vegetables, seafood, pure honey, baked goodies, take-out meals, and arts and crafts items for the home. Some of the vendors even offer fresh, exotic fruit and healthy micro-grains. This farmers market has been available to the public since 1994. It's open on Thursdays, from 9 a.m. until 1 p.m. It's advised to get there early for the best selections.
2000 W First St, Fort Myers, FL 33901
State Farmers' Market
In business for more than 40 years, State Farmers' Market is a Fort Myers landmark that also operates a farmers' market all year round. It offers the public fresh, wholesale produce, seafood (cooked or raw), and fresh flowers. This retail farmers' market is open Monday through Saturday, from 8:30 a.m. to 5:30 p.m., and on Sunday from 10 a.m. until 2 p.m.
2744 Edison Ave # 1, Fort Myers, FL 33916
Santini Farmers Market
Santini's is the first farmer's market established on the southern end of Fort Myers Beach. Selling a wide variety of fresh produce, take-home foods, and artistic ware, Santini Farmers Market has been a local favorite since 2010. The market is open on Thursdays, from 8:00 a.m. to 1:00 p.m.
7205 Estero Blvd, Fort Myers Beach, FL 33931
Beach Baptist Farmers Market
Beach Baptist Church sponsors this large farmers market that attracts more than 40 vendors every Wednesday and Friday, from 8:00 a.m. to 1:00 p.m., seasonally. Locals who shop at this market have voted it a Neighborhood Favorite on Nexdoor.com. You'll find farm-fresh produce, great Guatemalan coffees, local seafood, stone crab, shrimp, prepared foods, and handmade items at this popular farmers market overlooking the beach.
130 Connecticut St, Fort Myers Beach, FL 33931
Why Farmers Markets Are Great
Purchasing food at local farmer's markets is excellent because the fruits and vegetables sold there are often picked when ripe and then brought to market quickly. You're buying fresher, healthier produce, as the vitamins and essential nutrients in these foods haven't had a chance to begin breaking down yet.
Choosing to get your food at farmer's markets also makes sense if you prefer eating fresh food that's in season. When opting to buy produce that's in-season for your locale, you're buying it at its peak of freshness when it's most flavorful, less expensive, has the best texture, and optimal nutrient content. For example, if you were to purchase certain foods when they're not in season, you're going to pay more for those items.
Most people adore farmer's markets because the foods sold there are so fresh. This often goes beyond fruits and vegetables and often extends to freshly caught seafood, meats, honey, cheeses, baked goods, coffee, and chocolates.
You're also supporting local farmers and artisans when you shop at your favorite farmers' markets. This gives you a chance to get to know where your food is coming from and who's selling it to you on a more personal level than you'd experience in a grocery store. You can also make more eco-conscious choices when shopping at a farmers market in Fort Myers.
Farmer's markets are fantastic if you care about the food that goes into your body. Farm-fresh food provides you with the protein, vitamins, and nutrients you need to be healthy and strong, without added preservatives.
Shopping at a farmers market in Fort Myers is also very convenient and fun. Rather than trekking through a vast supermarket, you get to be outdoors in an area that's usually easy to reach with plenty of parking for customers. You can also usually bring your dog with you as you shop the many vendors' stalls after enjoying a nice walk or romp in the fresh air.
Great-Tasting Organic Food Is
Great For a Healthy Body
Shopping local farmers' markets for organically grown foods can improve the nutrition you and your family receive. When you browse the offerings at most of these fresh-food markets, you're likely to increase your consumption of fruits and vegetables, which is an excellent thing for your overall health.
Fort Myers farmer's markets are great for helping you build healthy eating habits. Great-tasting organic food is reasonably priced, wholesome, and nutritiously great for a healthy body. WhiteSands understands that rehab for alcohol & drugs in Fort Myers is the first step toward recovery. Aligning yourself with like-minded people, and doing things that are good for you and your recovery journey is paramount.
If you're in recovery from a substance use disorder, keeping up your physical health is an essential aspect of long-lasting sobriety. After you've endured and recovered from addiction and any co-occurring mental health disorders, it's time to eat right. The food you eat contributes to the healing process, helping you feel better and allowing you to think more clearly after years of drug or alcohol abuse has taken its toll.
It's to your advantage to eat fresh and organic food items since it adds the most potent minerals, vitamins, and antioxidants your body needs for growth and development while recovering from addiction. Organic foods contain more nutritional components than foods that are conventionally grown using synthetic pesticides and fertilizers. If you purchase your fruits and vegetables from farmer's markets offering organic food products, you'll be eating healthier fare that hasn't been subject to certain chemicals, hormones, and possible antibiotic-resistance bacteria.
If you are recovering from addiction, you'll reap the benefits of delicious organic foods you can find at a nearby Fort Myers farmers market. These locally sourced food items can help repair and restore your body, resulting in a healthier you.
Whole, organic foods contain amino acids like tyrosine, which helps heighten your brain's output of the feel-good neurotransmitter dopamine. When you're in the first stages of recovery, you may suffer from some lethargy, decreased motivation, cravings for substances, and perhaps depression. Tyrosine-rich foods can help boost your dopamine levels, making you feel more energetic and happier. Look for organic bananas, sunflower seeds, soybeans, and cheeses at your farmer's market.
Another amino acid that's found in organic foods is L-glutamine. This nutrient provides you with immune and antioxidant benefits. It also helps lessen cravings for sugar, a common occurrence during early recovery. Increase your L-glutamine levels naturally by eating spinach, kale, carrots, and fish from your farmer's market.
Blueberries and strawberries are also high in antioxidants that help repair your immune system after addiction has wreaked havoc on it. Also, look for organic onions, leeks, and pecans.
When you want to remain free of anxious thoughts and encourage your mind and body to relax, purchase foods that boost your GABA levels. GABA is a neurotransmitter that helps with restlessness and insomnia, also common symptoms after withdrawal from substances. Try fresh shrimp and cherry tomatoes, food high in GABA.
Tryptophan is an amino acid many of us are familiar with in regards to Thanksgiving dinners. The tryptophan in turkey has been held responsible for many relatives becoming very sleepy and calm after they've finished their big meal. Actually, this amino acid is a precursor to serotonin, another feel-good neurotransmitter that can uplift your mood. Besides turkey, eat organic cheeses, beans, and lentils to reap the benefits of these farmers' market finds.
Nutrition in recovery is important. A diet that helps balance your serotonin levels helps with relaxation. Eating organic foods that include complex carbohydrates, such as beans and lentils, root vegetables, and bread that are all freshly made and locally sourced, are great to eat during recovery.
Addiction may have depleted your body's stores of B-complex vitamins, which is common with alcohol use disorder especially. Alcohol abuse also decreases your system's stores of zinc, magnesium, and calcium.
Keep your body healthy when in recovery from addiction by purchasing and eating fresh, organic foods from your local farmer's markets. Eating organically grown foods when possible can help in addiction recovery. In fact, organic fruits and vegetables contain 30% higher antioxidants levels compared to more conventionally produced foods.
Those antioxidants are vital to addiction recovery as they heighten your immune system and protect your body's cells from free radical damage that can lead to disease, like cancer. Your skin may become brighter, too, when you're eating organic foods that are high in antioxidants.
Fort Myers Articles:
Colleges Fort Myers
Outdoor Activities Fort Myers
Biking
Kayaking
AA Meetings
Al Anon Meetings
Community Colleges
Restaurants Fort Myers
NA meetings
Volunteer
Museums
Smoothie Places
If you or a loved one needs help with abuse and/or treatment, please call the WhiteSands Treatment at (877) 855-3470. Our addiction specialists can assess your recovery needs and help you get the addiction treatment that provides the best chance for your long-term recovery.