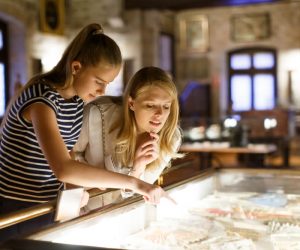 Recovery-Friendly Things to Do in the Orlando Area: Fun and Interesting Museums
Many people who don't visit museums regularly tend to dismiss them as boring or wonder what the appeal is. But museums can offer various experiences and benefits to their visitors, especially for people in recovery.
Finding new things to do once you've completed your time in alcohol and drug rehab is particularly important to maintaining sobriety. Finding new routines or activities that you did not participate in while using drugs or alcohol can help prevent relapse triggers. New experiences will especially create feelings of excitement and joy. Not only does it help fill the void of unused time, but museums can help inspire emotion, introspection, and even transcendence. WhiteSands aims to be the #1 alcohol & drug treatment center in Orlando by providing world-class addiction treatment services, care, and information like this.
Visiting a museum can have many benefits and even have lasting effects long after leaving the venue. This is also a safe, sober friendly activity you can do with friends and family. Going with someone else can open conversations and help you both dive deeper into the exhibits. The introspection you experience in a museum can also help you explore your own feelings about your addiction and share that with others more easily.
Studies show that people are happier who spend money on experiences rather than material purchases. When we reexamine a positive memory, such as visiting a museum, we tend to weed out the negative ones. Spending a day exploring and learning in a museum, especially with loved ones, can create long-lasting memories that will positively affect years to come.
The primary goal of a museum is to engage and educate the community. Just like your body muscles need exercise to stay fit, the brain needs stimulation to keep fit as well. Museums are a great way to keep our brain's learning centers working and keep us mentally young. They also tend to provide an effective way of learning. Because it is an informal way of education, the brain tends to retain more knowledge. It is quite different seeing something in person than seeing it on the pages of a book or a computer screen. You are more likely to retrain the firsthand experience later in life.
It is also a great way to get your steps in when you are not so motivated to get up to exercise. Most museums will have you spending hours walking around. Your focus will be on what you are learning and experiencing, that it will not feel like exercise at all.
You will leave a museum stimulated with new ideas and feeling inspired. They can offer new perspectives, recharge our minds, and even encourage us to try something new, like art or a science class. Maybe you will learn about a specific historical figure, event, or scientific theory that will make you want to learn more about it. Motivating you to read more, attend a lecture on a specific subject or watch that biographical movie seemed dull before. Learning about the great artist, archeologist, and historical figures may inspire you to pursue a new hobby or career in life.
There is a calmness to visiting individual museums that can instill a feeling of serenity. Taking time and space away from the world's everyday bustle can help recharge your state of calmness. Entering a museum can almost feel like you went into a time capsule and that you left all your worries and stressors outside. It can be a great escape and help you stop your mind's never-ending chatter.
Museums are a lot more than just a collection of exhibits and artifacts; they allow you to meet new people, discuss thoughts and become an active part of the community. By attending lectures with guest speakers or taking in new exhibits, you're opening yourself up to an atmosphere that will attract others with similar interests. It can help expand your social circle and potentially make long-term friendships.
Believe it or not, museums can be a lot of fun. When we think of museums, we tend to imagine those stuffy, uptight places we see in movies. Or you feel you need to know about history or art to get anything out of it. But there are other types of museums that offer much more than just looking at things. Science museums tend to have many interactive exhibits and can make you feel like a kid again.
Orlando is known mostly for its theme parks like Universal and Disney World, but it also offers many unique and exciting museums. Unlike some big-city museums, many of Orlando's museums are in historic buildings of their own, with picturesque grounds. They are also airconditioned, making them a great attraction to visit on those hot summer days.
Orlando Art Museums
Orlando Museum of Art
Orlando Museum of Art has dedicated itself to collecting and preserving notable works of art and inspiring creativity and intellectual curiosity. They have a permanent collection of contemporary American Art, Art of the Ancient Americans, and African Art. OMA also has rotating series of temporary exhibitions and traveling shows, so you can always find new reasons to go. You can complement your visit with a free highlights tour, available every Sunday at 1 pm. They also host workshops, seminars, book clubs, lectures, and art appreciation classes. They are open Tuesday to Friday from 10 am to 4 pm and Saturday and Sunday from 12 pm to 4 pm.
2416 N Mills Ave, Orlando, FL 32803
Cornell Fine Arts Museum at Rollins College
Cornell Fine Arts Museum is located inside Rollins College, Florida's first college that offers a great Art and History program. They are a smaller art museum, but they change their exhibits all the time, so you will always find something new to see. Their displays range from antiquity through contemporary eras, featuring famous artists like Pablo Picasso, Jean-Michel Basquiat, and Henry Moore. Museum admission, lectures, and tours are free from everyone. They are open Tuesday from 10 to 7, Wednesday to Friday from 10 to 4, and Saturday and Sunday from noon to 5 pm.
1000 Holt Ave, Winter Park, FL 32789
Albin Polasek Museum and Sculpture Gardens
This museum is a historic site and was home to Albin Polasek himself, a Czech-American sculptor. The building Mediterranean-style and features a lot of the original furnishings and Polasek's art and antiquities from his collection. They also host changing exhibitions of local artists for viewing and for sale. The museum also has special outdoor areas in the garden, including a butterfly garden, two water gardens, and outdoor sculptures. This is a great option if you want to get some fresh air and sun. They are open Tuesday thru Saturday from 10 am to 4 pm and Sundays from 1 pm to 4 pm.
633 Osceola Ave, Winter Park, FL 32789
Science Museums in Orlando 
Orlando Science Center
The Orlando Science Center is an excellent option if you are looking for something more interactive. You can enjoy four floors of traveling exhibits, workshops, theaters, a planetarium, and live shows. With so much to do, plan on spending a full day here. Guests are welcome to bring their own food options or enjoy a nice lunch at 4Roots Café, which offers locally-sourced foods to create fresh, healthy meals. Types of exhibits here include authentic fossils and fossil replicas of dinosaurs and other ancient animals, environmental science demos, a tiny green home, live animals, and a 2D movie theater with educational films. They are open every day from 10 am to 5 pm.
777 E Princeton St, Orlando, FL 32803
Museum of Illusions Orlando
Located in Icon Park, this is another interactive museum that will bring out your inner kid's playfulness and sense of wonder. Some of the exhibits include an Upside-down room, Vortex Tunnel, and many optical illusions and holograms. You will leave the museum with a new appreciation of what your imagination can do. They are open every day of the week from noon to 8 pm, 9 pm on Fridays and Saturdays. This is a great option to go with a group of friends or family.
8441 International Dr Suite #250, Orlando, FL 32819
Other Museums of Interest in Orlando
Titanic: The Artifact Museum
This museum will make you feel like you took a trip back in time with its full-scale re-creations of the Titanic's famous rooms like the Grand Staircase, a First-Class Parlor Suite, and the Promenade Deck. Trained historians lead tours, dress in period costumes, and portray some famous Titanic passengers like Molly Brown and Captain Smith. You can also view a real iceberg and experience the cold water of that fateful night. They also offer a First-Class Dinner Gala in addition to just the exhibition that invites you to be a guest at a dinner party on board the Titanic, including reenactments of the night of April 14, 1912. Open Wednesday to Sunday from 11 am to 5 pm for the exhibit walk-through.
7324 International Dr, Orlando, FL 32819
Ripley's Believe It or Not
Ripley's Believe it or Not! is one of Orlando's more touristy museums but also one of the most entertaining. You can explore the traveler Robert Ripley's strange exhibits and artifacts he started collecting more than 100 years ago. This is the place to see and interact with some truly odd stuff. You can even see a real shrunken head. They are open from 12 pm to 8 pm Monday thru Friday and 10 am to 12 am Saturdays and Sundays, making it an excellent nighttime activity option.
8201 International Dr, Orlando, FL 32819
Madame Tussauds
The original wax museum is in London, England, but it has smaller museums worldwide, including this one right here in Orlando's Icon Park. This museum features life-size replicas of celebrities, characters, and historical figures. You can learn about how the wax figures are made and some interesting facts about the people they feature. The wax figures are placed in appropriate scenes or backdrops to feel you are on stage with Ricky Martin or visiting the moon with Neil Armstrong. They have an option to include admission to the Sea Life Aquarium next door, and with many close by restaurants, you can make a full day out visiting this museum as well.
8387 International Dr, Orlando, FL 32819

Orlando Articles:
Farmers Markets Orlando
Kayaking in Orlando
Healthy Restaurants
Community Colleges
NA Meetings
Bike Trails
Colleges
Coffee
Al-Anon
Fishing
If you or a loved one needs help with abuse and/or treatment, please call the WhiteSands Treatment at (877) 855-3470. Our addiction specialists can assess your recovery needs and help you get the addiction treatment that provides the best chance for your long-term recovery.