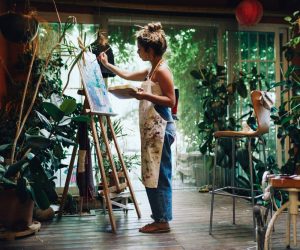 How Creative Outlets in Tampa Help People Stay Free From Relapsing
Dedicating your time to a new activity or hobby is one of the best ways to help from relapsing as you begin your life after rehab in Tampa. When a person abuses alcohol or drugs, much of their time is taken up by these activities. To stay sober, this time needs to be filled with more positive, healthy pursuits. Many activities are also useful for taking your mind off of the everyday stresses everyone experiences in life. However, for a recovering addict or alcoholic, these stresses can add up to a relapse. Taking part in activities is a great way to pass the time and remove yourself from the daily grind.
Getting involved in new hobbies and activities can also accomplish other goals that you may be asked to set as part of your rehab. First, many pursuits involve at least some amount of physical activity, exercise you may not have been getting before you entered recovery. Second, it allows you to meet new people in an environment free of drugs and alcohol. This can be important as some relationships may need to be left in the past once you are sober. A third thing is reconnecting with family and friends. New activities allow you to strengthen bonds with those closest to you.
Art Classes in Tampa
The two best things about art classes as a creative outlet are that there are quite a few different disciplines to choose from, and you don't have to be good at all to enjoy what you're doing. From watercolors to photography to sculpting to oils, there are a lot of things you can do in the art world that will fit who you are and what you enjoy.
Here are a few you might want to check out in the Tampa area:
Ybor Art Studio – Tampa Parks & Recreation
The Ybor Art Studio is one of four locations in Tampa, where the Parks and Recreation Department offers classes. Area residents can take advantage of a wide variety of instruction throughout the year, including clay sculpture, stained and fused glass, jewelry, silversmithing, digital multimedia, encaustics, drawing, and painting. Workshops covering specific topics such as printmaking are also offered. Information about classes can be found on the Tampa city website as well as Arts Tampa Bay.
2009 Angel Oliva Senior St, Tampa, FL 33605
Tampa Painting With Friends
At Tampa Painting with Friends, the instructor will show you how to design, layout, and compose your painting. The classes are three hours long to show you more than just putting paint on the canvas. Students will learn how to mix colors, the use of perspective, values, textures, painting wet on wet, and much more. The best part is you get to take a masterpiece home at the end of class. Students under 15 are welcome when accompanied by an adult. Painting classes, clay sculpture classes, and gold leaf classes are offered. 
4906 Riverhills Dr, Tampa, FL 33617
Woodworking Classes in Tampa
Woodworking is an excellent pursuit whether you have done it in the past or are brand new to the activity. Skills can improve significantly over time, and it's something you can do at home once you know the basics. Woodworking is also a craft that can consume large blocks of time if you want it to, which can be the perfect type of activity for life after rehab. 
Here are a few places you can take woodworking classes in the Tampa area:
Florida School of Woodwork
The Florida School of Woodwork offers individuals an opportunity of all skill levels to spend a weekend, a week, or several immersed in the craft of designing and making furniture, wood carvings, and woodworking skills. Kate Swann founded the school in 2004. The School of Woodwork offers classes all year long and can accommodate groups. The school's instructors are all professional woodworkers with exceptional technical skills.
1609 N Franklin St, Tampa, FL 33602
Erwin Technical College: Introduction to Woodworking
This class, given at Erwin Tech, introduces making furniture and other objects with wood. Students enrolled in Introduction to Woodworking will learn critical safety skills and techniques associated with tools needed to complete the class project. This class is an inexpensive way to learn a new skill taught by professionals in a hands-on classroom environment. 
2010 E Hillsborough Ave, Tampa, FL 33610
Pottery Classes in Tampa
Pottery is another great form of art that people of all ages can do. It's a lot of fun, and even if you end up making some funky-looking pieces, it's a lot of laughs, and you can create some useful items, too. Here are a few places in Tampa where you can try out pottery by yourself or with some friends:
The Potter's House Studio 
This paint your own pottery studio is open to people of all ages where having fun is almost mandatory. This is a true working studio for both the experienced ceramic artist and those who aren't sure they have any creativity in them at all. Painting pottery is a great way to relax and enjoy time with family, friends, and loved ones in a fun, stress-free environment.
3627 S West Shore Blvd, Tampa, FL 33629
The Ceramic Garden
Are you looking for something to do on your own or with your family that is not only entertaining but eases stress, anxiety, and boredom? This sounds like the perfect activity for life after rehab, and that's what The Ceramic Garden pottery and painting programs have in store for you.
19213 N Dale Mabry Hwy, Lutz, FL 33548
Hyde Park Art Studio
The Hyde Park Art Studio offers individuals, families, and groups a wide variety of arts and crafts classes for youths and adults. Some of the classes include jewelry making, stained glass, and pottery. The Hyde Park Studio works in cooperation with the Arts Council of Hillsborough County.
702 S. Albany, Tampa, FL 33606
What Else Helps You Express Yourself? Tap Into Your Creativity To Find Ways To Fill Your Time!
When looking for new activities or to rekindle your interest in things you've done in the past, in a major city like Tampa, there is almost no end to the classes, seminars, and workshops you can take part in to help get you going. Here are a few more classes you might consider taking as you explore the world of life after rehab:
Cozymeal Cooking Classes
If you're looking for a fun, hands-on experience, you will leave with more confidence in your kitchen skills and check out Cozymeal Cooking Classes. Prepare meals with Chef Kathy that will show you how to make mouth-watering creations in your own kitchen. 
4830 W Kennedy Blvd Suite 600, Tampa, FL 33609
Tampa Actors School
Did you ever wonder if you had the talent to be on the big screen? Well, you don't have to go that far to have a little fun and feed your acting bug at the same time. Take classes at the Tampa Actors School with a team of serious professionals with over forty years each in the acting and acting education business.
20967 US Hwy 19 N, Clearwater, FL 33765
The Dance Den
The Dance Den is an adult dance studio that offers both solo dance lessons and partner dance classes. Whether you're looking to get in shape, learn something new, make new friends, or just have some fun, this is a great place to do it in the heart of Tampa. From Salsa to Ballet to Ballroom, there are beginner classes across a wide variety of dance disciplines for you to choose from when you try The Dance Den.
204 E Henderson Ave, Tampa, FL 33602

Tampa Articles:
Farmers Markets
Things To Do Outside in Tampa
Bike Paths
Fishing Destinations
Healthy Restaurants
Coffee Shops
AA Meetings Tampa
Al Anon Tampa
Museums
NA Meetings
Volunteer
If you or a loved one needs help with abuse and/or treatment, please call the WhiteSands Treatment at (877) 855-3470. Our addiction specialists can assess your recovery needs and help you get the addiction treatment that provides the best chance for your long-term recovery.