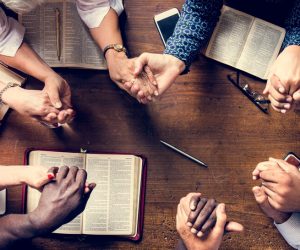 Churches & Centers of Worship For People in Recovery in Fort Myers, FL
Getting through a comprehensive rehab treatment program is a significant achievement. Yet your recovery from drug or alcohol addiction requires ongoing management.
After you leave rehab, you should have been armed with an arsenal of recovery tools, skills, and resources designed to help you reduce the risk of relapsing back into former patterns of behavior. You would also have participated in individual counseling sessions and attended group meetings with others in recovery.
You may have recognized that much of the 12-step program focuses on a higher power throughout your group support meetings. Whether you're a believer or not, group meetings offer a wide range of advantages that are beneficial to your long-term recovery.
Even after you've left rehab and returned to independent living, continuing to attend group meetings can help you maintain your motivation to stick with your sober lifestyle.
There are lots of churches and centers of worship for people in recovery in Fort Myers. You should find it easy to locate a group meeting near home at a time that's convenient for your schedule on most days throughout the week.
Benefits of Spiritual Worship
Leaning on a spiritual power can make it easier to delve deep into yourself to find the strength you need to continue your recovery journey. Many people who struggle with addiction recognize that their only focus during their time with substance abuse was drugs or alcohol.
By comparison, opting to follow a more spiritual path can provide a completely new focus, providing a new meaning for your future. While people with addiction can be self-absorbed and selfish in their views, choosing to follow a higher power can turn the recovering person's focus to serving others around them.
Some people also note that choosing to follow a spiritual path helped them maintain motivation to stay sober. When you support others around you at group meetings and in worship sessions, you can also potentially reduce the risk of relapse.
Depending on the spiritual path you choose to take, you might take strength in mindful meditation to help you take control over any urges or cravings you might experience. You might find that praying to a higher power enables you to keep your motivation levels strong.
The key is to experiment with and participate in all options open to you. Then you're in a stronger position to learn more about which ones work best for your ongoing recovery needs.
Tapping Into a Higher Power
When a person believes in any form of power that is considered more significant than themselves, it can make the recovery process easier to manage. After all, many people caught in a cycle of addiction may feel overwhelmed by the idea of trying to envisage a life without drugs or alcohol or trying to enter recovery on their own in a home environment where no one really understands.
While they might not believe they have the strength to overcome their problem independently, learning to rely on a higher power can provide additional strength and motivation. Drawing strength from any source that allows you to maintain your sobriety can only be a positive thing.
In those moments where urges and cravings become too challenging to handle, a person in recovery can choose to turn to their selected higher power to find renewed strength to continue on their path. The result is they can learn to let go of the burden of responsibility and begin learning a different approach to life that is more focused on a healthy recovery.
How AA Groups Accept a Higher Power
Some people assume that all AA groups are based around religion. The 12-step program does have a basis in accepting a higher power, but that doesn't automatically mean that group meetings are Christian-based.
Instead, AA groups focus on a higher power in which any member can interpret any way they choose. In this way, 12-step programs are more like spiritual groups instead of religious organizations.
When you delve deeper into the various organizations that host recovery meetings, you soon discover that they welcome people from almost any denomination, including agnostics and atheists. You'll find plenty of non-believers attending 12-step program meetings as part of their recovery journey. Attending group meetings can help reduce feelings of isolation and support other like-minded people facing similar challenges in their own recovery.
People who attend group meetings all over the world begin learning how the 12 steps can help them manage their recovery with confidence. Six of the 12 steps mention a higher power, which can lead people to think that AA groups are just about religion and believing in the Christian God.
Yet, people who attend 12-step meetings will tell you that there is no obligation to follow all of the steps. You're also not required to change any of your pre-existing beliefs or religious leanings to attend. The only requirement for attendance at any group support meeting anywhere in the world is the desire to stop drinking or using drugs.
Christian, Jewish, Muslim & Other Places of Worship
Fort Myers is home to many churches, temples, and other places of worship for several different religious denominations, most of which provide ongoing faith-based support meetings for people in recovery. 
Here are some options in Fort Myers that can help provide the ongoing support and motivation you need through your recovery:
Grace Church
The Grace Church has several campuses across Fort Myers that support healthy recovery through worship. The church hosts several recovery meetings throughout the week for AA & NA. Individual counseling sessions are also available by appointment.
2415 Grand Ave, Fort Myers, FL 33901
Parkway Baptist Church 
The Parkway Baptist Church offers programs specifically designed to recognize and celebrate recovery from drug or alcohol addiction. Celebrate Recovery meetings are held every Monday evening.
6211 Briarcliff Rd, Fort Myers, FL 33912
New Hope Presbyterian Church
New Hope offers a variety of support options for people in recovery, including faith-based group meetings and individual counseling sessions by appointment.
10051 Plantation Rd, Fort Myers, FL 33966
McGregor Baptist Church
McGregor Baptist Church hosts Christ-centered 12-step recovery meetings. Anyone struggling with addiction is welcome to attend.
3750 Colonial Blvd, Fort Myers, FL 33966
Temple Beth-El
The Temple Beth-El offers Jewish 12-step recovery group meetings held each Saturday. You can dial into the regular Zoom meeting to connect with other Jewish members in recovery.
16225 Winkler Rd, Fort Myers, FL 33908
Tice United Methodist Church 
Tice United Methodist Church holds regular faith-based AA meetings for people in recovery each week. Everyone is welcome.
4545 Tice St, Fort Myers, FL 33905
Faith United Methodist Church
Faith United Methodist Church hosts Al-Anon meetings each Saturday morning. Al-Anon meetings are not the same thing as AA meetings. Instead of the recovering person attending group meetings, Al-Anon meetings are intended to provide ongoing support and guidance for family members in recovery. After all, family and friends can be significantly affected by addiction, and they need help too.
15690 McGregor Blvd, Fort Myers, FL 33908
St Francis Xavier Catholic Church
St Francis Xavier Catholic Church hosts regular group support meetings throughout the week. Some sessions may also be held remotely.
2057 Cleveland Ave, Fort Myers, FL 33901
Jesus the Worker Catholic Church
Jesus the Worker Catholic Church is dedicated to provided masses and group meetings in Spanish to support the Latin-American population in Fort Myers. Group support meetings for those in recovery are also conducted in Spanish.
881 Nuna Ave, Fort Myers, FL 33905
Saint Hilary's Episcopal Church
Saint Hilary's Episcopal Church offers faith-based recovery meetings in the Anglican tradition. Some meetings may be held online or via Zoom, so check the website or contact the church for more details.
5011 FL-867, Fort Myers, FL 33901
Rissho Kosei-kai Dharma Center
Rissho Kosei-kai Dharma Center uses Buddhist practices to help people heal from the pain caused by substance abuse and addiction, believing that recovery means empowerment and learning positive ways to find your own path. Attendees will learn some Buddhist practices that include meditation, self-inquiry, compassion, and community as valuable resources throughout their healthy recovery.
13411 Shire Ln, Fort Myers, FL 33912
No matter your current beliefs, most places of worship are happy to welcome everyone to attend their recovery meetings. The entire goal of attending meetings regularly is to help you find your own path to recovery that works for your unique needs. Take the time to participate in a few different discussions at various places of worship and see which ones work best for your individual needs. You might be surprised by what you learn and who you could potentially meet.

Fort Myers Articles:
Colleges Fort Myers
Outdoor Activities Fort Myers
Biking
Kayaking
AA Meetings
Al Anon Meetings
Community Colleges
Restaurants Fort Myers
NA meetings
Volunteer
Museums
Smoothie Places
Farmer's Markets
If you or a loved one needs help with abuse and/or treatment, please call the WhiteSands Treatment at (877) 855-3470. Our addiction specialists can assess your recovery needs and help you get the addiction treatment that provides the best chance for your long-term recovery.