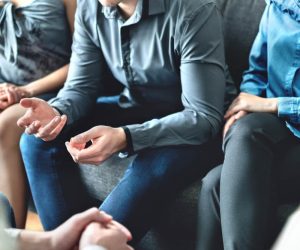 Tips for Staging an Intervention
Watching a friend or loved one struggle with drug addiction or fall into the depths of alcoholism is challenging, but the only thing you want to do is help. You want to get your friend or family member into treatment, but you do not know whether your efforts will be successful or what kind of reception they will receive.
Even so, it does not hurt to try, and staging an intervention is one of the smartest actions you can take to convince a loved one that help is warranted, available, and highly recommended. Simply showing your friend or family member how much you care about them and how much they are loved can indeed make a difference, but how to stage an intervention? If you follow the proper steps, you can make your intervention efforts as effective as possible.
If you or a loved one are struggling with addiction, call WhiteSands Alcohol and Drug Rehab today at 877.969.1993 to learn how we can help.
What Is an Intervention?
Before you can stage an intervention, you first need to know what it entails and how to stage an intervention. In the simplest terms, an intervention is simply a meeting designed to confront the alcoholic or drug addict with their issues and offer to help them get better.
The intervention can take several forms, but the most common form occurs in a large group setting. Friends and family members who are concerned about drug addiction, alcoholism, and other forms of substance use disorder get together, and when the individual with the addiction arrives, they confront them and offer help to get them into treatment.
Steps to Staging an Effective Intervention
If you are concerned enough about a friend or family member with an addiction to drugs or alcohol to stage an intervention, you should be worried enough to do it the right way. There are right ways and wrong ways to stage an intervention. Taking the time to learn about the process ahead of time can increase the effectiveness and make it far more likely that the intervention's target will agree to go into treatment.
It can take some time to stage an effective intervention, but those days and weeks will be well spent if the result is your friend or loved one going into treatment. Here are the vital steps you need to take to stage that intervention the right way:
1. Get help: You need help to stage an effective intervention, so reach out to White Sands for the information you require.
2. Form your team: The team you create will play a vital role in your intervention's success, so think about who to invite and start getting the gang together.
3. Create your plan: Now that you know who will attend, the next step is creating a solid plan. Think about what you want to say and how you want to proceed.
4. Gather information: It is essential to be informed before the intervention begins, so gather the data you need.
5. Prepare your impact statements: Impact statements are vital for an effective intervention, so ask everyone who will be attending to write down how they have been affected by the individual's drug or alcohol use.
6. Be ready to offer help: The intervention's entire goal is to get the person into treatment, so make sure you are prepared with a firm offer of help.
7. Set boundaries: It is important to set solid boundaries for how the intervention will play out and what to do if it starts to go off the rails.
8. Rehearse the scenario: You do not want to go unprepared, so rehearse the strategies and practice what everyone will say once the process begins for real.
9. Keep your expectations realistic: You cannot expect overnight results, so keep your expectations sensible. Be prepared to continue if your offers of help are rebuffed; you can always try again later.
10. Follow up with your friend or loved one: Even the best intervention may not be successful the first time out, so be ready to follow up whether or not your offers of help have been accepted.
What Not to Do at an Intervention
Knowing what to do when staging an intervention is essential, but knowing what to avoid can be even more critical. Here are some situations you should never do at an intervention:
1. Accuse or cajole: You cannot force an adult into rehab, nor can you persuade them to get better. You can and should encourage your loved one to seek treatment, but accusations are unlikely to be successful.
2. Get angry: Strong emotions are likely to arise during the intervention, but falling into anger and rage will counter your efforts. No matter how angry you feel, you should keep those feelings under control and focus on the task at hand.
3. Allow others with drug and alcohol problems to attend: The purpose of the intervention is to get your friend or loved one into treatment, and the last thing you need is another person with a drug dependency. If someone else in your family or circle of friends struggles with addiction, you can stage their intervention at some future date.
4. Continue with the intervention if your friend or loved one is impaired: It is essential to schedule the intervention for a time when your loved one is likely to be sober. Continuing with your efforts in the face of an obvious impairment could be counterproductive and is highly unlikely to be effective.
When done correctly, an intervention can be a vital first step toward effective treatment and recovery. Now that you know how to proceed, what to do, and what to avoid, you can confidently move forward. And when your friend or family member does agree to treatment, all you need to do is pick up the phone and take the next step on the road to a better life.
At WhiteSands Alcohol and Drug Rehab, our expert counselors will give you the tips you need to make your efforts as effective as possible. Contact us today or visit one of our Florida locations to learn how to stage an intervention and find professional addiction treatment programs.
If you or a loved one needs help with abuse and/or treatment, please call the WhiteSands Treatment at (877) 855-3470. Our addiction specialists can assess your recovery needs and help you get the addiction treatment that provides the best chance for your long-term recovery.