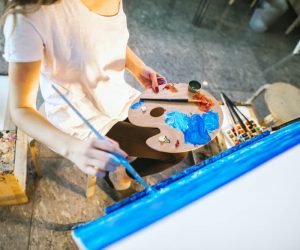 How Creative Outlets Help Maintain Sobriety
Taking advantage of various creative outlets is a great way to enhance your recovery from drug and alcohol addiction. Music and art therapy have been shown to benefit recovering addicts, including decreasing denial, improving communication, and reducing feelings of shame. Tapping into your creativity is also an excellent way to fill your time and avoid boredom, which can easily lead to relapse. When it comes to being creative, some people are more inspired by words, some by colors, some to sounds, some to movement, and even to taste. Exploring different creative outlets can help you discover which resonates best with you.
A newly sober person can feel numb and unresponsive. As your sobriety continues, your mind can start to awaken to new ideas and may crave new stimulation. Your body may also need new ways to help create all the good brain chemicals now that you're adjusting to life without drugs and alcohol. New activities can generate feelings of excitement, happiness, and hope for people overcoming alcohol and drug addiction.
Sometimes people who were creative during their drug use can feel like their inspiration was derived mainly from being altered by drugs and alcohol. This is one reason why it's essential to get back to your creative pursuits and realize that you are just as creative now, if not more so, that you have a clear mind and a brighter spirit. In the beginning stages of recovery, you might feel out of touch with your creative side. But just like regular exercise builds strength and muscle, a daily routine helps strengthen those creative parts of the brain, and over time it becomes easier and more natural.
Being creative can help open a new channel to connect with your emotions and surface possible underlying or hidden sentiments you were not aware of. It can aid you in understanding your own addiction and where the core issues are. It can help you process feelings of guilt and shame, which tend to be a big trigger for relapse.
Because it helps you identify your feelings, you can more easily put those into words. It can be challenging during recovery to consistently talk about your issues, and finding the right words can be an even more significant challenge.
Creating is a good way to produce organic feelings of happiness and joy. It can be an excellent way to build back those natural responses and even help you feel all your emotions again. Listening to or playing music can help reduce stress and negative emotional states.
After rehab, you can feel like you have a lot of free time on your hands, and keeping busy can be your key to continued sobriety. Finding a creative hobby will help fill all that free time.
As adults, we tend to lose our playfulness, and the numbing effects of drugs and alcohol can dull it even more. Participating in creative outlets can tap into those child-like feelings of silliness and healthy abandon.
Many studies have shown meditation is very beneficial for stress relief and overall mental health, but it can be difficult to practice in the traditional sense. Creative outlets can create that same mental state experienced during meditation, allowing us to escape the mental chatter.
By giving you something to focus on, it can take away from destructive negative thoughts. It also gives you purpose and meaning when working towards something and then a sense of accomplishment once it is finished.
Spending time creating is associated with positive affect, the extent to which people experience positive moods. It can help you be less prone to dwell on the negative and focus on the positive things in your life.
It is not uncommon to turn to drugs or alcohol when experiencing pain or emotional discomfort. During recovery, you will feel many negative emotions, and channeling that into some form of art can help you release them.
Orlando and its surrounding towns offer an extensive range of creative outlets and classes. Here we will explore a few places you can try out that will help promote your sobriety. Again, try as many different types of art as you can and see what enables you to express yourself the most authentically.
Art Classes in Orlando
Abstract Orlando
Abstract Orlando provides some fun, casual classes to help unleash your inner artist. They offer Resin and Fluid classes that help create beautiful abstract pieces. This is a great option if you feel you feel a little shy about your artistic talents.
11062 International Dr #148, Orlando, FL 32821
The Art Room
This is a fantastic place for any level of commitment you are with trying canvas painting. They offer weekly classes in a six-week session format, individual workshops, private lessons, and paint parties. Their philosophy is that everyone should experience the creative process in an encouraging, positive atmosphere. Learn acrylic, oil, watercolor, and much more at this teaching art studio.
709 Main St, Windermere, FL 34786
Sam Flax
Sam Flax is primarily an art supply and framing store, but they offer various unique art classes. One of these is Zentangle, which is an easy-to-learn, relaxing art form that creates beautiful patterns by drawing structured patterns. This is one of the best meditative art forms. Currently, they are just offering online classes and demos because of COVID-19. But you can pick up your supplies here and create your beautiful pieces at home.
1800 E Colonial Dr, Orlando, FL 32803
Woodworking Classes in Orlando
Woodcraft of Orlando
Woodcraft is a national chain of woodworking tools and supplies stores. They also offer a wide variety of classes, especially for people who do not even know where to get started. Two classes that will teach you everything you need are Woodworking 101 and 102, which are full-day classes running from 10 AM to 5 PM. You can also take classes on specific power tools such as the Bandsaw and Router to get you more comfortable.
8155 S US Hwy 17 92, Casselberry, FL 32730
Rockler Woodworking and Lumber Store
Rockler Woodworking and Lumber is another nationwide store that also features classes and workshops, including make-and-take projects if you would like a more casual take on woodworking. One of their exciting classes is Basic Bowl Turning, in which you learn to make wooden bowls.
515 E Altamonte Dr #1018, Altamonte Springs, FL 32701
Pottery Classes in Orlando
Super Awesome Cool Pottery
This is an excellent place if you have zero experience in pottery making and want to try it out. They offer different classes, such as pottery wheel class, where you get step-by-step instruction of throwing your own bowls, painting them, firing them, and then taking them home. You can also make a clay sculpture class or pick a pre-made ceramic piece to paint. Super Awesome Cool Pottery is the place to go when you want to have a fun night out on your own or with friends.
6100 S Orange Ave, Orlando, FL 32809
City of Orlando – Pottery Studio
This pottery studio is more for deeper learning. They offer a wide range of classes from beginner to advance and can be a great option if you want to get more serious about it. This studio also offers a membership option, which allows you to come in for Open Studio to work on your own projects with little or no help from staff. It does allow an opportunity to connect with other potters.
363 N Parramore Ave, Orlando, FL 32801
Crealde School of Art
The Crealde School offers all sorts of art classes and full courses as well. They have several 8-week courses that meet once a week to help you really dive deep into all the ins and outs of pottery. These courses are also available at different levels and are a great option if you want a more academic environment.
600 St Andrews Blvd, Winter Park, FL 32792
What Else Helps You Express Yourself? Tap Into Your Creativity To Find Ways To Fill Your Time!
Live Wonderful Photography
Photography can be a great creative outlet that can quickly be learned. Nikki Six, the basis for Motley Crue, attributes his continued sobriety to his love of photography. At Live Wonderful Photography, you will learn to take your camera beyond "auto mode." You can take many photography classes levels, and they will help you take pictures that tell a story.
100 Rosearden Dr, Orlando, FL 32803
Writer's Corner | Orange County Library System
The Orange County Library System offers free writing classes. All you need is a library card! Currently, they are hosting all their events virtually through their website. They offer many types of writing classes, writers' groups where you can share your pieces with others, and a series of Shakespeare events that teach his different works, and you can even perform as experts. Make sure to check out their YouTube channel for their weekly writer's tips as well.
Spotlight Dance Studio
Dance is a great way to access your creative mind and keep physically healthy. Spotlight Dance Studio offers drop-in, pay-as-you-go dance classes for teens and adults. They cater to adults who have always wanted to learn stage dance, with classes like Intro to Jazz, Intro to Ballet, and Musical Theater dance.
7751 Kingspointe Pkwy # 102, Orlando, FL 32819

Farmers Markets Orlando
Kayaking in Orlando
Healthy Restaurants
Community Colleges
NA Meetings
Bike Trails
Colleges
Coffee
Al-Anon
Fishing
Museums
Nature Spots
Smoothie Spots
Churches
Volunteering
If you or a loved one needs help with abuse and/or treatment, please call the WhiteSands Treatment at (877) 855-3470. Our addiction specialists can assess your recovery needs and help you get the addiction treatment that provides the best chance for your long-term recovery.