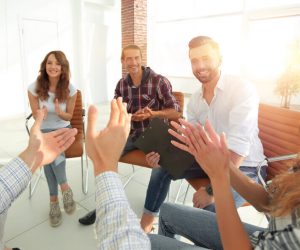 What to Expect During a Typical Day in Rehab
The unknown can be a scary place, especially when it comes to something as profoundly personal as drug rehab. As you embark on your journey from addiction to recovery, you are probably wondering what happens in rehab and what you can expect when you walk through those doors for the first time.
At WhiteSands Alcohol and Drug Rehab, we understand the fears people face when they get ready to enter drug rehab, and we know alcoholics may have a lot of concerns when it comes to alcohol rehab. Those worries are common, but you will rest a lot easier knowing what happens in rehab once you know the truth. Please keep reading to learn what you can expect from a typical day at our facilities.
If you or a loved one are struggling with addiction, call WhiteSands Alcohol and Drug Rehab today at 877.969.1993 to learn how we can help.
Morning: How You Start Your Day in Rehab
Your morning at WhiteSands will begin quietly, so you can ease into your day and get ready for the meetings, rehab services, and other activities that will help to make your recovery more effective. After spending a night in your private room, you can enjoy a leisurely shower, freshening up for the big day ahead.
After you are rested and cleansed, you can come down to breakfast, where you will be served a delicious and nutritious meal. Our private chefs are proud of what they do, and they are dedicated to your well-being, which begins with a healthy body.
Afternoon: What Kinds of Therapy Do You do in Rehab?
The afternoons at WhiteSands are dedicated to healing, including various alcohol rehab and drug rehab services. Your experience will depend on several factors, including:
The severity of your addiction
Whether or not you need detox
What type of counseling is best for you, i.e., group settings, one-on-one, family and peer, etc.
What kinds of coping skills you need to develop
No matter what type of counseling is on the calendar, we will work hard to make it as effective as possible. Our number one goal is to help you heal, giving your mind, body, and spirit the fresh start it needs.
Evenings: Enjoying WhiteSands Amenities at the End of the Day
Whether you are embarking on a course of alcohol rehab, drug rehab, or a combination of both, going through the process can be draining. We understand just how difficult it can be to go from drug addiction depths to the lightness of recovery, and we think you deserve a reward now that evening has come.
At WhiteSands, the evenings can be as quiet or as full as you want. Now is the time to have dinner, but you might want to stop by your private room first for a bit of relaxation. When you are ready, you can enjoy the same gourmet food you enjoyed at breakfast, all carefully prepared by our onsite chefs.
When dinner is over, you can enjoy the abundant sunshine, explore your surroundings, talk to your fellow residents, and swap notes on the various aspects of your recovery. We want you to be comfortable in your recovery, and that begins with the beautiful facility we have created.
Our guests can also access their personal cell phones and laptops once treatment is completed for the day. This access presents an excellent opportunity to speak with loved ones on your progress to help clients feel connected while in drug rehab.
Night Time in Rehab
Now that night has fallen, you will truly be able to experience the WhiteSands difference. Now is the time to explore the many amenities that make WhiteSands the exclusive alcohol rehab and drug rehab center in Florida.
You may want to spend some time working out at our fitness center, so you can strengthen your body even as you heal your mind. You can relax with your fellow residents, talk to the counselors or just return to your private room to contemplate the accomplishments of the day and get ready for the day ahead. Whatever your recovery journey entails at WhiteSands, we have the medical staff, therapy programs, and first-class facilities to ensure you can maximize your time in recovery.
If you or a loved one needs help with abuse and/or treatment, please call the WhiteSands Treatment at (877) 855-3470. Our addiction specialists can assess your recovery needs and help you get the addiction treatment that provides the best chance for your long-term recovery.