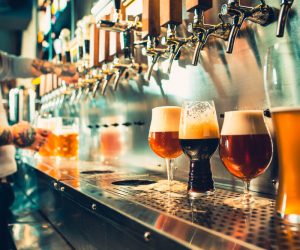 The Rise of Craft Beer Culture
The popularity of craft beer has exploded in recent years as consumers move away from household names in favor of locally created adult beverages. For craft beer aficionados, there exists a whole culture around going to breweries, seeking out and trying new flavors, and even making your own home-brewed craft beer. But for some, craft beer has created or exacerbated a problem involving a rise in alcohol use disorder, alcoholism, and other forms of problem drinking.
There are several factors behind this rise, starting with the fact that craft beers are often two to three times stronger than the big commercial beers. Also, the feeling of being interested in craft beer as a hobby can serve as a way to conceal what is actually an addiction. And while being interested and involved in craft beer culture does not make you an alcoholic, it's important to monitor your drinking carefully and honestly consider whether you think you might have a drinking problem.
If you or a loved one are struggling with addiction, call WhiteSands Alcohol and Drug Rehab today at 877.969.1993 to learn how we can help.
The Strength of Craft Beer
One aspect of the craft brew revolution that contributes to problem drinking is that the alcohol content in these small-batch creations is often higher, sometimes much higher, than the typical brands of beer sold at the local supermarket or big box store. This high alcohol content can make alcohol abuse more likely, and those who are already alcoholics may try to mask their problem by immersing themselves in the craft brew culture where they can get more intoxicated on fewer beers.
The average alcohol content of craft beer is nearly 6%, far higher than many commercially available beer brands. And this is just an average; many craft beers are much higher in alcohol, and some brewers actually ramp up the alcohol intentionally during the brewing process. This high alcohol volume can take drinkers by surprise, increasing the odds of alcohol abuse and dependence.
Prevalence of Alcohol Use Disorder in the Beer Industry
The CDC defines "safe" alcohol consumption as no more than two drinks per day for men and one drink per day for women. Binge drinking is defined as consuming five drinks or more within two hours for men and four drinks or more within two hours for women. However, with the high alcohol content of some craft beers, these numbers need to be adjusted. Many craft beer enthusiasts believe they are choosing quality over quantity, but that's not necessarily the case. 
Being a Connoisseur Doesn't Make You Immune to Alcohol Addiction
Humans are masters of denial, especially when it comes to addiction. For someone who's abusing alcohol, the culture around craft beer makes for a perfect disguise. It's easy to convince yourself that you love drinking craft beers because you appreciate the bold flavors, the creativity that goes into making them, and the stories of the small businesses that produce them.
You might legitimize your alcohol consumption as a hobby, but just like connoisseurs of wine and spirits, being a craft beer enthusiast doesn't make you immune to alcohol addiction. Drinking any kind of alcohol, no matter how high-quality or creative it is, can fuel alcoholism and make an already bad problem even worse. 
Signs You Might Have a Problem with Alcohol Abuse
If you're reading this, you are likely wondering if you or a loved one might have a drinking problem disguised as a love of craft beer. Giving the following questions some honest consideration can help you gain clarity on the situation:
How often do you drink? Are you consuming alcohol almost every night? Do you drink during the day?

How often are you getting drunk? This question goes hand-in-hand with how frequently you drink. Regularly drinking to the point of intoxication can have significant adverse effects, including leading to dependence.

Do you feel you need to drink alcohol to enjoy yourself?

Do you often blackout or not remember things from when you've been drinking?

Have you caused any injuries (to yourself or others) when you've been drinking?

Do you prefer to hang out with other people who drink as much as you do?
If you recognize any of these warning signs, you should know that there is a wide range of effective treatment options available to people who struggle with alcohol use disorder. Every individual who struggles with addiction has unique needs, and the best alcohol rehabs tailor treatment specifically for each patient. 
Alcohol Detox and Rehab at WhiteSands
It is not easy to admit you have a problem with alcohol, but being honest with yourself could change your life. At WhiteSands Alcohol and Drug Rehab, we work closely with patients to develop a comprehensive treatment plan at the right level of care for them. We value your time, your dignity, and your need to live your life.
We offer comprehensive alcohol detox, quality inpatient programs, and outpatient options designed to allow you to hold a job and go to school. But no matter what option you choose, visiting one of our locations or giving us a call will be the first step on your road to sobriety.
If you or a loved one needs help with abuse and/or treatment, please call the WhiteSands Treatment at (877) 855-3470. Our addiction specialists can assess your recovery needs and help you get the addiction treatment that provides the best chance for your long-term recovery.