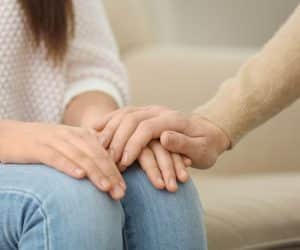 Can Drug Rehab Be Forced?
Many families ask this question: can you force rehab? There is a fine line between forcing someone into rehab and putting pressure on them to seek help through motivation and encouragement. Learning how to empower someone who is struggling and understanding their situation will allow them to make a decision that is not forced.
Forcing someone into rehab if they are not willing and ready simply does not work, as they may be in denial about the severity of their addiction and feel as though they can stop using drugs or alcohol if they want. An individual has to personally acknowledge that they have a problem and understand they need help for rehab to be effective. Addiction treatment is more than simply eliminating drugs and alcohol from the system. It requires counseling and therapy that looks at the psychological factors of why the individual is using. By getting to the root cause of the issues, addiction recovery is attainable.
If you or a loved one are struggling with addiction, call WhiteSands Alcohol and Drug Rehab today at 877.969.1993 to learn how we can help.
States That Do Allow Involuntary Commitment
California is a state that has an 'involuntary commitment law.' This law enables the individual's family members to petition for them to get into treatment via a court-mandated order. The family members will have to have viable evidence that the individual is indeed an addict and needs treatment. Proving that the individual poses harm to themselves and their loved ones will aid in the law being passed.
Taking legal action is an option that many family members of an addicted loved one resort to in disparity as they gradually witness their loved one deteriorate. While court-ordered treatment may be the only way to truly get the message across, there may be other options available to you as well, such as staging an intervention that gives the individual one last chance to accept treatment on their own.
Empowering Someone to go to Rehab
Empowering, encouraging, and motivating an individual to go to rehab with the proper amenities will render the most effective outcomes. When individuals make their own decision to get help, it means they genuinely want to get better.
It's important to remember that approaching an individual about their addiction will not be easy or enjoyable as this is a touchy matter to deal with. The longer you wait to speak to your loved one about their addiction, the longer you are ignoring a dangerous problem. Pretending that there is nothing wrong is one of the worst things you can do as the disease of addiction never guarantees a tomorrow.
Factors that Can Motivate a Person to Go To Rehab
Several factors can help motivate an individual to seek help for their addiction including the location of the facility. Instead of wondering, can you force rehab? Some other factors include:
Knowing that harm is always a risk that they are willing to take can help them make the right decision to seek help. If they do not choose to seek help, they will continue to sever their friends and relationships with others.
Withdrawing any family support may trigger an individual to make the conscious decision to seek help.
A court-ordered sanction to seek treatment may help them realize the gravity of their addiction.
Understanding the advantages of getting clean and the possibilities that come with lead a sober lifestyle.
If you or a loved one struggles with a drug or alcohol addiction, it's essential to seek immediate help. Since addiction is a chronic illness, it will continue to get worse over time. The outcome of addiction is imminent, so it is so essential to get the necessary help now. WhiteSands Alcohol and Drug Rehab offers addiction treatment programs for those in need of help. Contact us today to speak with our intake team about what your recovery options are.
If you or a loved one needs help with abuse and/or treatment, please call the WhiteSands Treatment at (877) 855-3470. Our addiction specialists can assess your recovery needs and help you get the addiction treatment that provides the best chance for your long-term recovery.