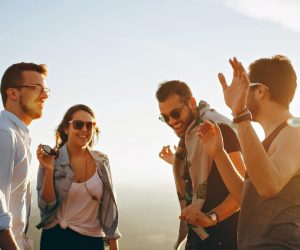 WhiteSands Has a Reputation for Providing Proven Addiction Treatment
We at WhiteSands Alcohol and Drug Rehab have a high success rate of clients who continue to sustain their sobriety long-term and who succeed in their recovery with confidence. Some of our patients have attended our comprehensive drug rehab program, while others have graduated from our alcohol rehab program. We offer all levels of care and a full continuum of treatment options directly on-site, including drug detox and alcohol detox.
If you or a loved one are struggling with addiction, call WhiteSands Alcohol and Drug Rehab today at 877.969.1993 to learn how we can help.
Our Patients' Experience at WhiteSands
Don't take our word for it, read the reviews from actual patients:
"I've been sober for 8 months, and much of my sobriety I owe to WhiteSands, Fort Myers. I will always speak about this journey and how significant it was in my life. The staff is phenomenal and treats you with great respect and the counselors are full of insight. I would highly recommend this to anyone that is serious about their recovery. This works, so if you're wondering if this might be the place for you, please give it a go. You will not regret it. Thank you to all who helped me in my recovery."
"This place really gave me a lot of insight into the basis of what addiction truly means and that I am very grateful for every single person and staff member I encountered. I would recommend this facility to anyone that is on the brink of what I call their own destruction. The groups are for the most part not structured to a program-type literature. Sharing and the people in the groups become family not just an addict."
"The staff here is knowledgeable and helped me every step of the way. My health and my wellness were always their top priority. The facility is beyond words. I had my own room, I could use my cell phone at night, the gym is state of the art, and the pool is relaxing/peaceful. The food is great with many healthy options. I will never forget my experience here. I have my family back and most importantly my life back thanks to white sands."
"When I arrived I was warmly greeted and brought into the community of WhiteSands. There I found a new sense of vigor and inspiration for myself through the kind and insightful counselors as well as the techs. The residents were also just as welcoming and kind-hearted, and this is an experience that has helped shape my new ideas for the better. If you're struggling to make the call for help, I urge you to call this facility, they tear you like a person and care about your recovery! Highly recommend."
"My experience at WhiteSands was amazing from start to finish. From the moment a staff member picked me up at the airport, I felt comfortable and in a safe environment. The campus is great, and the groups were extremely informative. The staff is beyond supportive! I highly recommended this treatment facility and thank all the members of White Sands for being a huge part of my recovery journey."
"WhiteSands is an amazing place. The staff, nurses, and therapists are great and care about your well-being. Everyone is very understanding and is extremely helpful. This treatment center has really helped me with my recovery."
"My mom found WhiteSands through a friend of hers when I was at my lowest. I came down here and it was the best decision I've ever made. White Sands gave me the break I needed from everyday life. I was able to get all my issues worked on which fueled my addiction. I got in shape playing volleyball every day, being trained at the gym, and eating well. I also met true friends here which I will have for the rest of my life."
"WhiteSands gave me my life back. I am not the person who walked in 30 days ago. I learned my addiction and what caused it, I was able to get to the root of my need to be numb and try to escape. The staff was so knowledgeable and taught me how to overcome the pat that kept haunting me. If you want your life back, this is it! Don't Delay!"
"Amazing facility. All of the staff members are awesome. All of the behavioral health technicians, therapists, and trainers are great. All of them are very kind and helpful. The gym is amazing and the pool is very nice too. Chris, Ernest, Dee, Nick, Vinny, Deb, and Bill are my favorite staff members. Chris is probably my absolute favorite. He's an awesome dude. All of them are amazing people and are great to talk to. All of them are great listeners and have very good advice to give. I would definitely recommend this facility to anyone that is trying to get clean or is struggling with alcoholism or addiction".
"This facility is amazing. The staff is so kind and helpful, and are all well educated in both substance abuse and mental issues and how to better deal with them. If you or anyone you know has substance abuse issues, this is the best possible place. Also, Angel is the best life coach anyone could hope for!!!!"
Experience the WhiteSands Experience Yourself
WhiteSands Alcohol and Drug Rehab is dedicated to providing the highest quality care to patients faced with the disease of addiction. If you or someone close to you is struggling with a drug or alcohol addiction or dependency problem, please contact our intake team today. We are available on a 24/7 basis to take your call and are ready to help guide you toward recovery at any of our Florida locations.
If you or a loved one needs help with abuse and/or treatment, please call the WhiteSands Treatment at (877) 855-3470. Our addiction specialists can assess your recovery needs and help you get the addiction treatment that provides the best chance for your long-term recovery.